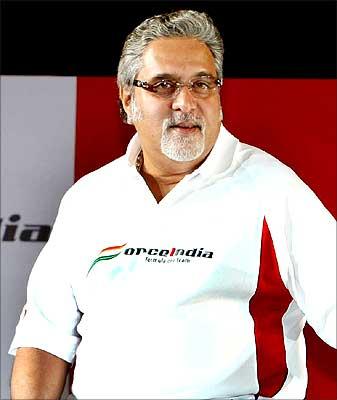 After a difficult first season in Formula One, Force India turned things around in style in 2009. Giancarlo Fisichella made the breakthrough for the Indian outfit when he scored the team's first points, finishing a close second behind Ferrari's Kimi Raikkonen after registering Force India's maiden pole position in Belgium earlier in the year.
Adrian Sutil also gave the team lots to cheer about by finishing fourth at the Italian Grand Prix, registering the fastest lap of the race, a first for him and the team.
Force India team owner and team principal Vijay Mallya on Wednesday spoke of how his team turned things around after a difficult start to Formula One in 2008. The billionaire tycoon also announced Force India's partnership deal with Computational Research Laboratories (CRL), a wholly owned subsidiary of Tata Sons to offer a fully automated Computational Fluid Dynamics (CFD) solution to aid the design of the F1 team's next generation race cars as well improve aerodynamic efficiency in the current racing models.
"If you look back and if you saw Force India in 2009, which I consider to be Force India's true first year in Formula One, 2008 was a completely inherited situation, the management at Force India was the same, the direction was the same, the car was pretty much the same and we didn't do well.
"But during 2008 I made some very significant changes in the Force India team, including a complete management overhaul; there was a complete overhaul of the technical direction at Force India driven out of nothing but sheer lack of performance and no clear answers on what was the root map to be successful. Having achieved all that we then decided to have a partnership with McLaren Mercedes largely because we wanted access to the Mercedes engine and the McLaren gearbox and hydraulics. I had the option of trying to produce the gearbox myself but we decided to go for proven technology, we decide to go and acquire a complete gearbox facility, complete hydraulics facility from McLaren whose technology was proved. Of course we never intended or never had the capability of building an engine and everyone knew that the Mercedes engine was more than competitive; it was probably the best engine.
"Having put this package together we signed an agreement on October 13, 2008 and the first test of the 2009 car was in February 2009 so effectively we had a total of 120 days maximum. So in 120 days our engineers designed and built the 2009 Formula One car. We were quietly confident because I realised what our limitations were, I also realised very quickly what the opportunities were. We were quietly confident that this new car which we designed and built as Force India and would compete in the 2009 season was significantly better than the previous car. We also relied on testing the car and developing the car through the season because there was no time to test it and develop it fully before there was no time before the season began.
"But then came the bombshell, the FIA as part of overall cost cutting measures in Formula One what they called resource restriction, they banned testing during the F1 season so all the testing I was looking forward to doing during early 2009 didn't happen. So it slowed my programme down completely and we were actually developing the 2009 car on the track, in the Friday practice sessions so it took a lot longer. That is when I very quickly realised we were handicapped and then I called a meeting of engineers and asked them how could we fix the quality and pace of our development.
"And what this actually meant since we had a race every two weeks so we had no time. So results, points and opportunities come every two weeks and in this business you are fighting for 1/100th of a second. Gone are the days like my racing days when one second or half a second used to matter, today it is 1/100th of a second. If you see the Formula One grid and their performances in 2009, you will notice that 1/10th of a second has separated all the teams. The cars have been separated by 1/100th of a second and that is the level of competition you are talking about.
"So you want the technology to compete at that level. I don't know of any other sport in the world which is as technologically fiercely competitive as Formula One is. No wonder that big companies and the names you know like McLaren, Ferrari, Renault, Toyota, Honda spent hundreds of millions of dollars every single year to develop their cars to get 2/10th or 3/10th of a second. Can you just sit back, take a deep breath and analyse in your mind that you spend 2000 crore of rupees just to make your car go faster and that is the level you are talking about.
"And can I afford to spend that much money? Absolutely not!
"Would I spend it even if I could? Absolutely not!
"That is one of the fundamental reasons why I am here today. We looked around and we knew that our pace of development, quality of development and application of technological resources had to be more than world class. There was only one finger pointing in the right direction and it went to Hinjewadi, Pune, to the Computational Research Laboratories (CRL) and we are proud.
"I, today, had the privilege to be standing inside the CPU. I had never thought I would be standing inside the CPU. It is a matter of pride for me as an Indian to be saying that we have the fastest supercomputer in the Asia and the fourth fastest in the world, built and designed right here by the TATA Group. And this is what brings me here.
"And the quality of brain power that is available to match this super computer is my answer. The beauty is that I now have access to 200 percent more Computation Fluid Dynamics (CFD) access going to up as much as 800 percent in the middle of the season. That means I would develop my cars more accurately, my pace of development would be ten times more than it has been in the past and therefore I expect to be a lot more competitive. And the beauty is that in budgetary terms I am well within the resource restriction norms of the FIA. So I have achieved access to world class hardware and software here at an affordable price and we looked forward to a long, successful relationship with CRL and the TATA Group to develop the car that proudly carries our national colours.
"It is not a question of just winning the race or being in the podium. I am proud that in our very first year despite all the constraints we faced and of course with even having access to facilities like CRL, we managed to get a pole position, podium position and the fastest lap classification. That is not easy when you are fighting for 1/100th of a second for positions amongst the best teams in the world."
Photograph: Sanjay Sawant