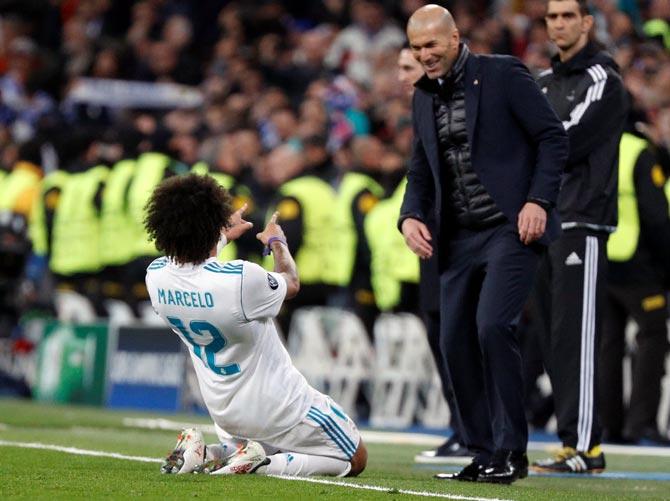 Zinedine Zidane announced on Thursday that he is stepping down as Real Madrid coach, less than a week after leading the Spanish club to a third straight Champions League triumph.

The following is reaction to his departure.
Sergio Ramos, Real Madrid captain, tweeted:

"Boss, as a player and now as a coach, you went out at the top. Thanks for two and a half years of football, hard work, warmth and friendship. You're leaving but your legacy will forever remain. It's one of the most successful periods in the history of our beloved Real Madrid."

Cristiano Ronaldo, Real Madrid and Portugal forward, wrote on Instagram:

"I'm just proud of being your player. Mister, thanks for so much."

Karim Benzema, Real Madrid and France striker, tweeted:

"I did not have the pleasure of playing with you brother. But I had the immense honour to have you as a coach.

"So I thank you from the bottom of my heart for all that you have given and brought to me. Good (luck for the future) to you and yours and maybe see you soon."

Isco, Real Madrid and Spain midfielder, tweeted:

"It's been an honour to work with you, to learn from you every single day and to win things together. You've managed to make this team historic, I wish you the best of luck."

Toni Kroos, Real Madrid and Germany midfielder:

"Gracias Mister! It's been a pleasure!," Kroos tweeted along with a picture showing him sharing a moment with Zidane on the touchline.

Marcelo, Real Madrid and Brazil defender, tweeted:

"Boss Zizou. I've learned so much at your side! I enjoyed every training session like a little kid, each piece of advice. You're very special to me.

"You've made history with your work, dedication, passion and above all humility. Thanks boss."

Dani Carvajal, Real Madrid and Spain defender, tweeted:

"Zidane, just thank you for these 2 and a half years as our coach, you have been an amazing professional like all your staff. I have learned a lot as a player and person at your command. I wish you the best and again."

Lucas Vazquez, Real Madrid and Spain midfielder, tweeted:

"It's been a real pleasure to play under your tutelage. You're a legend as a player and now also as a coach. It's been an honour to learn and win by your side, I wish you the best. Thanks, and see you soon."

Casemiro, Real Madrid and Brazil midfielder, tweeted:

"I have no words to thank you for everything you've done for this team, and for Real Madrid as a club. It's been an honour and a privilege to have had my idol as my coach. I'm eternally grateful Zizou."

Ramon Calderon, former Real Madrid president, told Sky Sports:

"It's really a shock. He's leaving when he cannot do any better. Winning three Champions Leagues in a row is going to be very difficult in the future for any coach of any team. This job is very demanding. He did a good job but we have to accept his position."

Germany team manager Oliver Bierhoff told a news conference:

"Zidane seemed to want to enjoy it when I saw his body language during the CL (Champions League) final. I also thought: 'Is he thinking about it, is he thinking of leaving'.

"It's good that the German (football) association extended (their contract) with (coach) Joachim Loew because there are not many top coaches out there.

"Zidane leaves a big legacy but Real will continue to have the demand to win the Champions League. I am really curious to see who they will find to replace him."

Russian side Zenit St Petersburg tweeted that they were glad to have appointed Sergei Semak as their manager this week.

"Shocked by the news about Zidane leaving @realmadriden, but luckily we snapped up Sergey Semak on Tuesday so hands off Real! #Relieved."

La Liga president, Javier Tebas, tweeted:

"I want to thank Zinedine Zidane for his great work and the enormous talent he's left behind at Real Madrid.

"His words suggesting the La Liga title was the greatest triumph of his coaching career are a great recognition to this competition, it's the best in the world."

Bixente Lizarazu, Zidane's former Bordeaux and France team mate, said:

"I fell off my chair. Maybe he felt he did all he could with this team because he is a perfectionist, who wants to help his team improve and after three Champions League titles it was hard to go further."

World number one tennis player Rafa Nadal, who is a Real Madrid fan, told reporters:

"Of course was a surprise for everybody, no? But at the same time, Zidane is a top person.

"He deserve to choose what's better for him. For my side, I just can say thanks for all the things that he did for Madrid. I hope will be back."