Sporting fraternity hails Sindhu's historic World Championships gold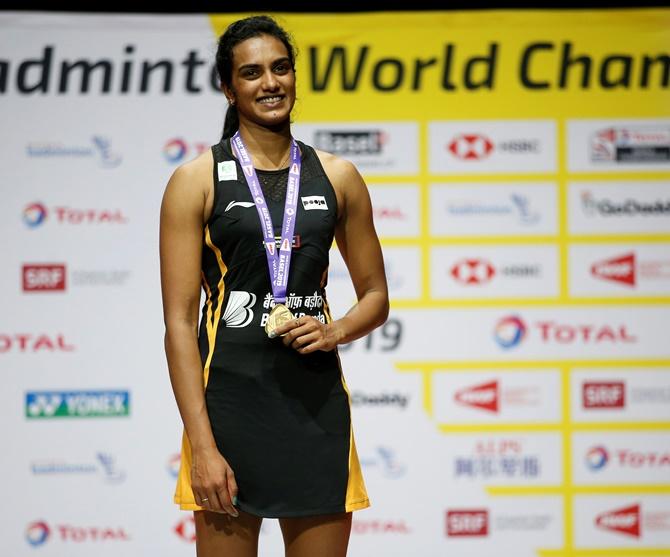 The country's sporting fraternity, led by cricket icon Sachin Tendulkar, on Sunday, hailed P V Sindhu's historic triumph at the Badminton World Championships, saying her feat has made India proud.
Olympic silver medallist Sindhu beat Japan's Nozomi Okuhara 21-7, 21-7 in a one-sided summit clash in Basel, Switzerland, to clinch her and India's maiden gold in the World Championships.
"Amazing performance! Congratulations on becoming the 1st ever to win the BWF World Championships! You have made India proud, yet again," tweeted Tendulkar.
Sports Minister Kiren Rijiju said the country was proud of Sindhu for her unprecedented achievement.
"PV Sindhu creates history by becoming the first-ever Indian to claim gold in BWF World Badminton Championships! India is proud of @Pvsindhu1. My hearty congratulations! Govt will continue to provide best support & facilities to produce champions," Rijiju tweeted.
Sindhu's fellow competitor and Olympic medallist Saina Nehwal also tweeted: "Congratulations to @Pvsindhu1 for the first ever world championships gold medal from India."
Sindhu also received congratulatory messages from reigning Olympic champion Carolina Marin and India's Olympic star Abhinav Bindra.
"Proud of you girl! You're gold! @Pvsindhu1," Carolina Marin tweeted.
"Winning a World championship Gold medal is a fantastic achievement and a great day for Indian Sport. I am sure this will give @Pvsindhu1 intrinsic belief that she can go all the way at Tokyo. Wish her and her entire team the very best!" tweeted Bindra.
"Congratulations for the medal @Pvsindhu1!Truemasterclass! Well done! #BWFWorldChampionships2019," Srikanth tweeted.
Shuttler Satwik Sairaj Renkireddy took to Twitter and wrote, "For the First Time in World championships history India's National Anthem played at the podium. Thankyou @Pvsindhu1 akka #worldchampion #pvsindhu #India."
"What a game! Truly spectacular! An Indian is a World Champion! @Pvsindhu1," Chirag Shetty tweeted.
"Congratulations @Pvsindhu1 on winning the World Badminton Championship. Fantastic!" Pankaj Advani tweeted.
Former Indian cricketer Gautam Gambhir also sent his wishes on Twitter, "Purpose fuels passion. Congratulations to the newly crowned World Champion #PVSindhu for winning the gold medal at #BWFWorldChampionships2019. Time and again, you've made us Indians proud!"
"Congratulations @Pvsindhu1 what an incredible performance! #BWFWorldChampionships2019," Olympian gymnast Dipa Karmakar tweeted.
Fellow Hyderabadi and tennis great Sania Mirza too lauded Sindhu's achievement.
"What a champion you are girl @Pvsindhu1 congratulations.. enjoy the moment," she said.
Badminton Association of India president Hemanta Biswa Sarma added: "Congratulations @Pvsindhu1 on winning the #BadmintonWorldChampionships by beating Nazomi Okuhara of Japan in a stunning game. This is a historic moment for all of us. I am thrilled with joy. India is proud," said Sarma.
Other cricketing greats also congratulated Sindhu.
"Congrats@Pvsindhu1 on winning Gold medal at #BWFWorldChampionships2019 Great exhibition of skill, fitness and mental strength to defeat Japan's Okuhara in such an emphatic fashion. Proud of you," wrote former India batsman and fellow Hyderabadi VVS Laxman.
Former India spinner Harbhajan Singh wrote: "Congratulations PV Sindhu 1st indian to win Gold @Pvsindhu1 keep inspiring."
"Great achievement for Indian sports and I would like to congratulate her on this special day and we as Indians are proud of her," said Hanuma, who scored 93 in the second innings against the West Indies to play a crucial role in India's 318-run win in the World Championship campaign opener at Antigua.
"I hope she goes onto achieve many more laurels for the country in future," Vihari added.
B Sai Praneeth also broke a 36-year long wait, becoming the first Indian male shuttle to win a medal at the World Championship. He won a bronze medal, emulating Prakash Padukone who had achieved the feat in 1983.
India's chief selector MSK Prasad also saluted the efforts of Sindhu and Praneeth and also lavished praise on national chief coach Pullela Gopichand for his contribution.
"Many many congratulations to PV Sindhu for winning the World Championship. This is a testimony for her hard work, commitment & Skills. Can't ask anything better from her. Whole country is proud of her," he said.
"I would also like to appreciate Pullela Gopichand who has been the backbone of Indian Badminton. I personally know him and I have never seen anyone who is as committed as him. Hats off to Sindhu & Sai Praneeth and their Guru Gopichand."
The BAI announced a cash reward of Rs 20 lakh following Sindhu's historic win at the World Championships. A cash reward of Rs 5 lakh was also announced for Praneeth.
Ajay K Singhania, general secretary of BAI, heaped praise on both the shuttler's efforts.
"Sindhu has shown imperious performances as she defeated proven champions on course to her medal," he said.
"Credit to National Coach Gopichand and Foreign Coach Kim Ji Gung for their relentless efforts, also not to forget the way Sai Praneeth played to win a bronze medal.
"I would like to congratulate both the shuttlers as such performances are true inspirations for the upcoming players."
Earlier, the 24-year-old had four medals at the World Championships as she bagged bronze in the 2013 and 2014 while in 2017 and 2018 she claimed silver medals.
Sindhu won the silver medal at the Rio Olympics 2016.