'The one match I would really like to watch would be Williams versus Djokovic,' says Veenu Sandhu.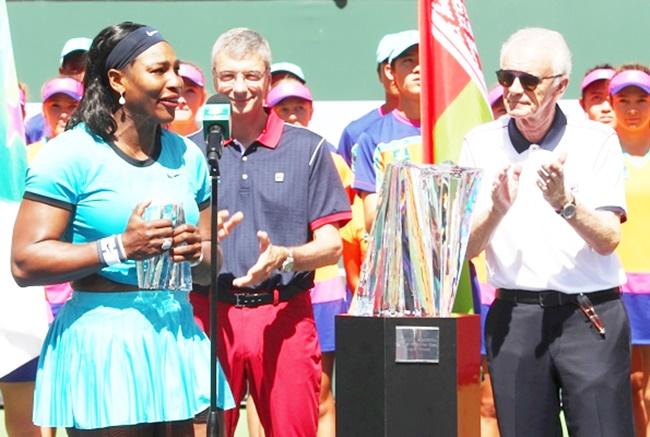 IMAGE: Serena Williams, alongside Raymond Moore, right, after her loss to Victoria Azarenka in the final at Indian Wells. hotograph: Julian Finney/Getty Images
The Neanderthals have returned.
And this time, their playground is the tennis court. But the cheap shots they have taken at the onset of the game has had them facing such tough volleys that one of them has since retreated into the cave he came from and the other is now backpedalling furiously.
Neanderthal No 1: Raymond Moore, until recently the tennis tournament director of the Indian Wells Masters 1000.
Neanderthal No 2: Novak Djokovic, World No 1 in men's tennis.
Here is what they had to say:
Neanderthal No 1, at a press conference: 'In my next life when I come back, I want to be someone in the WTA (Women's Tennis Association) because they ride on the coat-tails of the men. They don't make any decisions and they are lucky. They are very, very, lucky.'
'If I was a lady player, I'd go down every night on my knees and thank God that Roger Federer and Rafael Nadal were born, because they have carried this sport. They really have.'
Neanderthal No 2, at another press conference: 'I think that our men's tennis world... should fight for more (prize money), because the stats are showing that we have much more spectators on the men's tennis matches (as opposed to the women's).'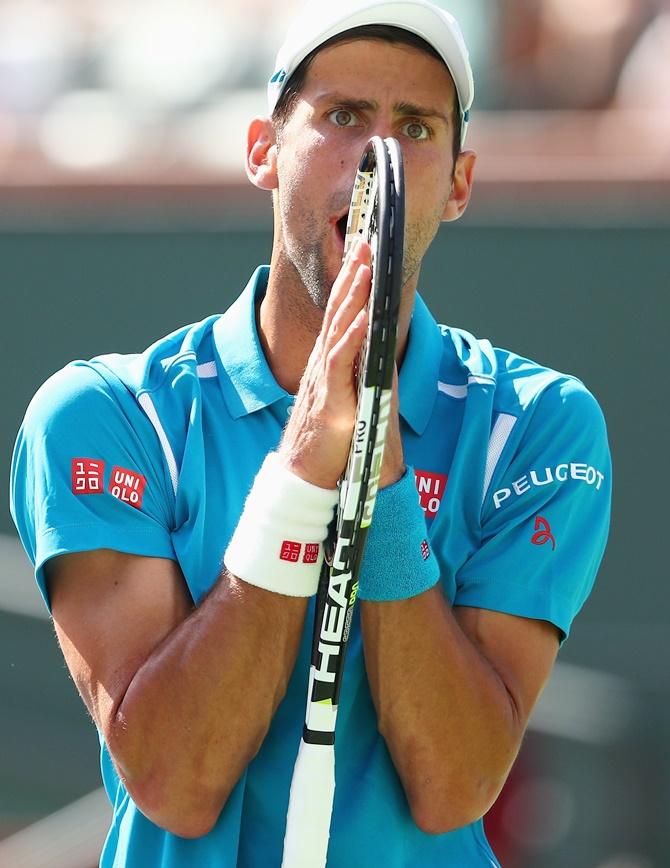 IMAGE: 'We all have to fight for what we deserve,' Djokovic clarified. Photograph: Julian Finney/Getty Images
These statements -- one of which looks at women as parasites feeding off the achievements of male tennis players and the other that hints at them being inferior to men -- have shown us how much things have stayed the same and, at the same time, how much they have changed over the years.
The collective outrage that has followed Moore's mockery of women's tennis, forcing his resignation within a day of his ridiculous statement, is a sign of how times have changed for the better for women, at least in tennis.
At the same time, that the men's World No 1, the highly respected Djokovic, should question equal prize money for men and women speaks of just how the battle of the sexes for equality is far from over.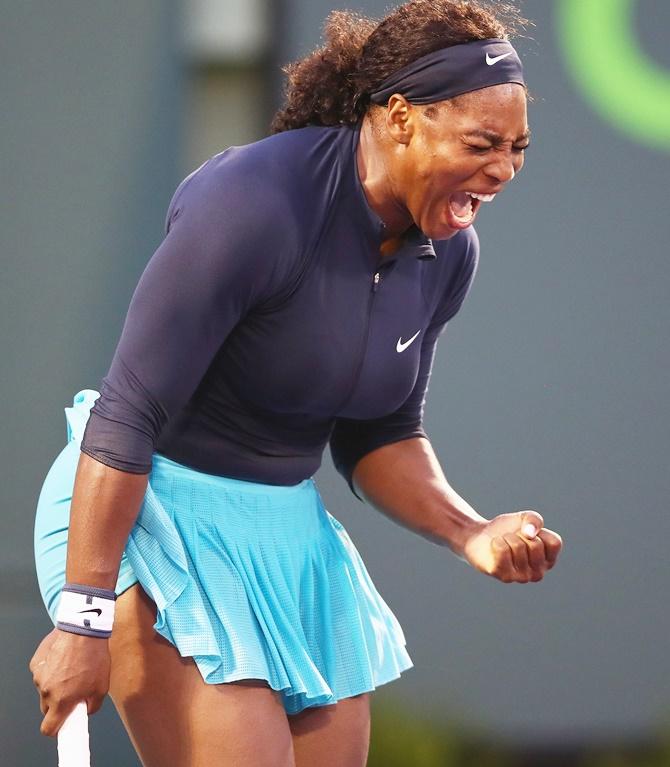 IMAGE: Serena celebrates match point against Christina Mchale. Photograph: Clive Brunskill/Getty Images
It's befitting that the one person to be hitting aces against Moore and Djokovic should be Serena Williams, the World No 1 in the women's game. 'Last year,' she said, making her point, 'the women's final at the US Open sold out well before the men. I'm sorry, did Roger play in that final or Rafa or any man play in that final that was sold out before the men's final? I think not.'
Advantage Williams, right there.
Being a woman and an African American, Williams is no stranger to discrimination. But if Twitter is any indication of a person's popularity, none of that has affected her fan following. With 6.1 million followers, she leads Djokovic by almost a million, who trails with 5.12 million followers.
Yes, the ball is in Williams' court. Come to think of it, at this point the one match I would really like to watch would be Williams versus Djokovic.
But this debate is not about one-upmanship -- or one-upwomanship, if you please. It's about the way we look at women and their achievements.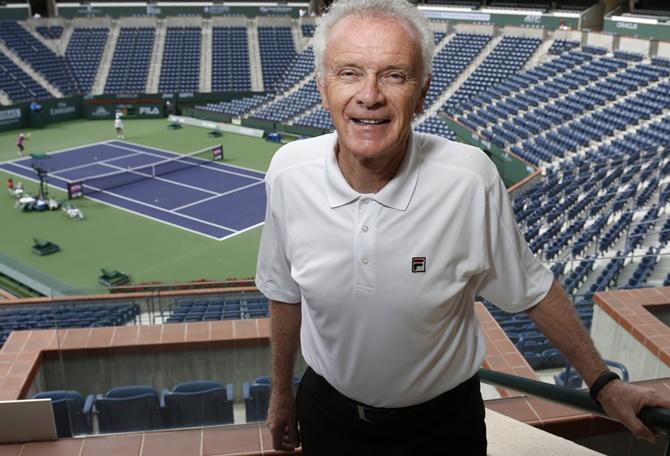 IMAGE: BNP Paribas Open tennis tournament CEO Raymond Moore resigned the day after making those inane remarks. Photograph: Danny Moloshok /Reuters
Moore wishes that in his next life, he'd be someone in the WTA, a lady tennis player. I do wish he gets his wish, even though I believe we live only once and in this lifetime, Moore has, at age 69, earned a black star that is likely to shadow him for a long time.
So I wish he is born again as that lady tennis player he so desires to be. And I wish he works hard, really hard, and makes it right to the very top. And then I wish someone like Moore comes along and, to a tickled audience, says: 'If I was a lady player, I'd go down every night on my knees and thank God that Man Tennis Genius 1 and Man Tennis Genius 2 were born, because they have carried this sport. They really have.' And then Raymond Moore-born-Lady Tennis Player can give us a personal, firsthand, perspective of it all.
Meanwhile, wondering what led the Serb to think that men deserved higher prize money, former World No 1, Chris Evert, said, 'I didn't understand the hormone thing with Novak... I think with him (Djokovic) it's a cultural thing.'
Often, that's what it boils down to -- a cultural thing. Why else would even the finest women actors of the Indian film industry continue to be paid less than their male counterparts despite often outshining them? That is another long, difficult battle to be fought and won.