Table-toppers Sher-E-Punjab notched up a clinical 4-2 victory over local favourites Chennai Cheetahs to advance to the semi-finals of the World Series Hockey in Chennai.
Playing their 12th league match here at the Mayor Radhakrishnan Stadium, Bikramjit Singh converted Punjab's second penalty corner in the 12th minute to equalize 1-1 after the hosts drew the first blood in the 6th minute.
International Adam Sinclair came up with peach of a goal utilising a tailor-made cross by Vikram Pillay to put the hosts ahead.
In the second half, Imran Warsi converted Cheetah's first of the three penalty corners and in the 21st minute Harpreet Singh neutralised the score 2-2.
In the 43rd minute, Australian Mathew Hotchkis of Punjab increased the tally 3-2 and substitute Gagan Ajit Singh made it 4-2 during the fag end of the match.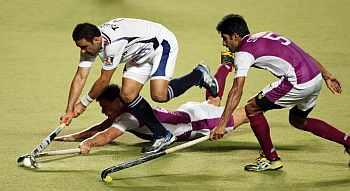 With three more matches to go in the league phase, Cheetahs need to win at least two of their matches to progress to the semi-final as they are placed in the fourth spot with 16 points.
It has been a pathetic performance at home by the Cheetahs as they have lost five matches and won as many ties besides a drawn match, while Sher-E-Punjab have won eight of their 12 matches, drew one and lost three to tally 25 points and have scored 38 goals and yielded 25.
One of the reasons why Cheetah's lost could be attributed to Coach Jose Brasa's decision to play the team captain Brent Livermore (a forward) in the defense.
The first two quarters were evenly fought as the rivals were able to be on equal terms of 1-1 and 2-2 verdict but Punjab team dished out superior brand of hockey and kept up a good pace in dislodging the defenders of Cheetahs.
Punjab's third and fourth goals emanated in typical fashion as they merely beat the hosts with their nippy runs displaying great ball control.
Punjab team defenders' excellent manner of adhering to their task of avoiding fouls at their circle and the medios keeping up steady supplies to hardworking forwards was a great team effort put by players.
The high-pressure match also tested the nerves of the players and at times Umpires had to intervene to calm the rival players.
In fact, the goal by Aussie Mathew Hotchkis was contested by Cheetah's star Imran Warsi and captain Brent Livermore, and Umpire Satinder Kumar Sharma had to seek third Umpires intervention.
VS Vinaya passed from almost on the left line and Mathew was swift in deflecting the ball in to the netting.