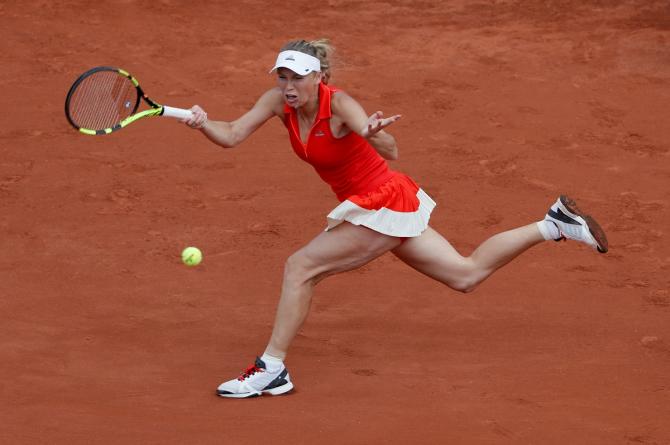 Caroline Wozniacki is set to make a comeback to tennis after the former world number one said on Thursday that she was ready to return to the Tour having retired from the sport in 2020 to start a family.
Danish player Wozniacki spent 71 weeks at the top of the world rankings and finished with 30 singles titles - including a Grand Slam crown at the Australian Open in 2018.
She announced her retirement prior to the 2020 Australian Open at the age of 29, saying she wanted to start a family with her husband, former NBA player David Lee. She has since had a daughter Olivia and son James.
"Over these past three years away from the game I got to make up for lost time with my family, I became a mother and now have two beautiful children I am so grateful for," she wrote on Twitter.
"But I still have goals I want to accomplish. I want to show my kids that you can pursue your dreams no matter your age or role.
"We decided as a family it's time. I'm coming back to play and I can't wait!"
Wozniacki said she would first play at the Canadian Open in Montreal in August "to get back into the groove" before targeting the U.S. Open while her long-term goal is the 2024 Olympics in Paris.
"So I'm going to play the US Open. There's just an electric atmosphere in New York that I can't get enough of, and I've played so well there for years and years," she wrote in a Vogue magazine article.
The United States Tennis Association later announced that Wozniacki, a two-time finalist at Flushing Meadows, had been awarded a wildcard for the Grand Slam that begins on Aug. 28.
"After that, I'll have a couple of months to prepare for Australia and we'll take it from there. The Paris Olympics are definitely a goal too," Wozniacki added.
The Dane, who turns 33 next month, said she was inspired by 23-time Grand Slam champion Serena Williams after the American returned to the sport following the birth of her daughter Olympia.
"I think that Serena doesn't get nearly enough credit for getting to so many Grand Slam finals after having Olympia," she said.
"Her retirement will always be bittersweet, both for me and for so many other players, because she's meant so much to women's tennis. She paved the way for so many of us, she showed us that anything is possible."