Images from the matches played at the All England Lawn Tennis and Croquet Club, in Wimbledon, London, on Monday.
Nadal bursts Sousa's bubble to reach quarters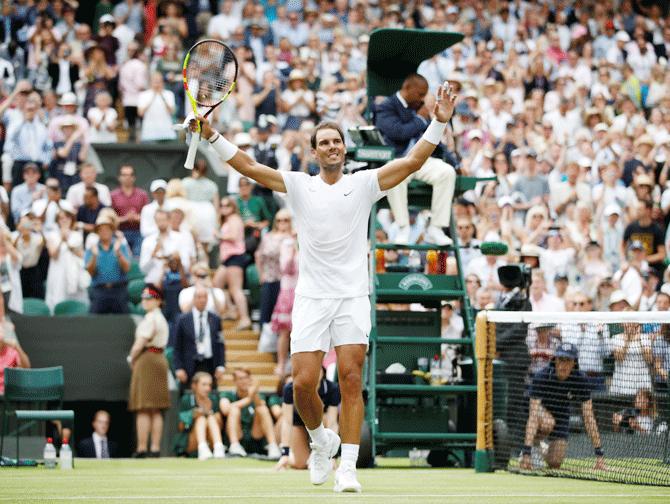 The sweet-spot in Rafael Nadal's racket appeared to be the size of a beachball on Monday as the Spaniard fired off winners left, right and centre to hurtle into the Wimbledon quarter-finals with a ruthless 6-2 6-2 6-2 win over Joao Sousa.
The Spaniard was not pleased when he was seeded third at the grasscourt championships, despite his status as world number two, and even less happy when the draw put him on a second-round collision course with Australian maverick Nick Kyrgios.
On Monday, however, he was all smiles as he enjoyed his quickest workout at this year's tournament, ending Sousa's bid to become the first Portuguese to reach the last eight of a Grand Slam with an ace.
He will next face either Tennys Sandgren or Sam Querrey of the United States for a place in the semi-finals.
Federer enters his 17th Wimbledon quarters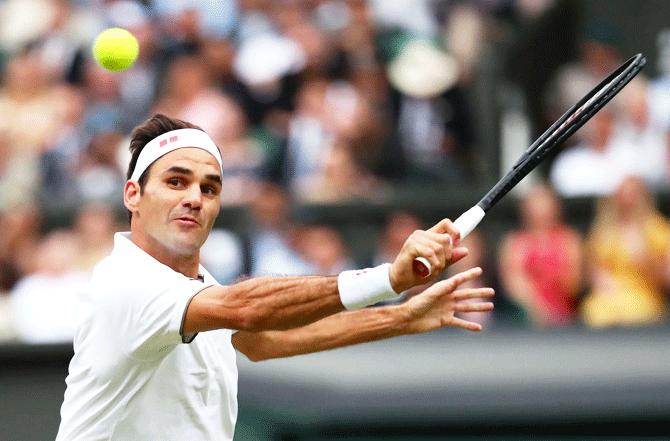 Ruthless Roger Federer raced into his 17th Wimbledon quarter-final with a 6-1, 6-2, 6-2 demolition of Matteo Berrettini on Monday but, contrary to what the scoreline suggests, this did not require a masterclass from the Swiss great.
In truth, a match that on paper looked as if it might provide his first big test of the tournament as he chases a ninth title was a no-contest as his 23-year-old Italian opponent self-destructed on Centre Court.
From the moment Federer broke in the fourth game with a silky smooth smash, any tactical plan a dazed Berrettini took on court with him unravelled in spectacular fashion.
After losing the first set in 17 minutes and the second in not much longer he disappeared off court -- presumably to try and locate a panic room somewhere in the All England Club.
When he returned Berrettini found even more unusual ways to gift points to eight-time champion Federer, notably when he dribbled a dreadful attempt at a drop-volley into the net with Federer out of position behind the baseline.
Even the 37-year-old Swiss, anxious to save energy and get off court quickly as dark clouds gathered, looked aghast, shaking his head at the ineptitude of his opponent's error.
It was a shame for Berrettini, who was hoping to become only the fifth Italian to reach the quarter-finals at Wimbledon, as he is clearly a much better player than this performance suggested.
There was sympathetic applause from the crowd when he did connect properly but Federer was having none of it as a sweet volley put Berrettini out of his misery in one hour 14 minutes.
Second seed Federer will face eighth-seeded Japanese Kei Nishikori for a place in the semi-finals after the 8th seed battled past Russian Mikhail Kukushkin 6-3, 3-6, 6-3, 6-4.
Djokovic eases on as old stagers show Next Gen the way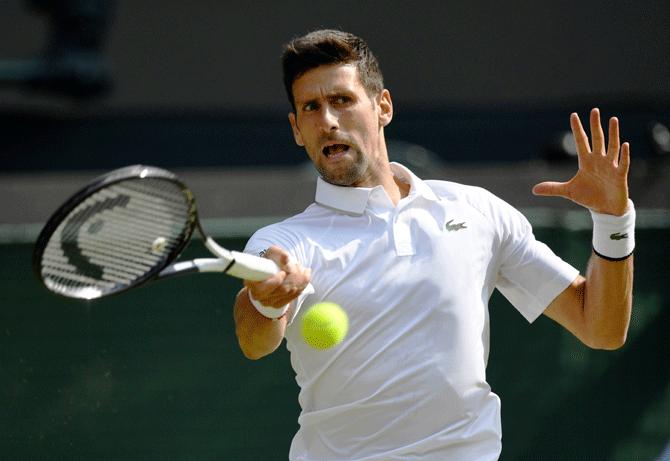 Novak Djokovic remained firmly in cruise control on Monday to reach the Wimbledon quarter-finals as he swatted aside France's Ugo Humbert, the latest of tennis's up-and-comers to show promise but ultimately fall short.
Djokovic, capable of jaw-dropping feats of agility when pushed to the brink, has barely stretched a sinew in reaching the last eight and the 21-year-old Humbert proved incapable of applying any real pressure in a 6-3, 6-2, 6-3 defeat.
The Frenchman had let it be known after his third-round victory over the much-heralded Felix Auger-Aliassime that he too was part of tennis's "next generation", yet in the current climate that appears far from a badge of honour.
It is said that youth is wasted on the young and tennis fans surveying the current crop emerging in the men's game may be inclined to agree.
With the early Wimbledon exits of the game's brightest starlets -- Stefanos Tsitsipas, Alexander Zverev, Auger-Aliassime and Denis Shapovalov -- the hunt for a worthy successor to Djokovic, Rafael Nadal and Roger Federer seems as futile as ever.
"Wimbledon historically for many players and me included has been a special tournament that has motivated me throughout my life," Djokovic said.
"I try not to take things for granted. We keep on going."
This is the first Wimbledon in the professional era when players aged 30 or over outnumbered 20-somethings and teenagers in the men's round of 16.
The nine elder statesmen who reached this stage also equalled the record for the most men in their 30s to reach the fourth round of a Grand Slam.
Significantly, however, that record was set at this year's French Open when once again tennis's old stagers remained stubbornly awkward to beat.
Humbert was not among the most feted of the rising stars and was only ranked 66 in the world, but after dashing the hopes of Auger-Aliassime, he became the youngest player left in the men's draw and a symbol of the future.
Humbert and 23-year-old Matteo Berrettini were the only players in the last 16 who were under the age of 27, another statistic that paints as bleak a picture for the future of men's tennis as Humbert's performance on Court One.
Djokovic flashed a brilliant backhand return to break in the fourth game of the first set, which he took in 32 minutes, and broke again in the third and seventh games of the second set.
You need to be technically solid as stone to trouble Djokovic, but Humbert was occasionally ragged, gifting points to the world number one, who accepted gleefully.
Djokovic, chasing a fifth Wimbledon title, broke serve twice more in the third set, sealing victory when Humbert netted a forehand to set up a last-eight clash with Belgium's David Goffin.
Goffin overcame 35-year-old Spaniard Fernando Verdasco 7-6(9), 2-6, 6-3, 6-4 to reach the quarter-finals for the first time.
Williams crushes Suarez Navarro to reach Wimbledon quarter-finals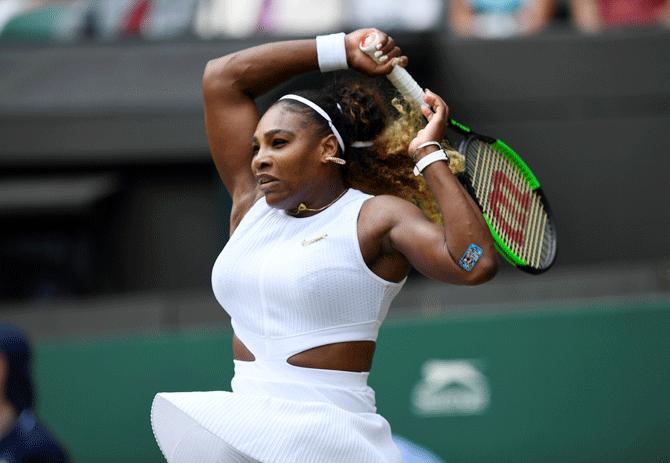 Serena Williams reached her 14th Wimbledon quarter-final by overwhelming Spain's Carla Suarez Navarro 6-2, 6-2 even though she was not at her magnificent best on Court One on Monday.
The 37-year-old American, aiming for a record-equalling 24th Grand Slam title, produced 19 unforced errors, including a bizarre mistake when she leaned over the net to hit a volley and had the point docked.
But she also conjured 21 winners, some of which left the crowd gasping in admiration and her 30-year-old opponent helpless on the other side of the net.
Williams, seeded 11th, had little match practice coming into Wimbledon because of injury and teamed up with Andy Murray in the mixed doubles to get some more playing time.
"I've had more matches this week than the past five months but it's definitely good and I know I can play and I'm now physically better (so) it's almost a feeling of relief more than anything," she said immediately after coming off court.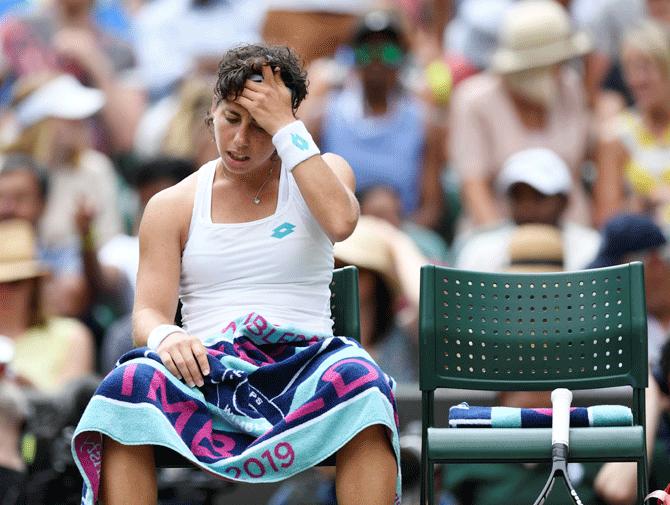 Suarez Navarro, ranked 31 in the world and one of the smaller players on tour, lacks the big weapons and serving power needed for grass and has always had trouble against Williams.
Monday's defeat was her seventh against the seven times Wimbledon champion.
Though the Spaniard broke the American's serve in the second set, she had no answer for Williams's pounding groundstrokes. Suarez Navarro slipped trying to retrieve the ball to go match-point down, then mis-hit a backhand to concede defeat.
Williams, who first played at the All-England club as a 16-year-old in 1998, said she was still ambitious.
"I'm a really pumped player and of course I still want it or I wouldn't be here."
Williams faces Alison Riske in the quarter-finals after the American upset top seed Australian Ash Barty earlier on Monday.
"She's great on grass and just took out the world No.1... I watched that and I'll be ready," Williams said.
Konta clatters Kvitova to reach quarters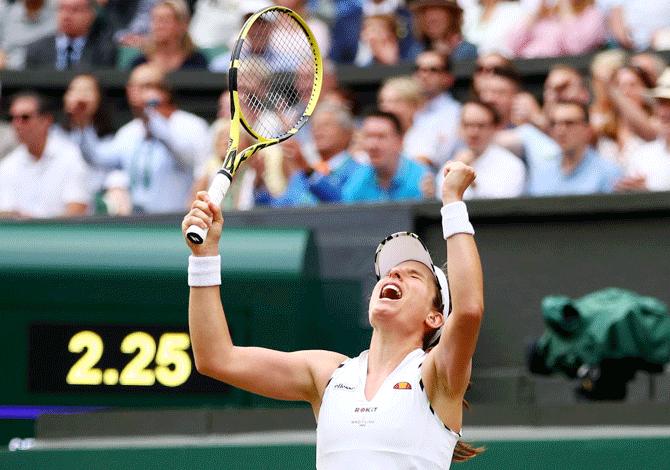 Britain's Johanna Konta staggered away from a head-on collision with twice champion Petra Kvitova at Wimbledon on Monday for a three-set victory which put her in the quarter-finals, and instantly installed her among the favourites for the title.
The 4-6, 6-2, 6-4 win over the Czech had been a brutal affair, and in the end only Konta had been able to produce sufficient subtlety with which to temper the low-trajectory rockets which had been a feature for both players throughout the match.
For the purists, rallies were few and far between. But for the thrill-seekers, winners exploded repeatedly like a succession of fireworks in a night sky.
Indeed, the used tennis balls from this match, sold as souvenirs to the public, should come with a hefty discount - if there is anything left of them.
Like a Ford Escort stuck in high gear, sixth-seeded Kvitova had no change of pace, little nuance or subtlety, just a roaring engine battering the ball as hard as she could muster.
Even the sport's ubiquitous topspin was only an occasional visitor as the Czech opened her grip and slammed each ball flat and hard - for a clean winner or a shot flying out the back.
For her part, 19th seed Konta -- herself no stranger to the more brutal forms of baseline play -- looked to fight firepower with firepower right from the off.
It was almost a case of who or what would crack first, a player's nerve or a racket's frame as shot after shot was slammed away for a winner and the eerie sonics echoed around Centre Court.
Games went with serve in a blur, with few chances of a break until the seventh game when Kvitova saved two break points to stave off danger and hold for 4-3.
A few games later, a double-fault here, a netcord winner there, and suddenly the opening set was over, 6-4 to Kvitova.
Something between a sigh and a groan escaped from the crowd as Kvitova pumped her fist and stalked back to her chair leaving Konta to wonder what had just happened and the British crowd to start contemplating what might have been.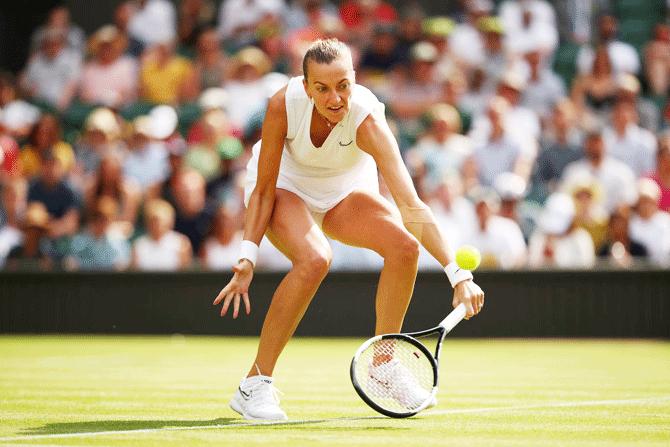 But as soon as their hope in her looked as if it was starting to fade Konta hit back, breaking the Czech in the opening game of the second set then again for 3-0.
Kvitova had not changed her winning tactics - that wasn't the issue. It was just that the balls which had been flying for winners were now creeping millimetres off target.
A bit of the zip had also gone out of her shots, which was perhaps unsurprising given the welly she put into the first set.
The Czech did just enough to keep her game simmering in preparation for a deciding set, which Konta ensured would happen by wrapping up the second 6-2.
As the crowd settled in for some continued barnstorming battery, Konta found some guile. A delicate backhand slice here and rolled forehand there seemed to take Kvitova by surprise and the Briton broke for a 2-1 lead in the decider.
Fittingly, though, the crucial break point winner was a slammed, subtlety-free zone -- a shot which had been called out but which was ruled good by Hawk-Eye.
Including results at this tournament coming into this match, Konta had won 31 times on grass over the past four seasons, more than any other player on tour, and her comfort on the surface served her well.
The momentum with the home favourite, she hustled Kvitova into a series of errors and streaked into the lead.
Konta served for the match at 5-2 but was broken as the Czech found her range again to beat off two match points. Her next chance to seal victory came when serving at 5-4, and this time she made sure.
Next up Konta will face another Czech -- the unseeded Barbora Strycova -- with a potential semi-final against Serena Williams perhaps on the horizon.
Riske knocks out World No 1 Barty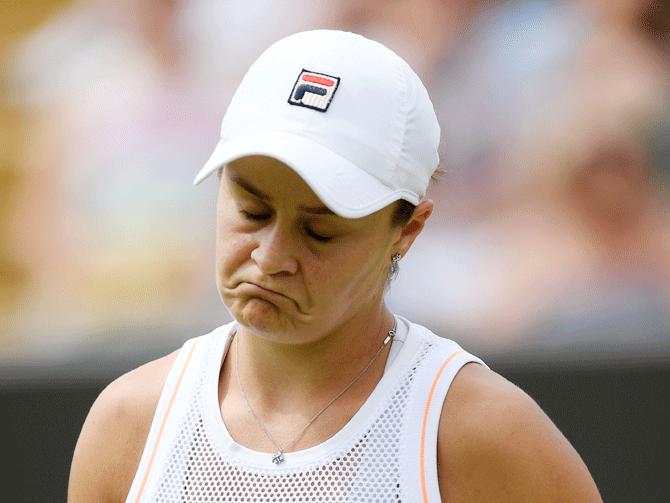 World number one and French Open champion Ash Barty was knocked out of Wimbledon on Monday after losing 3-6, 6-2, 6-3 in a ferocious battle with 55th-ranked American Alison Riske.
Barty, who had been on a sensational 15-match winning run, was brought down to earth with a thud by Riske, who reached her first ever Grand Slam quarter-final at the 30th attempt and at the age of 29.
Barty began well, serving four straight aces in the opening game on her way to winning a 21st successive set over the last three tournaments.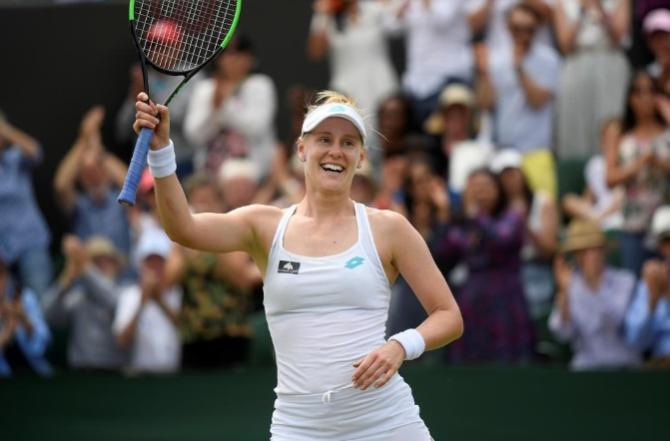 Yet Riske, who had spent more than four hours longer on court than Barty in the first week, dug-in for a trench battle, out-slugging the Australian to take the next two sets and set up a last eight clash with seven times champion Serena Williams.
India's challenge ends as Sharan-Demoliner ousted
Divij Sharan and Marcelo Demoliner fought their hearts out in a gruelling battle before losing to top seeds Lukasz Kubot and Marcelo Melo in the men's doubles pre-quarterfinals on Monday.
Unseeded Sharan and his Brazilian partner pushed their opponents before losing 5-7, 7-6(8), 6-7(8), 3-6 after three hours and 18 minutes.
Sharan was the last Indian standing in the Wimbledon championships.
Sharan was a quarter-finalist in the doubles event at Wimbledon last year.