The first week of Wimbledon has ended and the tournament has been full of surprises.
The grudge match between Nick Kyrgios and Rafael Nadal and the rise of the phenom that is Cori 'Coco' Gauff have been the shining moments at this year's tournament, notes Roshneesh K'Maneck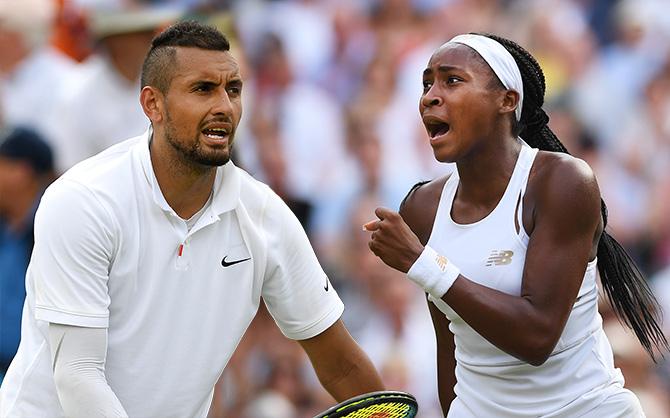 The hallowed turf of Wimbledon, the oldest tennis tournament, where sports mixes with royalty, where tradition is considered sacred, is guaranteed to excite fans the world over and this year has been no different. In fact, if anything, the first week has been way too unpredictable.
Top seeds, both in the men's and women's draw, who are expected to sail into the second round have crashed out.
Gasps of air were let out when current Australian Open and US Open Champion Naomi Osaka was ousted. As the shock of that was subsiding, defending Wimbledon champion Angelique Kerber crashed out.
On the men's side too, it was no different. Rising star of tennis, Stefanos Tstisipas, fell in the first round. On Friday, last year's finalist, Kevin Anderson, was defeated by Guido Pella.
This Wimbledon also saw the comeback of British hero Andy Murray. The Brit -- or should we say Scot -- returned to the world's most famous lawn, playing doubles this time after a hip surgery.
Andy's last tournament was the Australian Open where he announced that the pain from his hip injury was so bad that it made things like even tying his shoelaces painful.
What made Wimbledon's first week so exhilarating was the Box Office match between Australian bad boy Nick Kyrgios and 18-time Grand Slam winner Rafael Nadal and the rise and rise of America's 15-year-old wunderkind Cori 'Coco' Gauff.
There was much anticipation ahead of the Nick and Rafa clash, courtesy their icy past.
Words have been shared -- most not polite -- and there is that history they share -- one that Nadal might want to forget altogether.
In 2014, the Australian, only 19, took the tennis world by storm. He reached the quarter finals at Wimbledon after he took out Nadal, then ranked 1 in the world, becoming the first male debutant to reach the Wimbledon quarter-finals since Florian Mayer in 2004.
What a nail-biting affair that was -- one which Nadal lost in four sets. One of Kyrgios's winning shots -- a rear-forehand, half-volley between his legs -- was described by the Canberra Times as 'freakish and audacious'.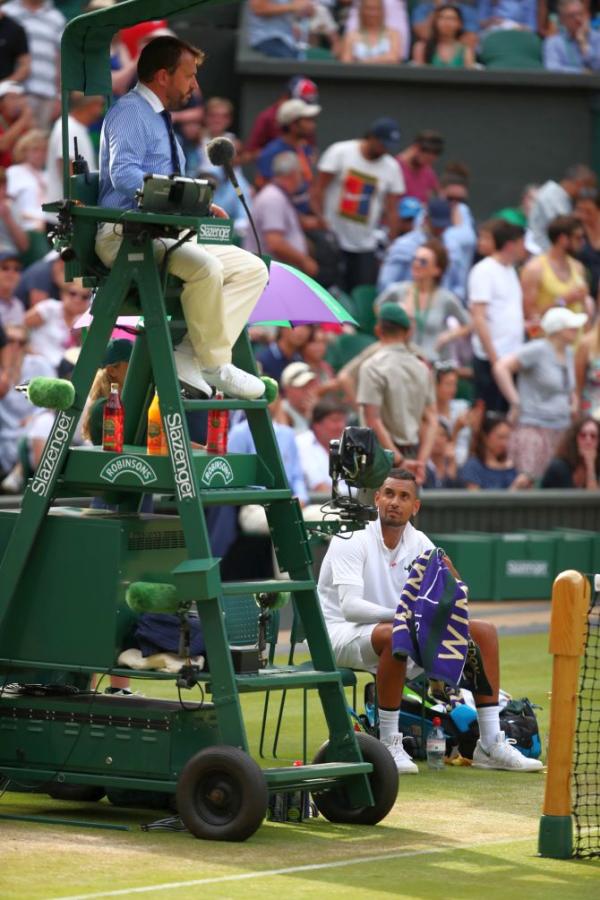 That was then and this is now. In the run-up to the match, statistics showed that Kyrgios had the upper hand, defeating Nadal in two of their last three encounters. On Thursday, they both walked out on Centre Court and another classic encounter unfolded.
There were underarm serves, ranting about the umpire that resulted in a code violation and even a deliberate forehand blast straight at Nadal's chest.
Kyrgios spent an awful lot of time and energy ranting about French Umpire Damien Dumusois, calling him a 'disgrace' for the way he was officiating. At the post-match press conference, he said Dumusois was 'horrendous' and wanted to feel important sitting in the high chair.
If that wasn't enough, he threw in two underarm serves -- perfectly legal, albeit frowned upon by players -- and then whacked the ball right at Nadal's body, with the Spaniard blocking it away with his racquet.
Nadal stared. Kyrgios walked off. No apology was offered.
The Aussie said later: 'Why would I? I won the point. I don't care. Why would I apologise? I was going for him. I'm sure he can take it.'
And that's not where the drama began and ended. A pre-match controversy preceded, where Kyrgios was spotted at a pub the night before the game.
Kyrgios, of course, received brickbats, but the 24-year-old thought otherwise. When a journalist asked if he was affected because of his shenanigans, he saltily responded: 'You must have a boring life.'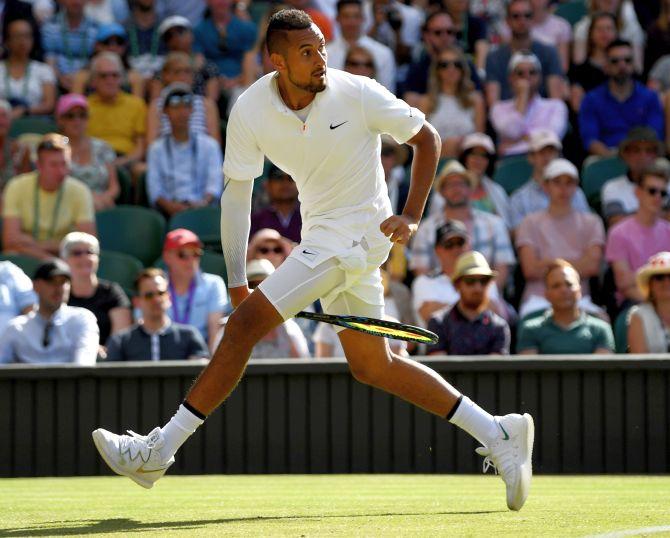 Kyrgios backers say tennis needs him with his entertaining style of play and his 'don't care attitude'. Critics argue that he is nothing more than a boisterous troublemaker who has no respect for the sport or for the player across the net.
Some predict he is never going to win a Grand Slam despite having all the ingredients to do so, because of his lack of professionalism. It's a thought Kyrgios shares himself.
At his press conference after the Nadal showdown, he admitted he was currently too unprofessional to contend for a Grand Slam.
'I know what I am capable of. I'm a great tennis player,' he declared, adding, 'but I don't do the other stuff. I'm not the most professional guy. I won't train day in, day out. I won't show up every day.'
'At the end of the day, it's tennis, man. Is it really that important? I mean, for everyone here, obviously, yeah. For me it's not so important.'
Some maintain his indiscretions, which include throwing a chair on court to tanking or sledging (trash talking), as Kyrgios did to Stanislas Wawrinka at the Canadian Masters in 2015, is what makes him the worst for tennis. After all, sports stars are supposed to be role models and a large part of that comes from discipline.
Additionally, at a time when prize money is a hot topic on the men's player council, would sponsors -- who drive prize money -- want to get involved with Kyrgios doing all that?
While organisers of tournaments and commentators argue if tennis needs Kyrgios or if Kyrgios needs tennis, one can't deny that the Aussie is charismatic and his style of play brings in the audiences, especially the younger eyeballs -- an issue the sport has been facing for some time now.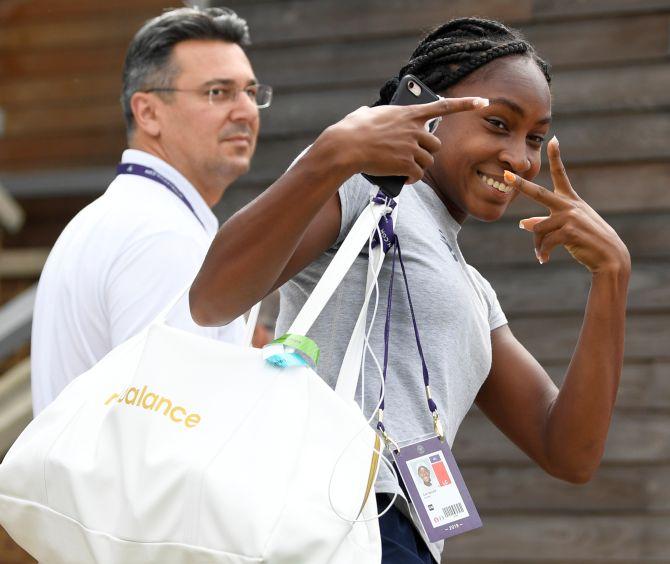 Talking about charisma and a story that captured Wimbledon's attention, here's presenting Cori 'Coco' Gauff.
If Kyrgios is tennis' bad boy, Coco can be described as the new sweetheart -- young, likeable, and moreover, with a powerful game which GOAT Serena Williams describes 'a little like Venus'.
At 15, Gauff is the youngest woman to reach the round of 16 at Wimbledon since Jennifer Capriati in 1991.
Winner of the 2018 Junior French Open, Coco's world transformed when she received a wild card at Wimbledon. She won her qualifiers to enter the main draw and lo and behold! her first round opponent was five-time Wimbledon champion and her idol -- Venus Williams.
The poise she held during her match against the elder Williams sister was commendable. What delighted the tennis world was that Florida-based Coco had just given a science test -- she's home-schooled by her mom -- just hours before one of her qualifying matches at Wimbledon.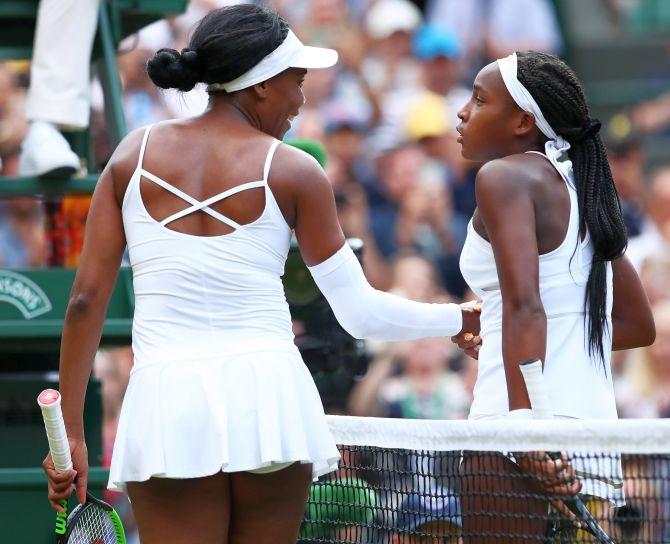 The quality of tennis that came off Coco's racquet in the match against Venus was stupendous. She had 18 winners to only eight unforced errors, all the while trading powerful ground strokes at the baseline with Williams.
In a match where she could have been very easily overawed not just by the sheer size of the court -- Coco played the match against Venus on Court no 1 -- and also her opponent, the American teen was every inch an assured young woman.
The world No 313 nervelessly triumphed 6-4, 6-4 in 79 astounding minutes.
Her mother revealed that Coco cried after she defeated Williams. 'I never thought this would happen,' she told the media. 'I'm living my dream right now, not many people get to say that.'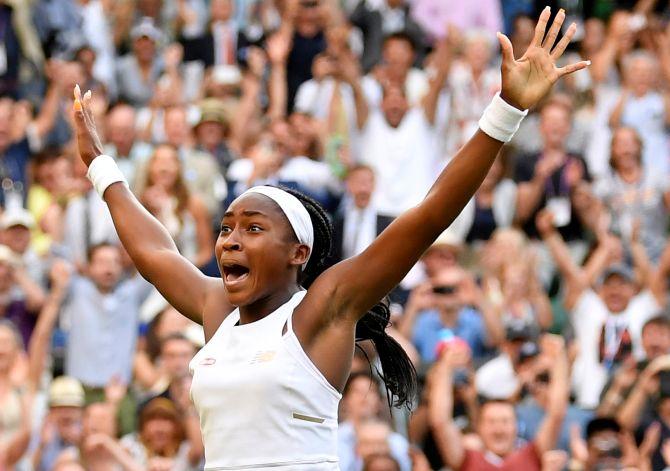 After the Williams win came two others -- another straight-set victory -- 6-3 6-3 -- over Magdalena Rybarikova, a 2017 Wimbledon semi-finalist. Then on Friday night she staged an epic comeback, saving two match points to defeat Slovenia's Polona Hercog 3-6 7-6 (9-7) 7-5 to the delight of most of the 15,000 assembled on Centre Court.
According to BBC viewership numbers, Coco has been getting all the eyeballs. Her match against Hercog was more viewed than the Nadal-Kyrgios showdown -- 5.2 million versus 3.7 million.
Next up, Coco is set to face Simona Halep, the former World Number 1 and last year's French Open Champion. That's enough reason to give the teen butterflies. Coco, a daughter of two athletes -- her father Corey played basketball at Georgia State University and her mother Candi was a track and field athlete at Florida State University -- seems confident.
In one of her interviews, she said now that she's made it, she wants to win the tournament. 'I want to be the greatest,' she declared.
And she is doing everything she can to get there.
She continues to work hard; she steps out on to the practice courts after each match.
'If you really work hard, you can get where you want to go,' the teen said, sounding wiser beyond her years. 'Last week around this time, I didn't know I was coming here. It shows you have to be ready for everything.'
The foundation of her play, she said, was practice. And more practice.
Maybe these are words Kyrgios should hear and who knows, next year we'll see a new champion rise at the All England Lawn Tennis Club.
Until then, we keep waiting. For Coco, the sky's the limit. But for now we await her much anticipated match against Halep.