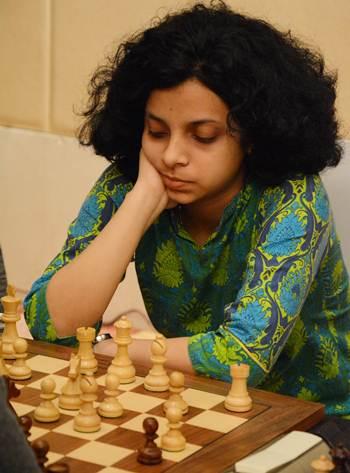 If Mae Frayna Janelle hoped to shock Padmini Rout with her choice of the 'Alekhine Defence' (which very rarely makes an appearance these days) on the very first move, then it was an effort wasted.
"I had done my homework and realized she experiments with different Openings and, to a certain extent, I was expecting this opening," smiled Padmini, after winning her ninth round match in the girls' section at the LIC World junior Chess Championships, being played at Hotel Hyatt, in Pune, on Wednesday.
Padmini now has 6.5 points, one behind the leader, Sarasadat Khademalsharieh.
In the Open section, the encounter between Bai Jinshi and Mikhail Antipov ended in a draw.
With this draw Jinshi earned a 9 round Swiss League GM norm.
N Srinath was defeated by Kamil Dragun while S L Narayanan, who needs a draw to earn a GM norm, was very much on course against Vidit Santosh Gujrathi, being better placed and enjoying an extra pawn in a rook and knight each ending.
Padmini won a pawn in a tactical skirmish on the 20th turn which also saw the exchange of queens. Thereafter, a flurry of exchanges followed and it appeared that despite an extra pawn, she would really have to toil for a victory.
Mae, however, failed to play accurately and ended on the losing side after 45 moves.
In a thrilling encounter between Anna Iwanow and Sarasadat Khademalsharieh in a Spanish Opening, Anna surprisingly sacrificed a bishop for a couple of pawns in the early stages of the opening. She then tried to whip up a whirlwind attack even as both Kings stayed on their original squares without castling.
Sarasadat's Kingside pawns were totally shattered but her queen, rook and bishop pair then launched a counter-offensive to win the game after 25 moves.
"After the opening inaccuracy, there was nothing much to do to win the game" said Sarasadat.
Four more rounds are remaining in this 13-round gruelling event.
Important Results of Open section (Indians unless specified): Wei Yi (Chn) Lu Shanglei (Chn) ; Jorge Cori (Per) Diptayan Ghosh ; Bai Jinshi (Chn)-6.5 drew Mikhail Antipov (Rus)-6.5 ; Grigoriy Oparin (Rus) Prasanna Rao ; Kamil Dragun (Pol)-6.5 bt N Srinath-5.5 ; Linus Johansson (Swe) Aravindh Chidhambaram ; Aryan Tari (Nor) Paulo Bersamina ; S L Narayanan Vidit Santosh Gujrathi ; Tadeas Kriebel (Cze) Robin Van Kampen (Ned) ; Anurag Mhamal Duda Jan-Krzysztof (Pol); Ankit Rajpara Ege Koksal (Tur) ; M Karthikeyan Rajdeep Sarkar; Ritviz Parab Quinten Ducarmon (Ned)
Girls: Ann Chumpitaz (Per) Aleksandra Goryachkina (Rus); Anna Iwanow (Pol)-6.5 lost to Sarasadat Khademalsharieh (Iri)-7.5 ; Daria Pustovoitova (Rus)-6.5 bt Ioana Gelip (Rou)- 6 ; Mo Zhai (Chn)-6.5 bt Sabina Ibrahimova (Aze)-5.5 ; Padmini Rout-6.5 bt Mae Frayna Janelle (Phi)-5.5; Tea Gueci (Ita) Meri Arabidze (Geo) ; Michelle Catherina Nguyen Thi Mai Hung ; Srija Seshadri Marina Brunello (Ita) ; IrinaPetrukhina (Rus) Vlada Sviridova (Rus); Nandhidhaa Pratyusha Biodda ; Ivana Maria Furtado Madhurima Shekhar ; Varshini V Cyrielle MonPeurt (Fra).
Image: Padmini Rout