Redemption for Norway's Ingebrigtsen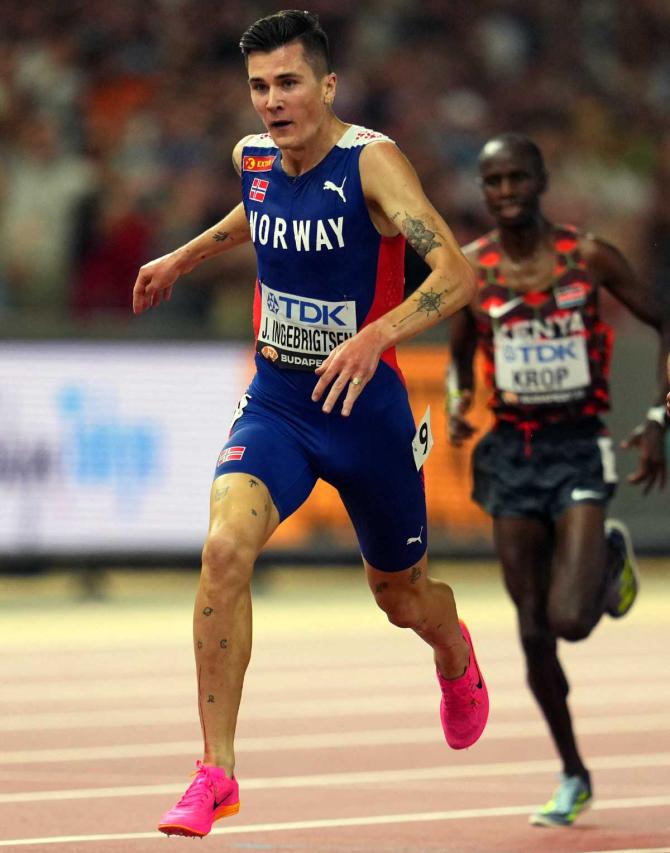 Jakob Ingebrigtsen of Norway raced to victory in the 5,000 metres on the final day of the World Athletics Championships in Budapest on Sunday, bouncing back from bitter disappointment in the 1,500m four days earlier.
The 22-year-old ran down Spain's Mohamed Katir in final 50 metres to win in 13 minutes 11.30 seconds. Katir took the silver in 13:11.44, while Jacob Krop of Kenya crossed in 13:12.28 for bronze.
Ingebrigtsen was out-kicked by Britain's Josh Kerr in the 1,500m and, in a carbon copy of last year's worlds when the Norwegian bounced back from losing to Briton Jake Wightman to win the 5,000m, he dug deep for the victory, moving up from fourth to second with 200 metres remaining.
It was only Ingebrigtsen's second 5,000m this season, his first coming in the semi-finals in Budapest.
Uganda's Oscar Chelimo did not finish, pulling off the track holding his hamstring with two laps to go.
Fast-finishing Moraa takes 800m gold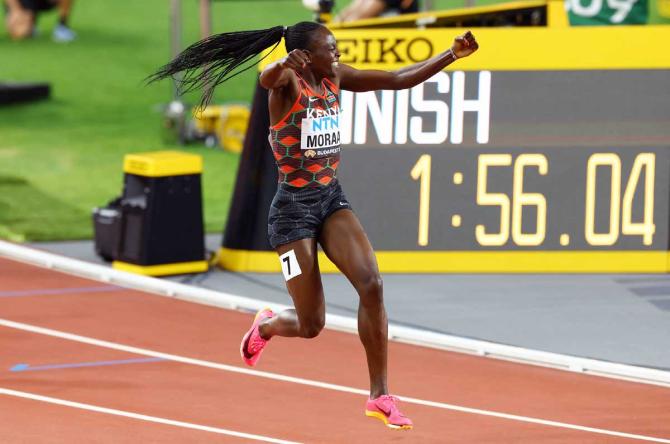 Mary Moraa of Kenya delivered a storming finish to win the world 800 metres gold on Sunday, proving too good on the final straight for race favourites Keely Hodgkinson and Athing Mu in a reshuffle of the medals from last year.
Olympic and defending champion Mu, 21, set the pace from the gun but, having barely run the distance this season, was never able to open a gap.
Moraa stayed on her shoulder throughout and delivered her trademark final 100 metres burst to move past the American to triumph in a personal best 1:56.03, leaping and punching the air in celebration as she crossed the line.
Hodgkinson, just as she did in Eugene, tried to find a way through on the inside but though this time she got past Mu, was outsprinted by Moraa and had to settle for a second successive silver in 1:56.34. She also got silver, behind Mu at the Tokyo Olympics and behind Moraa in last year's Commonwealth Games.
Mu, whose participation had been in doubt until a few weeks before the championships as she flirted with the 1,500 metres took bronze in 1:56.61.
"After bronze last year I wanted to improve and I have," Moraa said. "Everyone in the final was so fast I knew I would have to have a fast finish. I came from a long way behind but I managed to do it."
"Another podium, another medal," said Hodgkinson, the European champion. "It's not gold but it's not bronze.
"I did think I would get through on the inside but the line came a bit quicker than I thought.
"I was really up for it, I really believed I was going to win. It was a different order this year, it might be again next year. In Olympic year everyone brings even more of their A game. All I can do is aim for gold again. One of these days I will get the top spot."
Mu said: "I came here to Budapest with no big expectations and now I am really grateful for this wonderful bronze medal.
"I wanted to slow the pace a little bit since I knew it would be a killer finish. Once I was overtaken from that point I just wanted to finish on the podium."
Bahrain's Yavi wins women's 3,000 steeplechase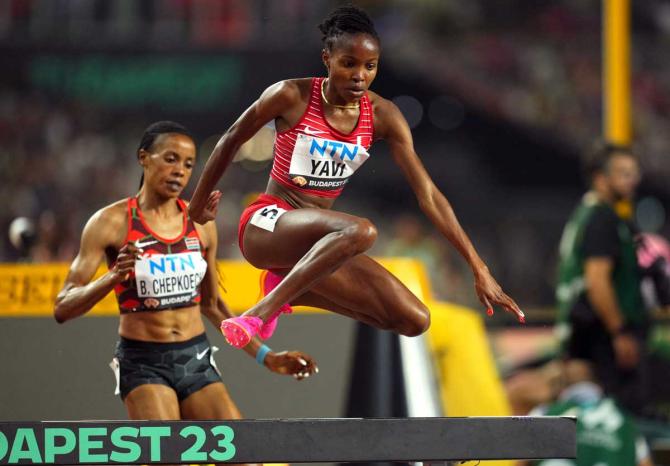 Winfred Yavi of Bahrain stalked world record holder Beatrice Chepkoech for all but one lap of the women's 3,000 metres steeplechase, surging past the Kenyan over the final 400 metres to capture gold at the World Athletics Championships on Sunday.
The 23-year-old Yavi crossed the finish line in a world-leading eight minutes 54.29 seconds for the victory, while Chepkoech crossed in 8:58.98 for silver.
Faith Cherotich, a 19-year-old from Kenya, captured the bronze in a personal best 9:00.69 to become the first teenager to climb the world medal podium in the event.
In the last individual race of the championships, fans were treated to a thrilling race featuring nine of the world's 10 fastest women this year.