The 17-year-old Nikhat Zareen (54kg) of India continued her winning run to enter the final of the AIBA Women's Youth World Boxing Championships in Albena, Bulgaria.
The reigning junior world champion is now assured of at least a silver medal from the completion and will stake a claim for her second world title.
Zareen, who won the flyweight division gold medal at the inaugural edition of the AIBA Women's junior World Championship, has moved into the youth category and fights in the bantamweight division.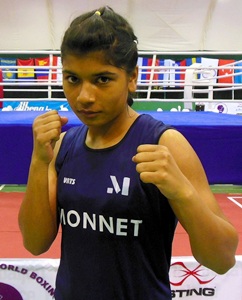 She registered a comprehensive victory over Desire Galli from Italy in the quarters to advance to the round of four. In the semi-finals, the Andhra boxer was up against another junior world champion Viktoriya Virt of Ukraine.
Virt had won the Gold Medal at the 2011 junior world championships in the bantamweight category.
But on the day of the semi-finals in the Albena, the Ukrainian boxer was no match to the nimble-footed Indian. Some brilliant infighting with a battery of jabs helped her gain the advantage. She dominated the entire bout and made her place in the final with a victory on a unanimous decision.
The Indian teen will now battle for title against Yunzi Yuan of China.
But there was disappointment for the other two Indians in the semi-finals. In the Youth World Championship, lightweight boxer Simranjit Kaur (60kg) lost in a close contest against Aidana Arapbayeva from Kazakhstan.
Whereas in the junior group, upcoming boxer from Madhya Pradesh, Asha Roka (48kg) was beaten by Assyl Askarova of Kazakhstan. Both boxers will have to be content with a bronze medal performance from the championships.
Image: Nikhat Zareen
Photograph: IBF Media