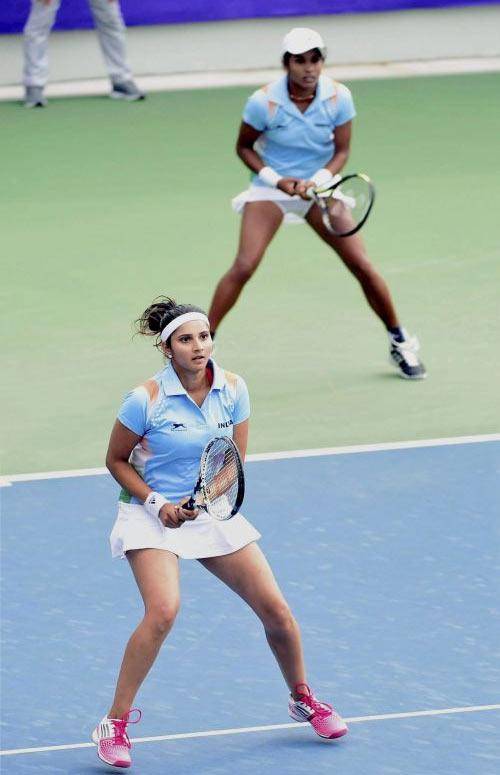 IMAGE: Sania Mirza and Prarthana Thombare in action during the Asian Games doubles match. Photograph: PTI.
Tennis player Prarthana Thombare, who will partner India ace Sania Mirza in the Olympics, says she is not scared of facing the big names at Rio Games as she has the World No 1 beside her.
"We will clash with the big names but I am not afraid because I have World No 1 Sania Mirza next to me and I think I am really prepared for it," she told reporters after being felicitated by her company Indian Oil Corporation.
"When it comes to power, I have played big tournaments, that will help me to adapt and I have taken necessary efforts for it," she added.
On tough opponents, Prarthana says, "There are lot, Serena and Venus Williams together representing US and there is (Caroline) Garcia and (Kristina) Mladenovic (of France), who have recently won the French Open (in women's doubles), there are not only one but, I don't need to worry when you have world number 1 (with you) you cannot ask for any better I think."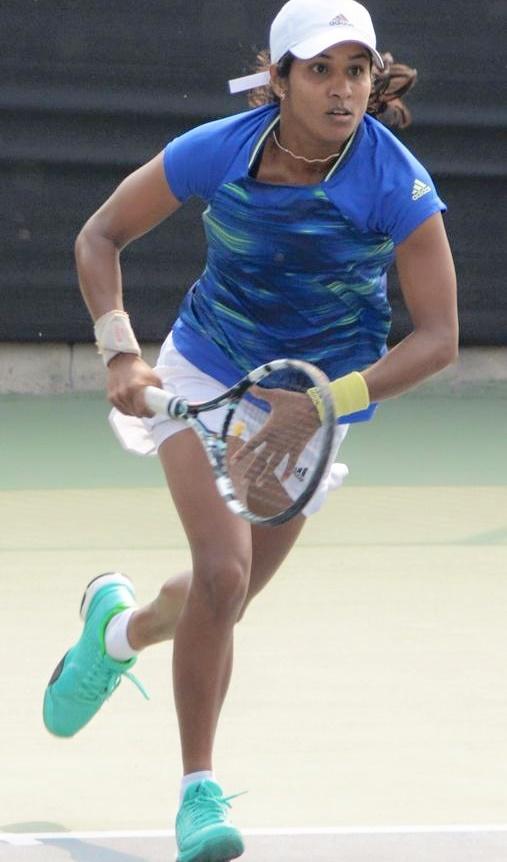 She and Sania will represent in the women's doubles at the games which will start from August 5 in the Brazilian city.
Asked about her chemistry with Sania, Prarthana, who hails from Barshi, Western Maharashtra said, "I think that's the plus point we have, Sania's father is my coach. I train at her academy and she makes me so comfortable that pressure is not even close to me.
"As a player it (the pressure) comes with it. Sania supports me a lot when she plays with me and already we have played many tournaments together and share a fine tuning.
"The practise (with Sania) has started. We are together till 30 (July) and will practise in Hyderabad. It is enough time and I think we are reaching Rio on 1 August and our first match is on 7, so we have one week to adapt to the conditions and practise there together," she added.
"It is the first time (in Rio) and an advantage for tennis players. We are going a week before so that we can adapt to the weather," adds Prarthana.
Prarthana said she is inspired by Sania. "The day she became world number one last year, that (has) inspired me."
The 22-year-old player said there is always expectations to get a medal and they will fight for each point and hopefully clinch a medal.