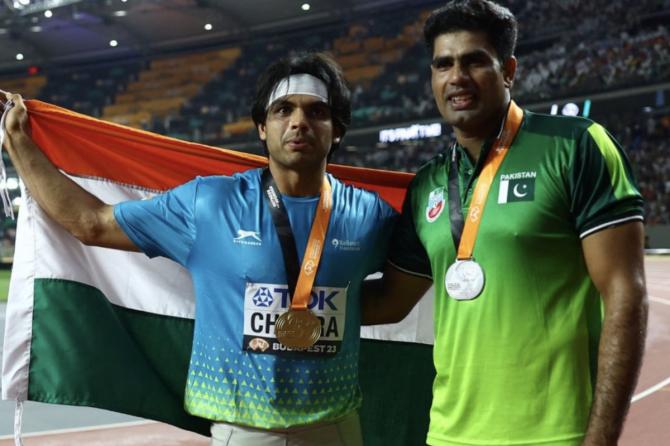 India's Neeraj Chopra would seek to defend his gold medal and end the season on a high when he takes the field for the much-anticipated men's javelin throw event in Hangzhou on Wednesday
It could just be a cakewalk for India's greatest athlete as his nearest competitor and world silver medallist Arshad Nadeem has pulled out of the Games due to a chronic knee injury which has troubled him for some time now.
Chopra has won every competition against Nadeem, nine in all, including the 2018 Asian Games, where the Pakistani was third when the Indian stood on top of the podium.
"After consulting the medical personnel, Mr. Arshad Nadeem has now decided not to participate in the Asian Games in order to prevent any untoward situation that may hinder his training program and participation in the Paris 2024," Pakistan contingent issued a press release.
"The Chief Medical Officer (Dr Asad Abbas) of the Pakistan Contingent recommended a comprehensive check-up. Mr. Arshad Nadeem underwent a thorough medical examination, including a non-invasive test i.e. MRI at a local hospital here in Hangzhou. The MRI revealed a chronic injury which he has been carrying."
Nadeem has beaten Chopra in the race of reaching 90m first but the Indian Olympic champion has been victorious in all the events featuring the duo, starting from the 2016 South Asian Games where the Pakistani had won a bronze.
Nadeem was third when Chopra won gold in the 2018 Asian Games. He was eighth in the 2018 Commonwealth Games where Chopra clinched a gold.
Nadeem was fifth in the Tokyo Olympics in 2021 where Chopra won gold. Nadeem was again fifth in 2022 World Championships where Chopra bagged a silver. He also finished seventh in the 2017 Asian Championships where Chopra grabbed a gold.
For Chopra, the dream of becoming the world champion has been fulfilled this season even as he battled a persistent groin strain, which he sustained during training in late May.
Just a few days back, he said the injury has not gone away completely but can be manageable.
He said he has been trying to divert his mind from the groin strain and focus on his game, which he had done during the Budapest World Championships and during the Diamond League finals in Eugene, USA, last month where he lost his title.
The back-to-back second place finishes at the Zurich Diamond League and in the DL grand finale in Eugene could be some sort of concern, but Chopra would start as firm favourite at the 'Big Lotus' stadium on Wednesday.