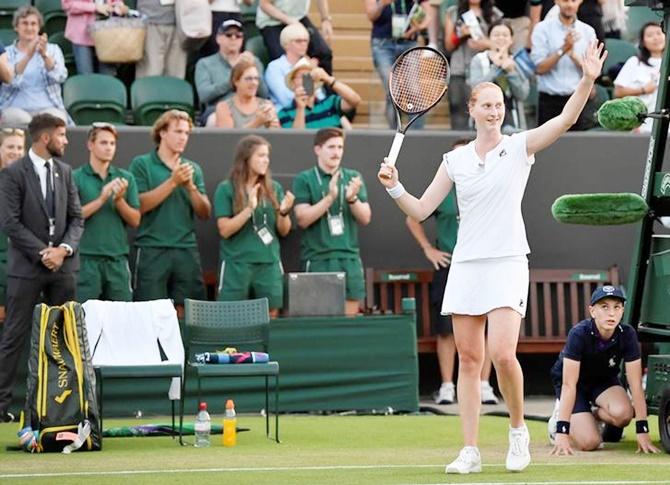 Garbine Muguruza, Wimbledon champion in 2017, was knocked out in the first round on Tuesday, losing 6-4, 6-4 to Beatriz Haddad Maia.
The world number 27 was dumped out by the 23-year-old Brazilian, who has never won a career singles title and is ranked 121 in the world.
The defeat added to a barren spell at the majors for the 25-year-old Muguruza, who has not been past the fourth round in any of the last five Grand Slams.
The defeat also continued a patchy season for the 25-year-old Spaniard who has been past the quarter-final at only one tournament, when she won in Monterrey in April.
Thiem suffers Querrey defeat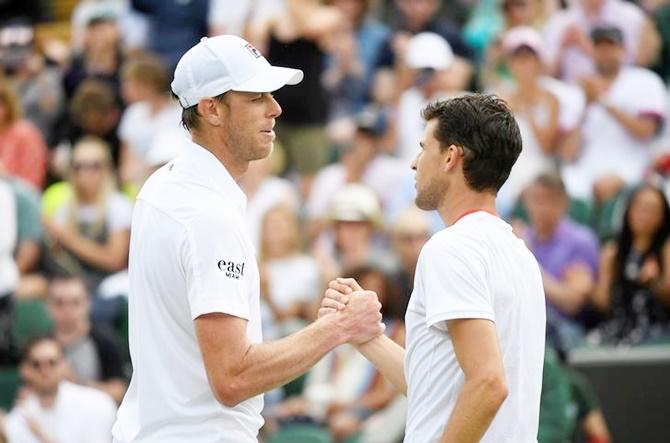 The exodus of men's seeds continued at Wimbledon on Tuesday as Austrian Dominic Thiem exited in the first round for the third time in six visits, beaten by American Sam Querrey.
Thiem, the fifth seed, reached the French Open final for the second year running last month but his heavy topspin game is less effective on grass and Querrey took full advantage to win 6-7(4), 7-6(1), 6-3, 6-0.
The big-serving Querrey, who reached the semi-finals in 2017 and also beat Novak Djokovic in the third round in 2016, fired down 22 aces as he turned the match around.
Thiem lost heart in the deciding set which whizzed by in 20 minutes, Querrey finishing him off with another ace.
He is the third top-10 player to fall in the men's first round after sixth seed Alexander Zverev and seventh seed Stefanos Tsitsipas bowed out on Monday.
The result was all the more impressive for Querrey who only returned to action at Eastbourne last week, reaching the final, after being sidelined by injury since April.
"I know grass is not his favourite surface but he is still a great player who reached the French Open final a few weeks ago so I felt like the pressure was on him," Querrey, who will face Cristian Garin or Andrey Rublev next, said.
"It meant I could swing freely."
Federer overcomes bad start to beat debutant Lloyd Harris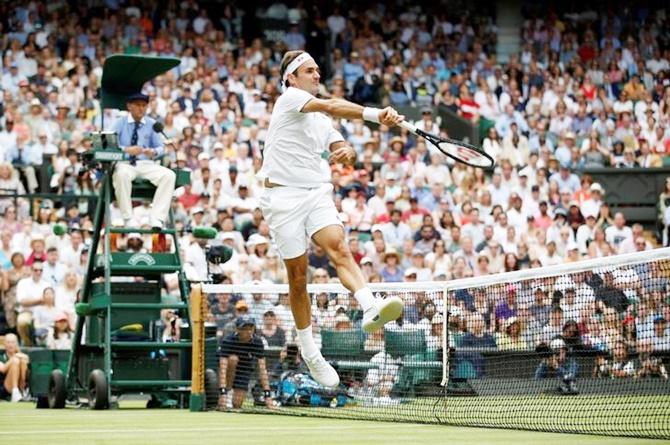 Roger Federer set pulses racing for around 40 minutes on Tuesday as Wimbledon debutant Lloyd Harris threatened to overthrow the established order before eventually succumbing to a 3-6, 6-1, 6-2, 6-2 first round defeat.
Contesting his 108th match at the All England Club, the eight-times champion had been expected to ease to his 96th win at the grasscourt major considering he was facing an opponent who had yet to win a match on the green stuff.
However, the South African, wearing a back-to-front baseball cap, came out swinging to break the mighty Federer serve in the sixth game and held on to the advantage to seal the first set when the Swiss swiped a backhand long.
When Federer fired a double fault in the first game of the second set and followed that up by netting an easy volley, the gasps grew louder on Centre Court.
But if Harris harboured any hopes that this might be the day when he will embark on a journey that would allow him to emulate the 1951 feat of American Dick Savitt, who was the last man to win the Challenge Cup on his Wimbledon debut, his dreams were crushed brutally over the next three sets.
The second seed dropped only five further games as he sealed victory with his ninth ace to set up a meeting with either American qualifier Noah Rubin or British wildcard Jay Clarke.
Federer's Swiss compatriot Belinda Bencic earlier sealed a 6-2, 6-3 win over Anastasia Pavlyuchenkova to set up a clash with Kaia Kanepi.
The Estonian beat Stefanie Voegele 5-7, 7-5, 6-4.
Nadal beats Sugita to set up Kyrgios clash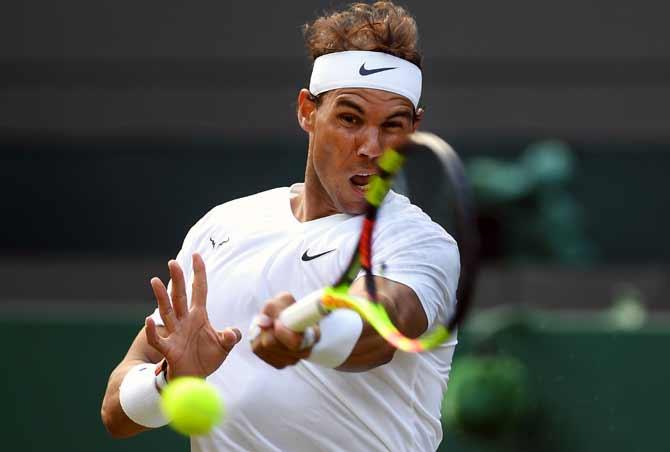 Rafael Nadal has had numerous nasty surprises in Wimbledon's early rounds so when Japan's Yuichi Sugita won the opening two games of their first-round clash on Tuesday he might have felt a pang of anxiety.

The Spaniard need not have worried though as he recovered from that initial hiccup to claim a dominant 6-3, 6-1, 6-3 win.

Apart from the smattering of Japanese fans cheering on 30-year-old qualifier Sugita, it was the result that 99.9% of people following the Championships desired as it sets up an intriguing second-round tussle between Nadal and Nick Kyrgios.

The pair have traded barbed comments this year with Nadal accusing Australian maverick Kyrgios of disrespect after losing to him in Acapulco while Kyrgios described the 18-time Grand Slam champion as being "super salty" in defeat.

Nadal was just happy to get through his first grasscourt match in a year without any major alarms and refused to get involved in the hype surrounding what comes next.

"I'm too old for all that stuff," he said after coming off court. "Too many years on the tour. What I said, I said.

"I'm not a guy who will be in a fight with anybody. I will keep doing things I love. After tomorrow I will be back in this amazing place."

Serena scraps through unexpected dogfight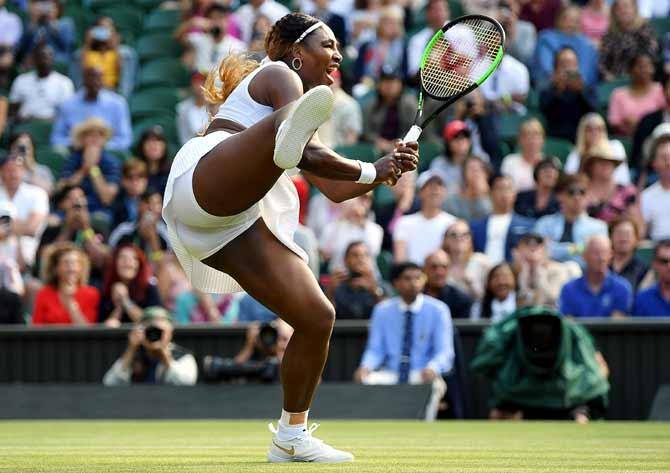 Serena Williams began her first-round clash at Wimbledon in complete comfort, but ended it screaming in delight as she finally suppressed Giulia Gatto-Monticone having been dragged into an unlikely dogfight by the world number 161.

The Italian qualifier, who was making only her second Grand Slam appearance at the age of 31 having amassed a relatively modest $300,000 in prize money throughout a pedestrian career, was eventually subdued 6-2, 7-5.

But she put the seven-times champion through her paces, testing the injuries that have limited the American to seven matches since the Australian Open in January.

"She never gave up - it's good for me to play matches like this as I haven't played too many matches this year," said Williams.

"It's the best I've felt since February. It felt amazing to be on grass after some tough times on clay. I'm so thankful and I'm happy to be back doing what I love."

Gatto-Monticone came from the other side of the tennis tracks to Williams, having only played one previous match against a top-20 player and never beaten someone ranked higher than 102.

Yet her staying power against the 23-times Grand Slam singles champion, who has amassed nearly $89 million in prize money, gave the fans on Centre Court a contest they could not have expected when Williams took the opening five games.

From then on, however, the two players went toe-to-toe, albeit in a scrappy encounter low on quality.

After taking the first set in 29 minutes, Williams had to wait until the eighth game of the second set to break serve only for the resilient Italian to fire straight back and then level at 5-5.

After getting her nose back in front, Williams brought up match point on Gatto-Monticone's serve, pumping her fists furiously before wrapping up the encounter following a lengthy rally and rapid exchange at the net.

Like an ageing heavyweight, the 37-year-old Williams clearly still packs a punch but looked well-below par and desperately in need of matches to regain sharpness.

Next up for the former world number one will be a second-round clash against Kaja Juvan, a highly-rated 18-year-old prospect from Slovenia who showed off her potential with a 6-4 2-6 6-4 win over Kristyna Pliskova.
Defending champion Kerber makes good start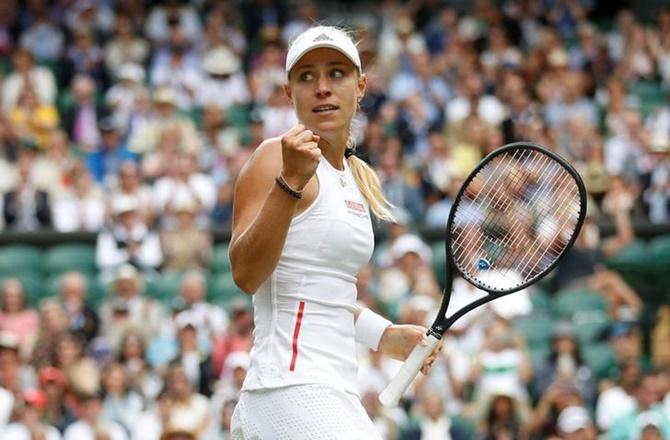 Defending champion Angelique Kerber needed to call upon all her cunning and experience to navigate her way 6-4, 6-3 through an awkward first-round encounter with German compatriot Tatjana Maria on Tuesday.
The three-times Grand Slam champion has enjoyed mixed fortunes since beating Serena Williams in the final last year, dropping to fifth in the standings, and went out in the first round of the French Open last month.
It was with some nervous tension that she stepped out on Centre Court, opening the action on the second day of the tournament in traditional fashion as the women's champion.
Maria's combination of slice and guile, rare on a circuit dominated by big-hitting power players, frustrated Kerber, especially in the first set.
"She's playing tricky on grass," Kerber said straight after leaving the court. "I was hoping to stay in the match because you never know what's going to happen with her. She really plays tricky with the slice on both sides."
The players exchanged breaks throughout the match and Kerber thumped shots long and into the net as she came to terms with her 65th-ranked opponent's subtler delivery, producing 12 unforced errors in the first set and 19 overall.
But the left-hander was able to match Maria's all-court game when it mattered, winning the first set with an perfectly judged lob, off balance and on the run.
The pair served up skilled and entertaining tennis in the second set, Maria drawing gasps of admiration from the crowd for speed and deftness at the net.
Not to be left out, Kerber produced a running shot through her legs and, to earn match point, a smash from the baseline.
She finished the match with a thumping forehand that Maria could not handle.
The pair, at 31 of the same generation of German tennis players, embraced warmly at the net.
Kerber, with 29, has won more grasscourt matches than any other woman on the circuit over the last four years and last week reached the final of the Eastbourne tournament where she lost to powerful hitter Karolina Pliskova.
She will play 96th-ranked Lauren Davis of the United States in the second round.
Barty extends winning run to 13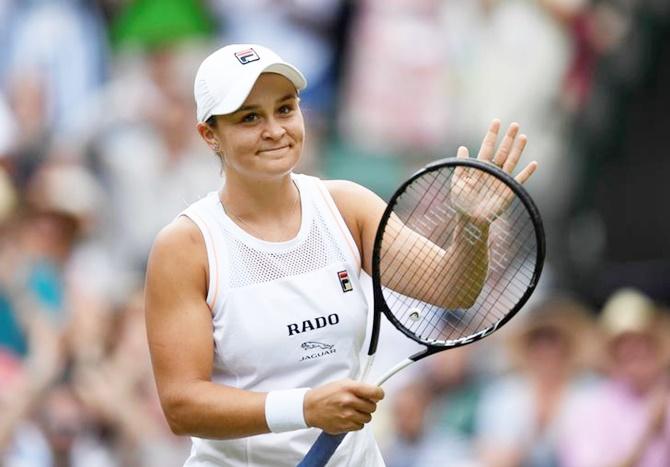 Ashleigh Barty's express-train run to the top of the women's game shows no sign of slowing as the world number one dispatched China's Zheng Saisai 6-4, 6-2 to reach the second round.
Australian Barty, who followed up her French Open triumph last month by winning in Birmingham, sealed a 13th straight win in a brisk hour and 16 minutes, battling through the first set before easing through the second.
Barty has never been past the third round at Wimbledon, but her game is well-suited to the slick grass courts and, having dragged herself to the summit of women's tennis, she looks well-placed to challenge for a second Grand Slam title.
While some might feel the weight of expectation coming into a Grand Slam as world number one, it seems Barty is relishing the experience.
"It feels incredible. It feels a bit bizarre actually but I'm trying to go about my business in the same way as I always have done," she said.
"You have to enjoy every minute when you're playing at this beautiful tournament."
The 23-year-old will certainly have to overcome tougher challenges than the 43rd-ranked Zheng if she is to lift the trophy next Saturday.
They had played each other three times previously, with Barty winning on each occasion and, apart from a brief wobble in the first set when she allowed the Chinese to claw back from 3-0 down to 3-3, it was plain sailing.
She broke early in the second set and again in the eighth game to wrap up victory, volleying the winner before saluting the crowd.
Bad boy Kyrgios becomes new darling of Wimbledon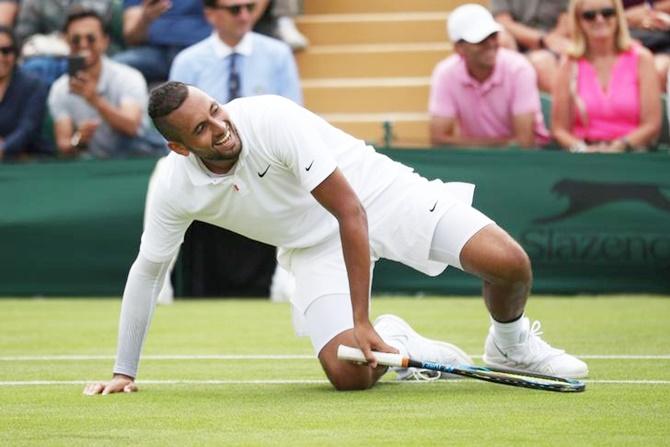 Wimbledon has a new hero and, of all people, it is Nick Kyrgios, after the incredible sulk transformed himself into the Clown Prince during a hugely entertaining five-set victory over fellow-Australian Jordan Thompson.
They had queued early to see Kyrgios, many no doubt hoping for some high voltage fireworks from a player who has the longest rap sheet in the game. But by the time he triumphed 7-6(4), 3-6, 7-6(10), 0-6, 6-1 in an extraordinary contest, they were putty in his hands.
Only once did he lose his cool and belt a ball into the sky while chuntering about a bad call. The rest of the time he was more reminiscent of Henri Laconte playing an exhibition match - both in terms of crowd interaction and shot choice.
He must have played 30 drop shots, despite almost every one of them failing to yield a point. He threw in a bewildering array of slices and dices while also pounding down artillery ground strokes and power serves.
He somehow lost the fourth set to love in 18 minutes - less time than he took to win a marathon 12-10 tie break in the third.
He served a 120 mph ace on second serve on game point at 5-4 down in the first set. There was the mandatory under-arm serve, a half-court lap of honour after winning a key point in a tie break, repeated collapses to the floor in mock - or perhaps real - exhaustion and genuine praise for the good shots of his opponent.
His reward is a potentially mouth-watering second-round clash with Rafa Nadal, the number 3 seeded Spaniard he has described as "super salty", in a match that will severely test the allegiance of the Wimbledon fans.
Tomic beaten by Tsonga in 58 minutes
Australian Bernard Tomic banked 45,000 pounds for 58 minutes work as he sauntered to a 6-2, 6-1, 6-4 defeat against Frenchman Jo-Wilfried Tsonga.
Fans looked bemused as the 26-year-old world number 96 offered token resistance, barely running for shots as the 34-year-old Tsonga cruised through to the second round.
Social media channels lit up with Wimbledon followers slating Tomic's apparent lack of effort with "appalling", "embarrassing" and "playing in slow motion" just some of the descriptions of what they had seen.
Former British number one John Lloyd, analysing the match for the BBC, said he could have watched a more competitive match in his local park.
Tomic has been in trouble for "tanking" (not trying) during matches before and was fined $15,000 here in 2017 after admitting faking an injury during a loss to Mischa Zverev in the first round, saying later he was "bored" with Wimbledon.
Later, when asked whether he was satisfied with his effort against Tsonga, he said: "Next question please."
Asked to sum up his performance he said: "I played pretty bad." Asked to elaborate, he said: "I just played terrible."