Norma Godinho has just about caught her breath after all the action at SW19 on Super Sunday.
Here are Norma's memorable moments from this year's Wimbledon:
'THE' Final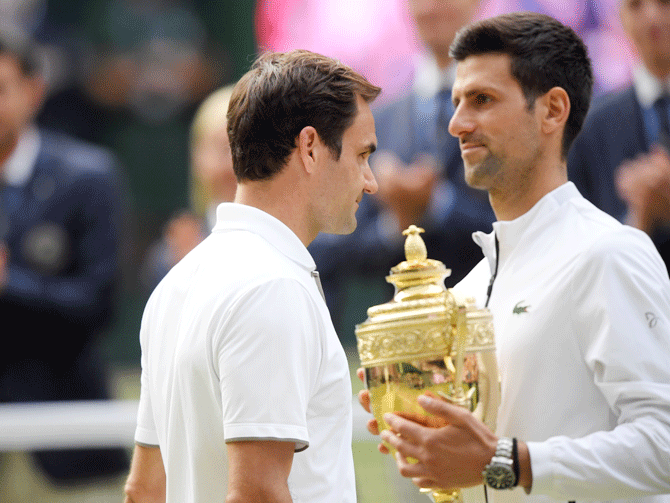 Here we were thinking we'd already witnessed the greatest Wimbledon final that ever was -- 2008, Rafael Nadal beating Roger Federer in a four-hour 48-minute duel. But how wrong were we!
When Federer and Novak Djokovic stepped onto centre court on Sunday, it was expected to be a tight contest, but no one expected the epic they encountered as the afternoon extended into the evening.
The contest was one for the ages as both men played played with the brilliance expected of them.
Djokovic threw the kitchen sink at everything, flexing every muscle.
Federer matched him shot for shot, but could not make the big points count when it mattered.
Federer was serving for the match at 8-7 in a cliffhanger fifth set, but Djokovic had an encore on his mind, fought off the two match points before going on to snatch a 16th Grand Slam title.
The Serb saw off three tie-breaks -- including the first 12-12 tie-break in a fifth set Wimbledon final -- to edge out Federer in a match that stretched for 4 hours, 57 minutes!
Double Delight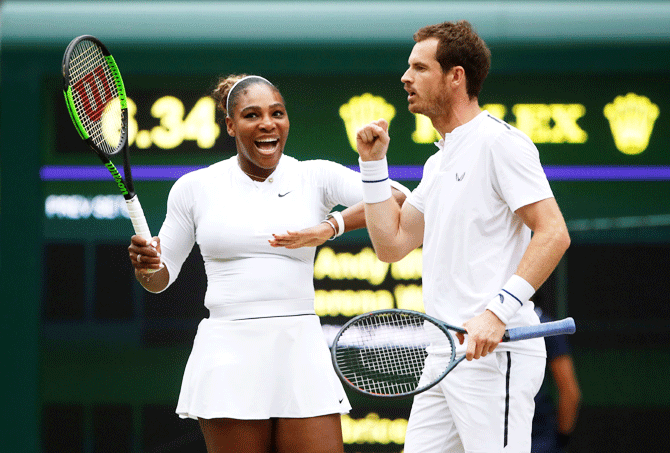 Watching Andy Murray return to Wimbledon brought relief and joy to his fans in Britain and around the world.
And to see him in two events at the Championships was a double treat.
Although he didn't go deep in the tournament -- the Scot lost in the second round of the men's doubles with Pierre-Hugues Herbert and in the third round of the mixed doubles with Serena Williams -- it was good to see him back in action after that hip injury in January that made it tough for him to even tie his shoe laces.
Andy partnering Serena in particular was fun to watch as they complimented each other perfectly. It was exciting while it lasted.
'I am having a blast. Obviously it has been a great atmosphere playing out there with Andy, so it is great,' Serena said of her brief partnership with Andy.
Coco!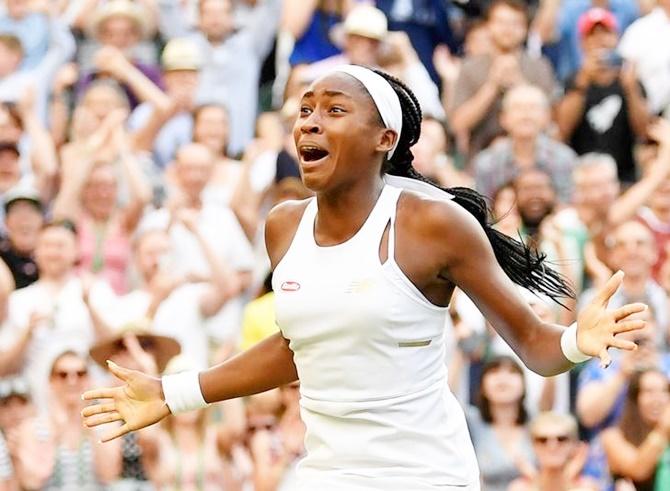 A 15 year old made everyone take notice after she sailed through the qualifiers and into the main rounds, while also answering a science test.
Cori 'Coco' Gauff first took on her idol, 5 time champion Venus Williams, and sent her packing, before adding the scalps of former semi-finalist Magdalena Rybarikova and Polona Hercog.
Coco recovered from two match points down to overcome Polona in a match that lasted 2 hours 46 minutes and took her into Wimbledon's second week.
The American teenager also displayed some maturity. Sample this: 'I remember before I played Venus, as you know, when you walk to leave the practice courts, there are people waiting. One little kid asked me for a picture. Then after the next day, after I played Venus, everybody was screaming my name.'
And then she seemed equally excited about things Gen Z. Of her mother's celebrations going viral she said: 'Please tell me she's a meme. I'm so excited to go on Instagram. I'm going to retweet it and everything.'
Going into week 2 she lost to eventual champion Simona Halep in the 4th round, but not before having us hooked and wanting more.
The fiery Kyrios-Nadal clash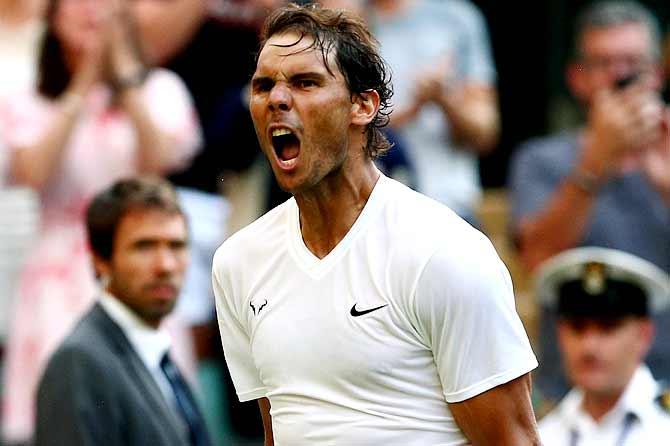 Just before Wimbledon, there was a lot of banter -- although indirectly -- between tennis's bad boy Nick Kyrgios and Rafael Nadal.
Nadal accused Kyrgios of 'disrespect' after his defeat in Acapulco in March when the Aussie served underarm near the end of the match.
In a podcast interview later, Kyrgios said the Spaniard was nice when he wins, but 'super salty' in defeat.
After all the words said, it was time for the face-off on court.
The second round match was a humdinger. It went into four sets, had a 143 mph second serve ace from Kyrgios -- the second-fastest second serve in ATP history -- and there was more.
That was followed up with another ace -- a gentle under-arm lob. If that was not all, the Aussie went on a rant against the chair umpire for which he received a warning.
Nadal was a revelation too -- not with his tennis -- but with his show of emotion. He celebrated every point won like he was playing the final.
He also exploded after a huge service hold during a third set showdown which the Spaniard eventually took on a tiebreak.
Kyrgios threw everything, but it was the fired up Nadal who eventually progressed.
A ton of wins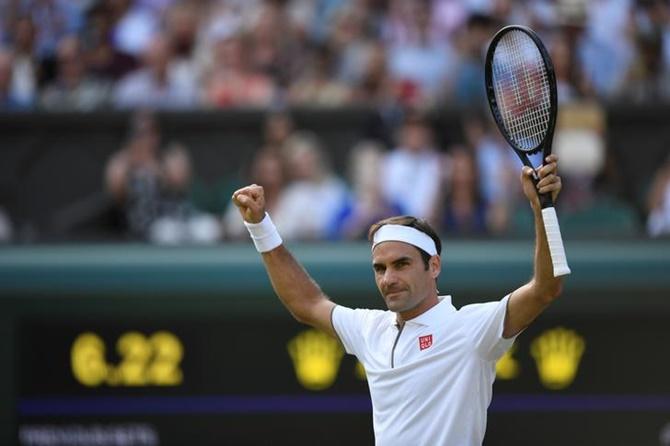 Roger Federer completed a milestone en route to the final.
He recorded his 100th win at Wimbledon, the first man to record a century of singles wins at any Grand Slam, when he defeated Kei Nishikori in the quarters.
The Swiss master had earlier surpassed Jimmy Connors for the most wins at a Grand Slam championship.
'It's special,' Federer said of his latest feat. 'If I look back at the hundred, some were so incredibly cool.'
The Simona Show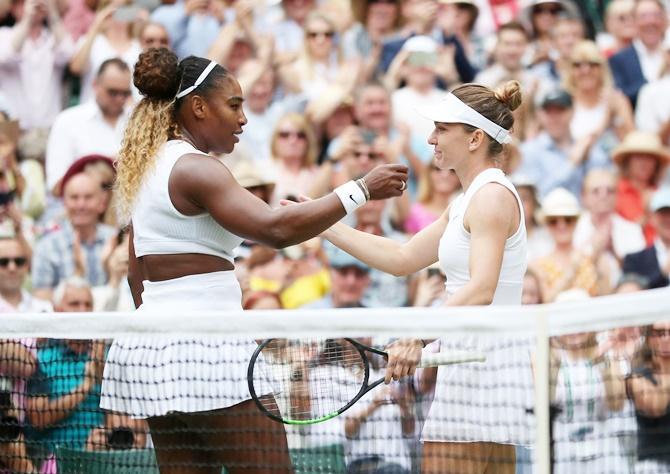 Gunning for a 24th Grand Slam title, Serena Williams was unstoppable from the get go.
Serena had faced only one top 30 player in Julia Goerges coming into the final, but was at her devastating best in a 59-minute destruction of unseeded Barbora Strycova in the semi-finals.
But that was not enough as she was bulldozed by Simona Halep 6-2, 6-2 in a 56-minute match final.
Serena had beaten Simona on 10 earlier occasions, but it was the Romanian's time to shine on Centre Court, having, in Serena's words, 'played out of her mind'.
Cabal and Farah create history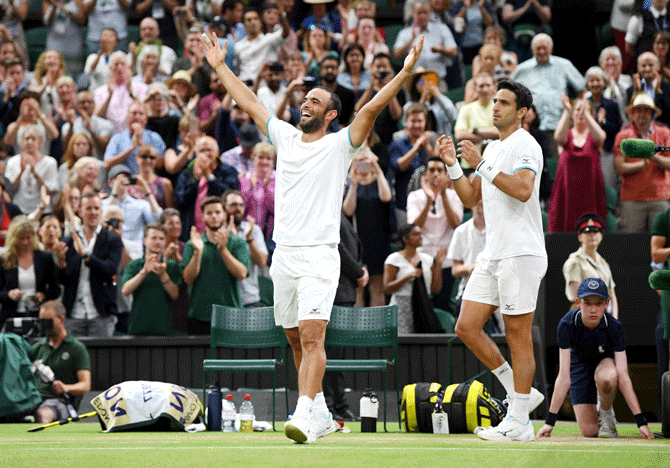 Juan Sebastian Cabal and Robert Farah became the first Colombians to win a Grand Slam men's doubles title when they beat France's Nicolas Mahut and Edouard Roger-Vasselin 6-7(5), 7-6(5), 7-6(6), 6-7(5), 6-3 in a near five-hour epic.
'We just won Wimbledon for Colombia,' Farah said. 'It's huge for our country. The moment we're living right now is just crazy.'