- 'What has happened to Tiger Woods is really the perfect storm of destruction for an athlete.'
- 'We've seen Tiger Woods' golf swing decay, his body decay and then his chipping decay.'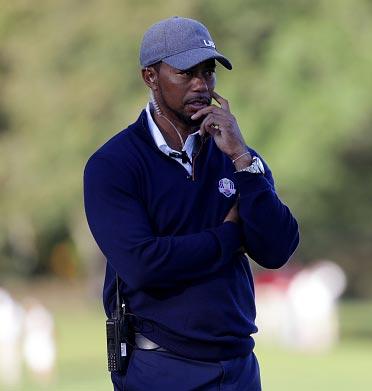 Tiger Woods' decision to postpone his tournament golf comeback has raised more questions about his future with some former players wondering if he will ever successfully return to regular competition.

Former PGA Tour winner Brandel Chamblee greeted Monday's news of Woods' withdrawal from this week's Safeway Open by comparing the player's plight with the late-career struggles of Spanish five-times major winner Seve Ballesteros.

Twice major champion Johnny Miller said Woods is "not ever going to be the old Tiger," although stopping short of writing off the 40-year-old completely.

Chamblee described a "perfect storm" of issues that have simultaneously beset 14-times major champion Woods.

"What has happened to Tiger Woods is really the perfect storm of destruction for an athlete," Chamblee said on Golf Channel.

"We've seen Tiger Woods' golf swing decay, his body decay and then his chipping decay.

"Once you've been visited upon by the yips, when you're chipping it just never goes away.

"There's nothing more exciting in golf, maybe in sports, than watching Tiger Woods, but there are too many hurdles to overcome.

"I just don't see (Woods) overcoming the yips."

SEVE PARALLELS

Chamblee also explained his comparison of Woods to the late Ballesteros, who was a pale shadow of his former self once his confidence ebbed.

"On many levels, there are parallels to Seve. Seve Ballesteros was a genius, an artist.

"That's what golf is, it's more of an abstract game, and Seve tried to make it later in his career a linear game, and every single person that I've seen in professional golf who tried to make it a linear game, either becomes so frustrated they no longer can play or sooner or later they quit."

Woods was scheduled to play at the PGA Tour event in Napa, California, starting on Thursday, returning from a 14-month break after back surgeries.

But his decision to pull out, three days after confirming his participation, is puzzling.

Woods, who announced his withdrawal on his website (www.tigerwoods.com), has not revealed what happened over the weekend that prompted a change of mind.

Safeway Open tournament host Miller was crestfallen at the news, and acknowledged that Woods' glory days are probably long behind him.

"I know there's a lot of pressure on Tiger after being away from professional golf for 14 months," said Miller.

"Everyone expects him to come back and play like the year 2000, but that's just not going to happen.

"He's not ever going to be the old Tiger (but) I still think he can win, if he has the desire. I just hope he can find a bit of joy in the game again."

Woods will not play at next month's European Tour Turkish Airlines Open event but plans to turn out at his foundation's Hero World Challenge in Albany, Bahamas in December.
Image: Tiger Woods
Photograph: Streeter Lecka/Getty Images