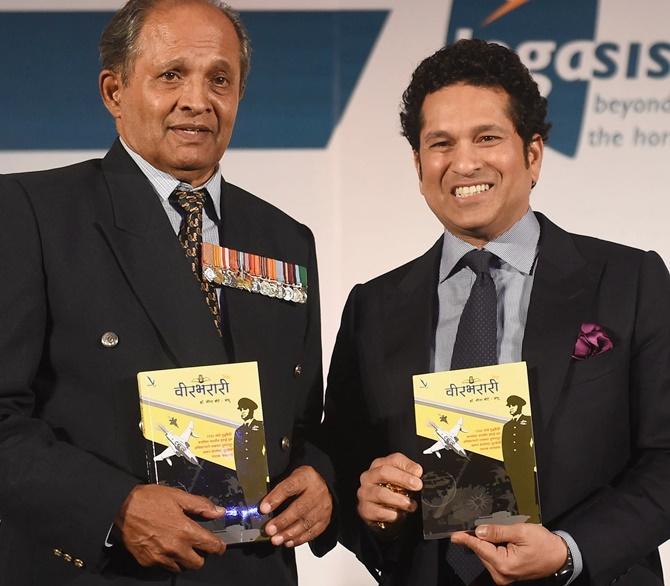 IMAGE: Sachin Tendulkar, right, during the launch of war veteran, Dilip Parulkar's book Veerbharari, in Mumbai, on Monday. Photograph: PTI.
Cricket legend Sachin Tendulkar, on Monday, launched the Marathi version of the book 'Four Miles to Freedom – Escape from a Pakistani POW camp' penned by Faith Johnston.
The book is a biographical account of Group Captain (Retd) Dilip Parulkar, who tried to escape from a Prisoner of War Camp in Pakistan.
The Marathi version titled 'Veerbharari' is translated by Meena Shete-Sambhu.
The booked was launched at the 'Compliance 10/10', an annual flagship event of the Legasis Group in the presence of Chief National Badminton coach Pullela Gopichand in Mumbai.
Speaking on the occasion, Tendulkar, who is also a Honorary Group Captain in the Indian Air Force said, "It is truly an honour to be standing on the same dias as seniors from our of the Armed Forces and whatever you do for us, thank you so very much. Gopi (Gopichand), I and other sportsman, we just represent the nation, you protect the nation.
"This book (Veerbhahari) is a special book and I am sure, I have played cricket in Pakistan and all various other sportsmen have been to Pakistan and competed, but this innings played by Captain Parulkar would inspire all the sportsman to go out there and win matches," he added.
The right-handed batsman also launched 'Izzat', an initiative which seeks to provide pan India placements in the corporate world for retired Armed Forces personnel in myriad functions such as technical, logistics, supply chain, telecom, security, healthcare, infrastructure and engineering.
Tendulkar also launched Whiz Legasis, a dedicated portal which will provide legal support service free of cost to defence personnel and sportsmen.