- 'I'm surprising the guys on tour, my colleagues. That's great because I'm seeing I can be dangerous in the future once again.'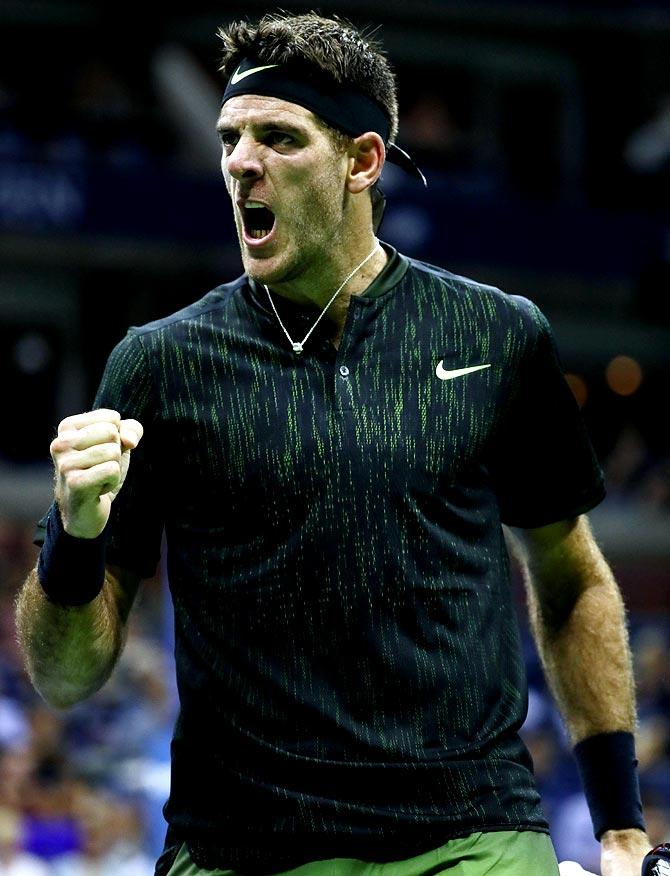 IMAGE: Juan Martin del Potro reacts after winning the second set during his second round match against Steve Johnson of the United States at the 2016 US Open. Photograph: Al Bello/Getty Images
When former US Open champion Juan Martin del Potro began his latest comeback in March he said he was playing for fun after three operations on his wrist.

Six months on, with an Olympic silver medal in the bag, the Argentine beat 11th seed David Ferrer of Spain 7-6, 6-2, 6-3 to reach the US fourth round for the first time since 2012.

"I didn't expect to be in the second week of this tournament," the 2009 champion told reporters on Saturday after setting up a clash with eighth seed Dominic Thiem of Austria.

"I didn't expect to get a medal in Rio. I didn't expect to play at this level in this part of the year."

"I'm surprising the guys on tour, my colleagues. That's great because I'm seeing I can be dangerous in the future once again.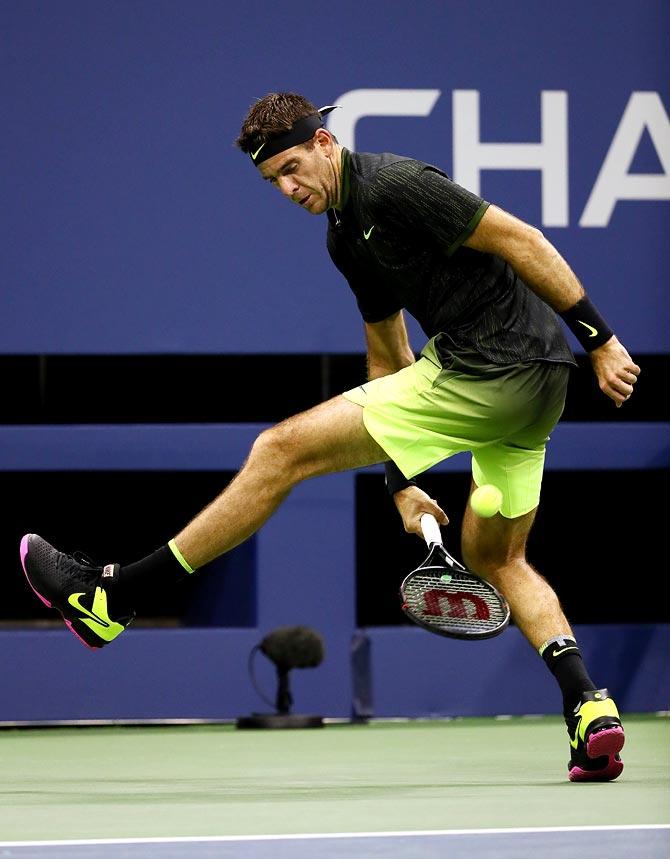 IMAGE: Juan Martin del Potro plays a shot in between his legs during his second round match against Steve Johnson of the United States at the 2016 US Open. Photograph: Al Bello/Getty Images
Having climbed back to 142nd in the rankings, Del Potro needed a wildcard to get into the US Open.

But his win over Ferrer showed everyone that he may even be a contender for the title.

"The best players on tour are talking good things about me," Del Potro said.

"If they see something good in my game, that's important, because I'm showing a good game at the moment. (Hopefully) the future will be better, even better than today, and that's important."
IMAGE: Juan Martin del Potro serves to David Ferrer of Spain during his third round match at the 2016 US Open. Photograph: Andy Lyons/Getty Images
Del Potro's next opponent is Thiem, a rising star of the men's Tour who has a big serve and huge single-handed backhand.

Del Potro, who does around three hours of rehab on his left wrist every day, said Thiem will be the favourite.

"It all depends on my physically, on my body, on my game," he said.

"If I play like this today, I will maybe have chance to do a great match against him.

"He's playing really well. He's very dangerous. His backhand is so good. His movements are really fast. It will be an interesting match for me."