The International Olympic Committee (IOC) banned the Indian Olympic Association on Tuesday over elections that could result in a tainted official taking over as the only candidate for secretary-general, a source close to the IOC said On Tuesday.
The ban means an effective end to funding from the IOC to the national Olympic committee (IOA), no Indian officials attending Olympic meetings and Indian athletes banned from competing at the Olympics under their country's flag.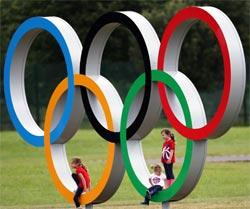 Lalit Bhanot, who spent 11 months in custody last year following corruption charges that plagued the 2010 Commonwealth Games in Delhi and who is out on bail, was confirmed for the post late on Friday after the rival faction pulled out ahead of Wednesday's election.
- 'Ban an opportunity to clean the mess'
- 'Bye, bye IOA. Hope to see you soon, clean!'
The IOC has been angered by government interference in the elections and had warned the IOA in a letter of a possible suspension.
The IOA has been directed by a Delhi court to hold the elections adhering to the government's sports code, while the IOC wants the governing body to abide by the Olympic charter.
The IOC blamed non-cooperation by the Indian government and the IOA for the current situation.