- A Swiss national who has run soccer's powerful governing body for the past 17 years, 79-year-old FIFA boss Sepp Blatter has now for the first time become the focus of a criminal investigation.
- While Blatter could face up to a five-year prison sentence for the crimes mentioned by the Swiss Attorney General's Office, he is unlikely to face jail time.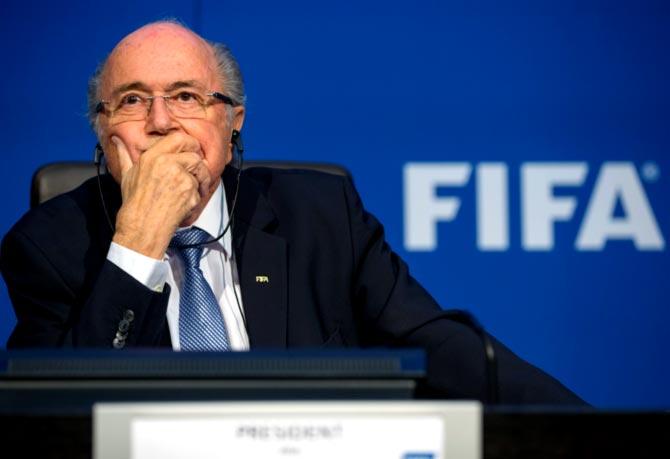 IMAGE: FIFA president Sepp Blatter. Photograph: Philipp Schmidli/Getty Images
Since the explosive indictments and arrests of international soccer officials in May, FIFA president Sepp Blatter -- previously a prolific traveler -- had only once left his home base of Switzerland.

In the end, he wasn't even safe in his own office.

On Friday morning, staff from the Swiss Attorney General's Office (OAG) arrived at FIFA's headquarters building high in the hills above Zurich.

According to a person with knowledge of Friday's events, the team of around 15 officials, including prosecutors and Swiss police, arrived to search Blatter's office while he was attending a meeting of FIFA's ruling executive committee. The officials seized unspecified data, the OAG said.

The prosecutors waited until the meeting had ended before approaching the 79-year-old FIFA boss and taking him quietly to a conference room near his office, where they told him he was under a criminal probe and interviewed him for several hours.

Swiss Attorney General Michael Lauber was not present and a senior deputy led the questioning, the source said.

Although Blatter was not expecting the raid, some within FIFA had been told something was coming, a FIFA source said.

While a group of around 150 reporters was told that a scheduled news conference from Blatter had been canceled, Lauber's office was preparing a statement.

That came in the form of a press release from the OAG announcing that they had opened "criminal proceedings" against Blatter on "suspicion of criminal mismanagement as well as – alternatively – on suspicion of misappropriation".

The raid marked a new chapter in the FIFA scandal that began in May when 14 soccer officials and sports marketing executives were indicted in the United States on bribery, money laundering and wire fraud charges.

A Swiss national who has run soccer's powerful governing body for the past 17 years, Blatter has now for the first time become the focus of a criminal investigation.

Blatter, who announced in June he would step down next February, has denied wrongdoing and his US attorney said he was cooperating with the Swiss probe. He has not been charged with a crime in Switzerland and is not facing charges in the United States.

A few hours after the raid, Blatter was spotted by a Reuters photographer at work inside an office in the FIFA headquarters, giving a misleading impression of business as usual.

The OAG may have been spurred into action by the publication on September 11 by Swiss television of a 2005 contract between FIFA and the Caribbean Football Union.

SFR, a Swiss TV channel, broadcast a page from the contract which it said showed Blatter in 2005 awarded for a low price of $600,000 lucrative TV rights to the Caribbean Football Union (CFU), which was headed by former FIFA vice-president Jack Warner. Warner, who was among several former and current FIFA officials named in the US indictment, transferred the rights to his own company and then resold them in a deal worth between $15 million and $20 million.
BLATTER'S LAWYERS SURPRISED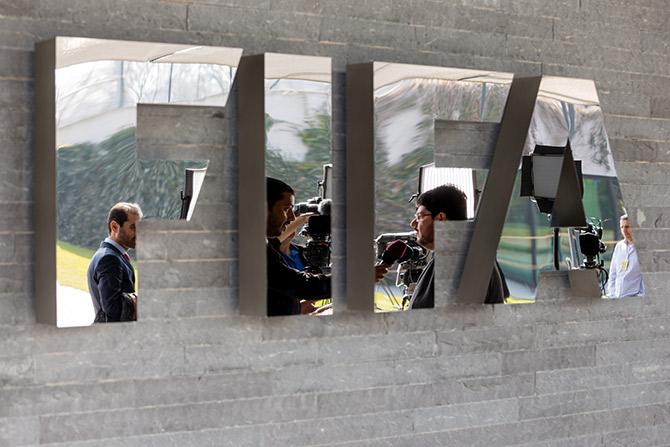 IMAGE: The FIFA headquarters in Zurich. Photograph: Philipp Schmidli/Getty Images
Until last week, all the charges against FIFA and soccer marketing officials had come from the United States, which has expansive and extraterritorial anti-racketeering laws.

But the Swiss authorities had made clear they were investigating money laundering and "disloyal management" by persons connected to FIFA, as well as possible irregularities in the 2018 and 2022 World Cup awards.

Lauber recently disclosed that his office now had collected evidence of 121 suspicious bank accounts or transactions and 11 terabytes of data, including data seized from the offices of both Blatter and FIFA Secretary-General Jerome Valcke, who was placed on leave this month after allegations of wrongdoing.

Blatter's legal team had tried just days earlier to calm the waters over the Warner contract, and thought they had done so, according to a source briefed on meetings in Zurich.

His personal lawyers had traveled to Zurich and met with FIFA officials, who were conducting their own review of the contract, and went over the relevant documents, the source said.

After the meeting, Blatter's lawyers came away confident that the contract was carried out according to normal procedures, and so Lauber's announcement took them by surprise, the source said.

Reuters acquired a letter on FIFA letterhead to the CFU dated July 25, 2011, signed by Valcke, in which he canceled the contract that Blatter signed with the CFU. The letter noted that FIFA had not received a penny under a clause of the deal which allocated to it 50 percent of media and sponsorship revenues.

Valcke's letter was sent out six years after the contract was originally signed.

The Swiss attorney general's press release said that the CFU contract deal is key to its criminal investigation. It said it showed that Blatter signed a contract that was "unfavorable for FIFA," adding there was a suspicion that Blatter "violated his fiduciary duties and acted against the interest of FIFA."

A key question in the Swiss investigation is expected to be why Blatter or FIFA staff did not cancel the contract sooner. Blatter's lawyers say the CFU contract was properly prepared and negotiated by the appropriate FIFA staff. A lawyer for Valcke decline to comment on reasons for the delay.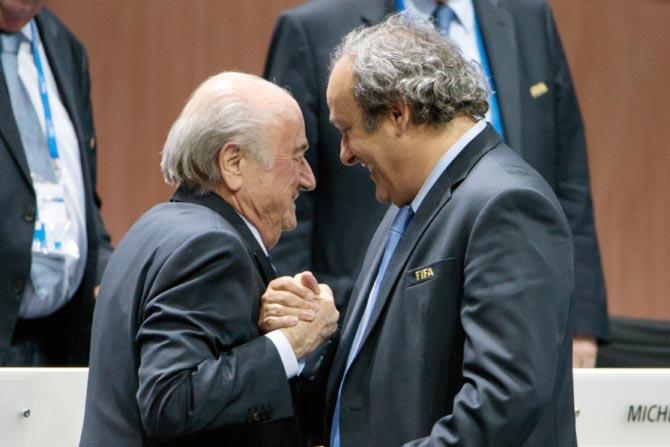 IMAGE: FIFA president Sepp Blatter (left) shakes hands with UEFA president Michel Platini. Photograph: Philipp Schmidli/Getty Images
The OAG statement also said Blatter is suspected of a "disloyal payment" of 2 million Swiss francs ($2.05 million) to Michel Platini, the former French midfield soccer star who runs European soccer body UEFA.

Blatter's Swiss legal team will handle whatever emerges from the OAG investigation. Blatter's lead Swiss lawyer Lorenz Erni is regarded as one of the country's top defense counsels on financial crime cases, legal sources say.

Blatter has no obligation to make any statement, and can invoke his rights similar to the Fifth Amendment under the US Constitution that protects against self-incrimination, said Peter Cosandey, a Zurich-based lawyer and former district attorney who is not involved in FIFA-related cases.

"Now it is the initial phase, it is premature to give any thoughts on the possible outcome," Cosandey said. "Of course it depends on what evidence the prosecutors find and what other people are telling (the investigators)."

While Blatter could face up to a five-year prison sentence for the crimes mentioned by the OAG, Cosandey said he is unlikely to face jail time.

"In practice, the maximum penalty might not be more than two years. If it is up to two years, you can get a prison term on probation," he said.
Also read:
- Why Platini is no longer the favourite to succeed Blatter at FIFA
- More trouble in store for Blatter, could face FIFA ethics investigation