'I don't understand this logic. You just can't put a new captain every match'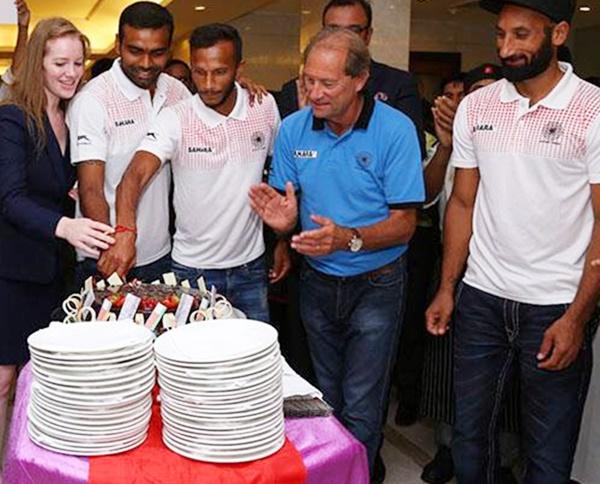 IMAGE: From left Hockey India CEO Elena Norman, captain PR Sreejesh, SV Sunil, coach Roelant Oltmans and Sardar Singh. Photograph: Hockey India/Facebook.
The constant change of captain in the Indian hockey team is in bad taste and defies logic, feels Olympian and former India captain Gurbux Singh.
The highest capped Indian player Sardar Singh, who led India to a silver in the Azlan Shah, was 'rested' and the baton was handed to 28-year-old goalkeeper PR Sreejesh, who led the side to a historic silver in the Champions Trophy.
Sardar returned to lead in a six-nation Spain tour where India secured a solitary win and after return, Hockey India sprang a surprise naming the Kerala goalkeeper the captain for the Rio Olympics.
"It's in a bad taste. I'm not blaming any player. But you should decide whoever it may be one year in advance for a big event like Olympics," the 80-year-old, who was named joint captain with Prithipal Singh in Mexico Olympics, said.
"I'm not against anyone, be it Sardar or Sreejesh. I don't understand this logic. You just can't put a new captain every match. But I don't think it would affect the atmosphere. Just that the team would have looked more settled.
"If you had Sreejesh in mind, he should have been named captain one year in advance. Hockey India already knew that Sardar had some personal problems. I don't understand what made them take the call at the last minute."
Asked whether it would affect the performance of Sardar who led the side in 2012 Olympics, he said: "It did not affect in our case. When it's about winning an Olympic medal, players always put aside their personal differences and ego.
"I think it's rubbish if a player says he's not playing for personal glory but for the country. After all your country will only benefit if you score goals. Who does not want an Olympic medal?"
Their silver lining in the Champions Trophy and Azlan Shah Cup may have provided the perfect build-up in the road to Rio but Singh said India should brace themselves for tougher challenges in the Summer Games next month.
"For teams like Germany and Australia, Champions Trophy is a practice tournament where they send their reserve players. Yes, we did well but we should brace for a tougher challenges next month," Gurbux said.
India are placed in a tough group of reigning Olympic champions Germany, runners-up Netherlands along with the PanAm winners Argentina, Ireland and Canada in Olympics.
This time four teams from two groups will advance as the knockout round would begin from quarter-finals as against semi-finals earlier.
Gurbux, who was named in the World XI in 1968, however, said India should first target to make quarters.
"The first target should be to make the quarters. If we can win against two/three teams our chances would be better. Once we're in the knockout, anything can happen."
Hailing coach Roelant Oltmans for bringing in consistency, he said, "Earlier we used to make silly mistakes and concede goals at the end of the last quarter, it affected the psyche. But now there's a vast improvement, there's planning and defence has improved. We have more chance to make the quarters."
A winner of eight Olympic gold medals, one silver and two bronze, India have not won any medal since the 1980 Moscow Olympics but Gurbux said Indian hockey's last big achievement was winning the World Cup in 1975.
"The real last big win for hockey was in 1975 when we had won the World Cup (beating Pakistan 2-1). Yes, we got an Olympic gold medal in 1980 but most top teams did not compete in Moscow," he said pointing out that only six teams competed with Spain and Soviet Union being the two big competitors.
"The fact is we have not been able to reach a world cup semis for 41 years," he said hoping that it would not stretch for another four years.
He also lamented the absence of Pakistan from the quadrennial extravaganza.
"At the moment, Asian hockey is not in the pink of the health. Absence of Malaysia, Korea and Pakistan will make Asia poorer. India will be the only team from Asia."