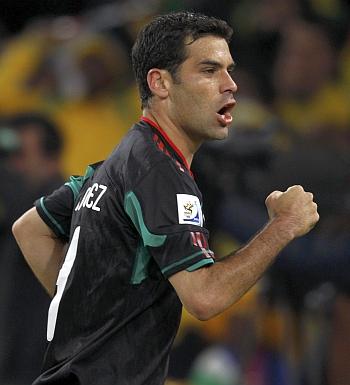 IMAGE: Rafael Marquez. Photograph: Reuters/Files
The world woke up on Thursday morning to the news for Mexico captain and former Barcelona defender Rafael Marquez as one among 20 people sanctioned by the US Treasury Department for suspected links with an accused drug kingpin.
Marquez, 38, along with a popular singer known as Julion Alvarez and nearly two dozen other Mexican nationals, is accused of financial ties with Raul Flores Hernandez, a suspected drug trafficker with links to the Sinaloa cartel and the Jalisco New Generation gang.
Maquez denied the accusations in a news conference Wednesday evening and vowed to cooperate with authorities.
"I understand the legal situation in which I find myself, and I will immediately focus my energy on the clarification of the facts with the support of my team of lawyers."
Now, for people, who are aware of links between the drug mafia and footballers, this was hardly breaking news.
But the news holds significance because Marquez is not some small fry.
Hails from the cartel-riddled state of Michoacan, he is one of the country's best know sportsmen and has played in Europe for club sides FC Barcelona and Monaco and has represented his country in four World Cup soccer tournaments.
Just like Marquez, history has witnessed numerous footballers and other sportsmen who have had links with the underworld.
Rediff.com lists those sportsmen who have been accused of 'sleeping with the enemy'
LIONEL MESSI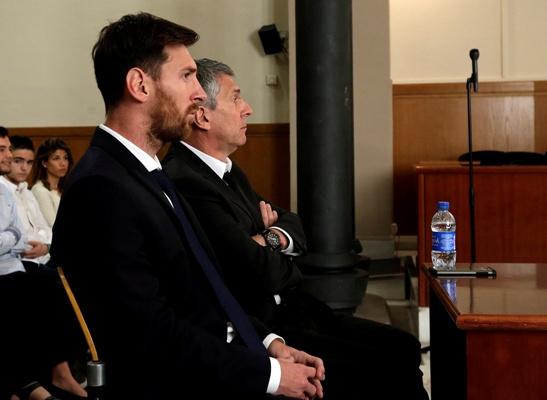 IMAGE: Lionel Messi (left) sits in court with his father Jorge Horacio Messi during their trial for tax fraud in Barcelona. Photograph: Alberto Estevez/Pool/Files/Reuters
Yes, you read that right. Lionel Messi is the one of the best players in world football but his name was tarnished a few years ago.
In December 2013, Spanish newspaper El Mundo had made shocking revelations stating that Jorge Messi, the father and financial agent of the Barca football star, was under investigation for allegedly laundering drug money in Colombia.
The reports suggested that Jorge's role in managing ticket sales for an international charity 'Messi and Friends' tour, in which the player appeared at various cities around the world ostensibly to raise money for charitable foundations that later claimed they did not receive any donations from the tour
The reports claimed Jorge Messi had allegedly participated in a money laundering scam selling "Row Zero" tickets that would never be used, taking a 10-20 percent cut for his trouble.
Messi had defended his father at the time, stating: "What we do in those matches is 100 percent charitable," Lionel Messi said in the radio interview.
But the Spain police had stated there was no evidence of wrongdoing by Messi, his family or other players who featured in matches organised by the Colombian promoter at the centre of the affair.
ADRIANO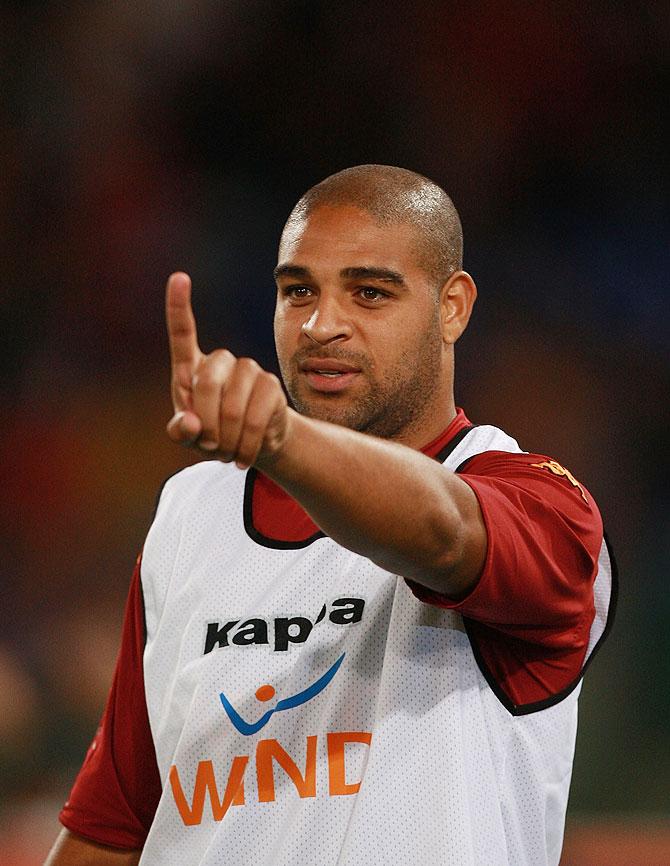 IMAGE: Adriano. Photograph: Paolo Bruno/Getty Images
This is the story of how misjudgements in life can cost you a beautiful career.
This is the unfortunate story of former Brazilian football international Adriano whose career was cut short due to injuries and off-field antics.
And one of those off-field incidents was when Adriano was reportedly charged with links to a drug lord in Rio de Janeiro in November 2014
Prosecutors said that Adriano, who had a successful career as a striker in Italy, winning titles with Inter Milan, gave a drug dealer a motorbike that was used in criminal activities.
The allegations first emerged in 2010.
Brazilian police said that Adriano had bought a motorbike in 2008 and registered in the name of the mother of a known drug dealer, Paulo Rogerio de Souza Paz, known as Mica.
The bike was used for drug trafficking in one of Rio's shantytowns, or favelas, then controlled by a powerful criminal gang, Comando Vermelho or Red Command.
Adriano denied at the time the allegations.
Recent reports in the Brazilian media, Adriano has now blown up all his earnings from football and lives in a favela in Rio and is dependant on a deadly gang known as the Red Command for protection in order to live in the slum.
The gang is known for its drug trade.
STEVEN GERRARD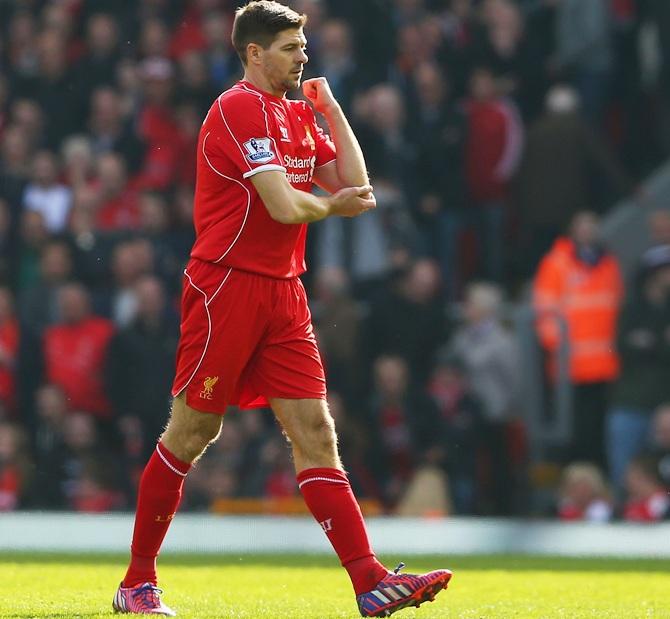 IMAGE: Liverpool's Steven Gerrard. Photograph: Alex Livesey/Getty Images
No one is immune to the big gangs, even if you're the angelic Steven Gerrard.
Yes. The former Liverpool captain and EPL legend will go down in history as that – a football icon.
But what we don't know much about is his links to the underworld.
Gangster John Kinsella, who received 10 years for fleeing from custody back in 2009, had helped Gerrard when another gangster known as 'The Psycho' had demanded money from him and threatened to shoot the footballer in his legs.
But that's not the only extent to which Gerrard's links with organised crime in Liverpool goes.
According to British media, Gerrard's second cousin, Robert Gerrard -- known as 'Uncle Bobby' -- went on the run over a £50m cocaine smuggling deal and was in October 2016 as one of Britain's nine most wanted fugitives who are on the run in Holland.
He later handed himself in and charged with conspiracy to import cocaine in a £60m drugs plot.
Adriano, 35, was once one of Brazil's most prolific strikers and helped his country win the Copa America in 2004 and the Confederations Cup in 2005 alongside Ronaldo, Ronaldinho and Roberto Carlos. He also won four Scudettos with Inter Milan.
VINCENZO IAQUINTA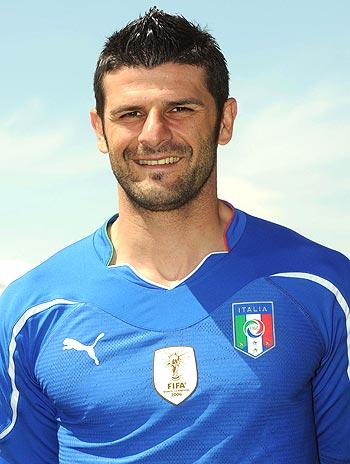 IMAGE: Italy forward Vincenzo Iaquinta. Photograph: Reuters/Files
Italian World Cup winner Vincenzo Iaquinta has a shady past. Two years ago, the footballer among 140 people were ordered to stand trial over links with the mafia.
An Italian judge ordered 140 people to stand trial for helping the southern 'Ndrangheta mafia infiltrate the country's rich north, according to reports.
The former Juventus player's father also stood trial.
The ex-striker was charged with possessing illegal firearms and both he and his father were accused of having ties to the southern Italy-based crime group that is known to control worldwide cocaine trade.
According to police, the group uses legitimate activities in the north to recycle the huge amounts of cash their drugs business generates.
Earlier in Feb 2015, he was also placed under investigation over two guns found in his father's home.
They had been charged with illegal detention of weapons and ammunition.
CARMELO ANTHONY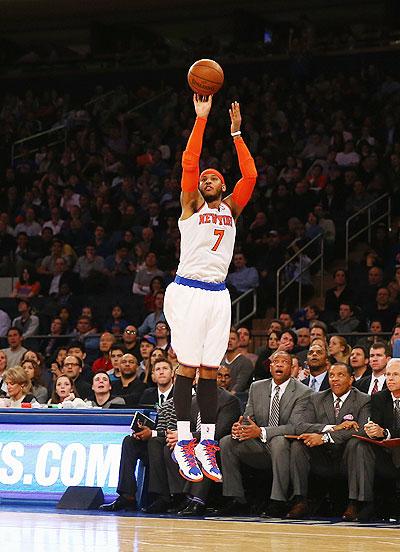 IMAGE: Carmelo Anthony #7 of the New York Knicks shoots to score. Photograph: Al Bello/Getty Images
One of the most prolific scorers in the NBA, Carmelo Anthony grew up among gangsters and drug lords in Baltimore.
In 2004 a video had surfaced that showed Anthony in the company of some members of the underworld, telling the basketball player to 'Stop Snitching' – the video was part of a campaign going on in Maryland at the time to convince people to stop providing information to police when it comes to gang crime.
In the video, he also talked about throwing his bronze medal from the Olympics into a lake. According to Anthony's agent, if he knew he was going to be in the DVD he wouldn't have appeared on the video.
As things turn out time has changed the man, whose focus on the basketball court has not waivered.
Anthony had the most successful year in terms of scoring in 2014.