A round-up of all the results from the 16th World Athletic Championships in London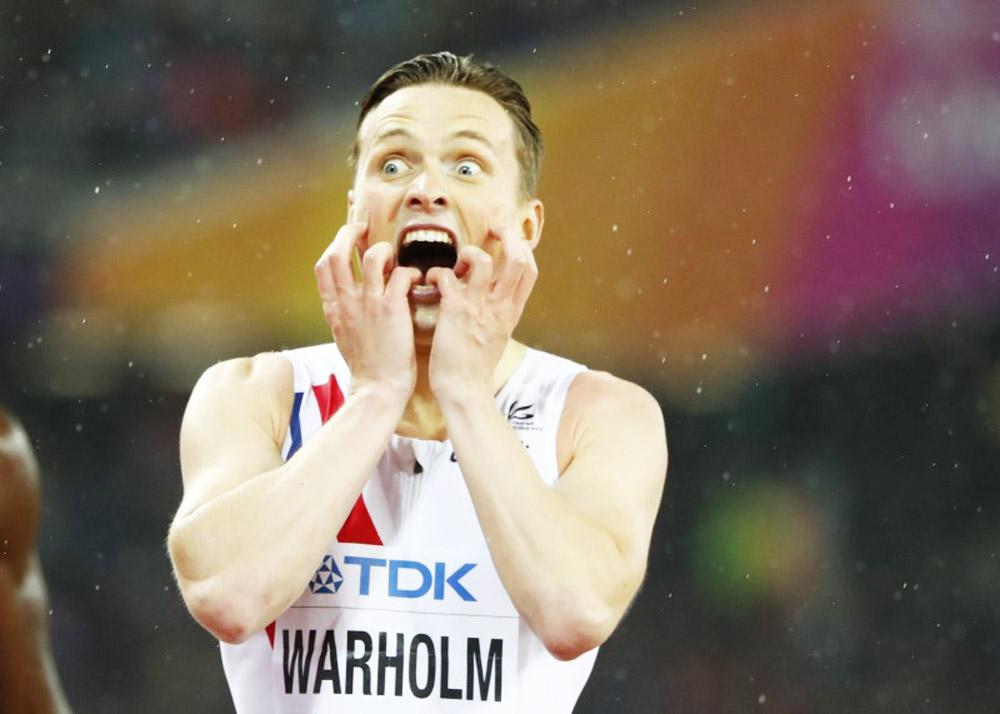 IMAGE: Norway'a Karsten Warholm reacts after winning the Men's 400 Metres Hurdles final at the World Athletics Championships at London Stadium, in London on Wednesday. Photograph: Lucy Nicholson/Reuters
It only dawned on youngster Karsten Warholm that he had become world 400 metres hurdles champion on Wednesday when he made a Reuters photographer an offer he could not refuse.
Still barely able to comprehend what had happened after becoming Norway's first world track champion for 30 years, Warholm was down on his haunches having been given a flag to parade when he looked straight at photographer Phil Noble.
"What's going on, is this real?" the 21-year-old asked Noble. When assured it was, Warholm still wasn't satisfied. "Pinch me," he demanded.
A surprised Noble leant across and did as he was told, pinching the youngster's wrist, at which point Warholm concurred.
"Yes, it's real" he said before disappearing for his lap of honour in a viking helmet.
The 21-year-old former decathlete demonstrated all the strength he has acquired from competing in the multi-event discipline as he led from the first hurdle and held off his pursuers on the home straight to win in 48.35 seconds.
Still effectively a novice at the "man-killer" event, the youngster clasped his face in disbelief as it dawned that he had beaten Turkey's European champion Yasmani Copello (48.49) into the silver medal position.
Francis takes shock 400m gold as Miller-Uibo stumbles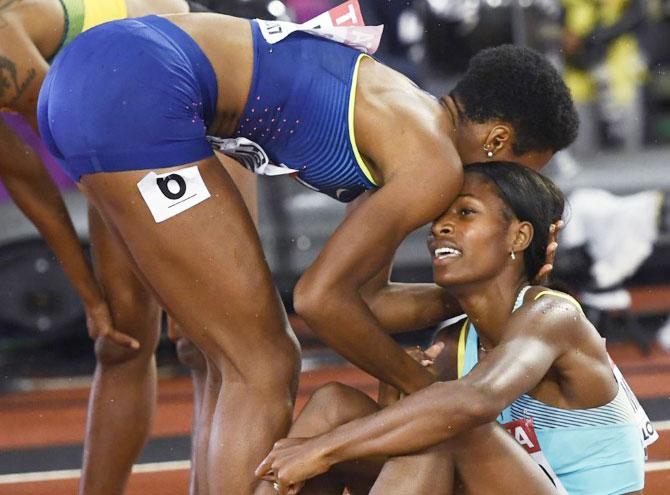 IMAGE: Phyllis Francis (gold) of the US (left) comforts Shaunae Miller-Uibo (4th place) of Bahamas the former won the 400 metres final on Wednesday. Photograph: Dylan Martinez/Reuters
American Phyllis Francis won a surprise World Championships 400 metres gold on Wednesday as Olympic champion Shaunae Miller-Uibo inexplicably stumbled when seemingly certain of victory in an extraordinary finale.
Francis looked out of the medals with 80 metres to go but maintained her form amid the carnage to post a personal best time of 49.92 seconds and take a shock gold that even after crossing the line she had no idea she had won.
Bahrain's Salwa Eid Naser, 19, claimed a brilliant silver in 50.06, her third national record this week, as defending champion Allyson Felix of the United States faded to get bronze in 50.08.
Bahamian Miller-Uibo, who famously dived over the line to pip Felix to Olympic gold last year, was clear with less than 20 metres left but as she tired and tied up she tripped on her own foot, stumbling almost to a standstill as her rivals stormed past.
It was incredible finish to a race that had appeared to be going to form for the first 300 metres. Felix looked her usual smooth self despite the sodden track and had made up the stagger on Francis, a lane outside her, by the end of the first bend.
However, she did not come off the final bend with her usual authority and Miller-Uibo surged ahead into the final straight.
China's Gong ends long wait for shot put gold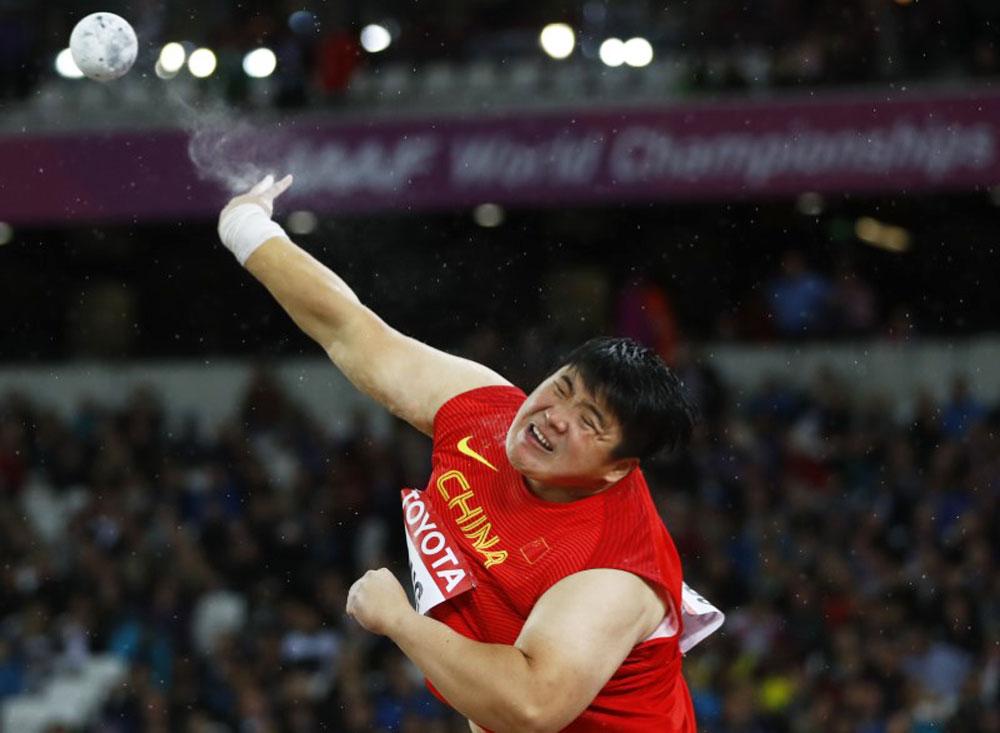 IMAGE: Lijiao Gong of China in action during the Women's Shot Put final on Wednesday. Photograph: Kai Pfaffenbach/Reuters
China's Gong Lijiao ended her long wait for a global outdoor title when she won the shot put gold medal at the World Championships on Wednesday, utterly dominating the competition.
The 28-old-year had won five silver and bronze medals at the World Championships and Olympics but a gold had always eluded her until a chilly, wet night at the London Olympic stadium.
Gong made of light of the conditions as she broke 19 metres with five of her six attempts and won with a fifth throw of 19.94 metres.
There were only two other throws over 19 metres - Anita Marton's final effort of 19.49 which won silver for the Hungarian and American Michelle Carter's third throw of 19.14 which took bronze.
"It's a very special moment for me. Of course, the rain affected the competition and that is the reason we didn't go past 20 metres tonight," Gong said.
"I am glad to show all the hard work I've done in the past with this gold medal."
Klishina leads qualifying for long jump final
Darya Klishina led women's long jump qualifying with a leap of 6.66 metres in cold and wet conditions on Wednesday to reach the World Championships final.
Russian Klishina, competing as a neutral athlete, posted the longest jump on her second attempt.
The 26-year-old finished ninth at last year's Rio Olympics after being cleared just before the Games to be the only Russian to take part in the track and field competition following the country's ban due to widespread state-sponsored doping.
"I feel nice and calm here. It's a good atmosphere in the stadium and there is a lot of support," Klishina said.
"It was a little cold so I can only hope we get better weather for the final."
World and Olympic champion Tianna Bartoletta advanced to the final in second place with 6.64 metres and her fellow American Brittney Reese, the silver medallist in Rio last year, sneaked through in ninth place out of the 12 qualifiers with 6.50.
The final is on Friday.