American singer-songwriter and actress Taylor Swift, left, with tennis star Serena Williams at Hyde Park, London. Photograph: Instagram
Whatever 20-time Grand Slam singles winner Serena Williams does, she does it in style. Sometimes, though, it is courtesy her friends from showbiz.
The reigning US, Australian and French Open champion did not play in any grass-court tournament before Wimbledon, but songstress Taylor Swift's 1989 tour (named after her latest album as well as the year of her birth) was very much on her agenda.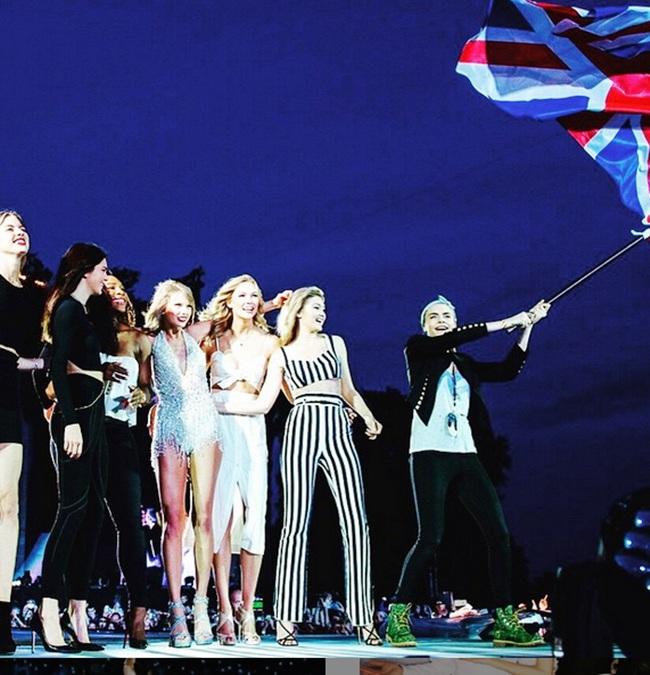 Taylor Swift's 'squad' in London! Serena Williams, centre, with models Martha Hunt, Kendall Jenner, Taylor Swift, Karlie Kloss, Gigi Hadid and Cara Delevingne. Photograph: Taylor Swift/Instagram
The world No 1, who is now half way towards a rare 'calendar' Grand Slam, appeared on stage with the American pop star at the Hyde Park festival.
Williams joined the 25-year-old Swift, who sang her hit song Style, along with supermodels Martha Hunt, Kendall Jenner, Karlie Kloss, Gigi Hadid and Cara Delevingne and other celebrities.
The segment was a catwalk-themed section of Swift's set.
From left, Karlie Kloss, Caroline Wozniacki and Serena Williams pose. Photograph: Caroline Wozniacki/Twitter
Williams took the stage with fellow-tennis star Caroline Wozniacki, who was also had a great time.