'I have won the World title, but this is just the beginning,' Vijender Singh tells Rediff.com's Harish Kotian after beating Australia's Kerry Hope in the WBO Asia-Pacific Super middleweight title match.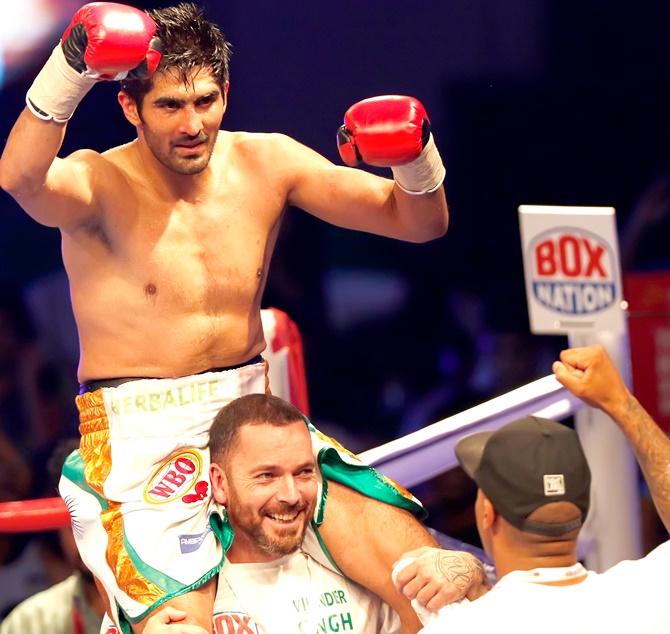 IMAGE: India's Vijender Singh celebrates with his team after beating Kerry Hope.
After becoming the first Indian to win a pro title, Vijender Singh believes the real journey in his quest to be World champion in the professional circuit begins now.
"Singh is King! Finally, I have done it. I have won the World title. I am very happy and everybody cheered for me. Thank you all.
"This belt means a lot of things. It is all about hard work, dedication and my country. But this is just the beginning," declared Vijender, in New Delhi on Saturday night, after outclassing Australia's Kerry Hope to win the WBO Asia Pacific Super middleweight title.
Vijender's victory, his seventh in a row, means he will rise to the top 15 in the world in the pro circuit. Hereafter, he will come up against tougher and experienced opponents.
"My world ranking will be in the top 15. I will get more hard fights now, but I am ready for it. I will work with my coaches and my team and we will go for it," he said.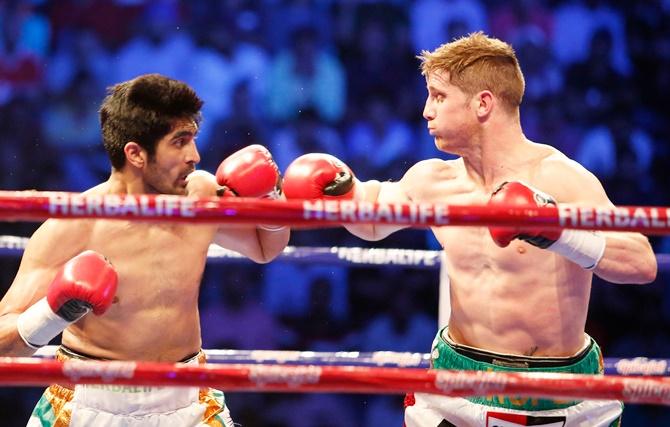 IMAGE: India's Vijender Singh, left, fights Australia's Kerry Hope.
Though he could not end up with a knock-out, like he did in his last six fights, Vijender was happy to prove he can go the distance by outgunning the experienced Hope over ten gruelling rounds.
"This was the longest fight of my career; finally, I completed 10 rounds. I didn't expect it, but the knock-out was not happening so I thought of going for 10 rounds.
"I worked hard for this fight. I hope I get good rest after this fight, maybe for a month or so," he said.
His UK-based promoter Francis Warren, however, is already making plans to line-up Vijender's next opponent, which could mostly likely be WBC Silver super middleweight and Commonwealth super middleweight champion Luke Blackledge of Great Britain.
"There are a lot of options for Vijender. After this fight he will have a world ranking in the WBO and it is a question whether he will keep climbing the ranking by fighting guys in the top 15 or keep hold of that belt.
"He has to defend that belt within 120 days or we go after Luke, who is the Commonwealth champion. I think that's a great story and a great fight and I am confident Vijender will win that fight. Luke was supposed to fight here (New Delhi), but he didn't fancy coming here so maybe he will fancy it even less now after this great fight," he said.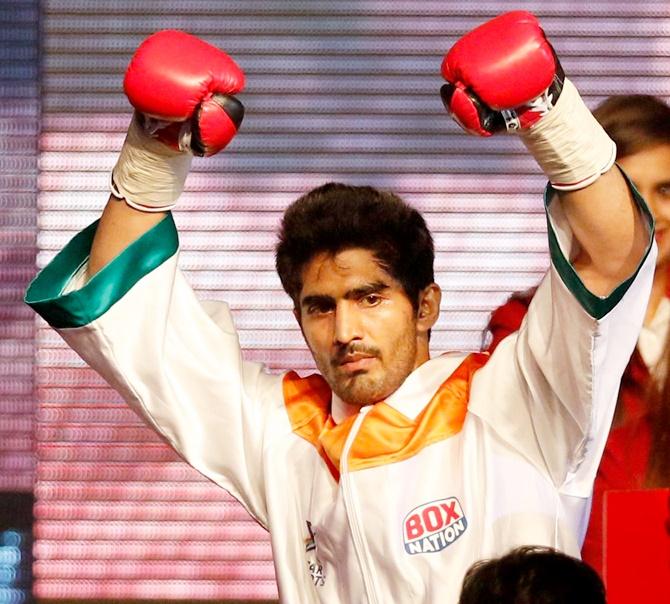 IMAGE: India's Vijender Singh
Warren is also eyeing a possible clash against Great Britain's popular pro boxing star Amir Khan, a former light-welterweight and silver welterweight champion.
Earlier this year Khan had challenged Vijender for a fight in India, saying 'Vijender Singh is the talent that India has in professional boxing and I would want to fight him.'
"In the long term, we will keep an eye on Amir Khan as well. That fight here (in India) will be phenomenal, a massive fight. We have tentatively talked with Amir's team. I know they want it, I know Vijender wants it," he added.
Vijender also sounded keen to take on Amir, who was beaten by Saulo Alvarez in the the WBC middleweight clash in May. The fight is reported to have grossed around $30 million.
India's Olympic bronze medallist said either one of the boxers need to adjust their weights to be eligible to face each other.
"Mine and Amir's weight categories are different. So in case he increases his weight or I decrease mine then we can work it out. We are thinking about it, so let's see. I hope that big fight happens it happens in India only."