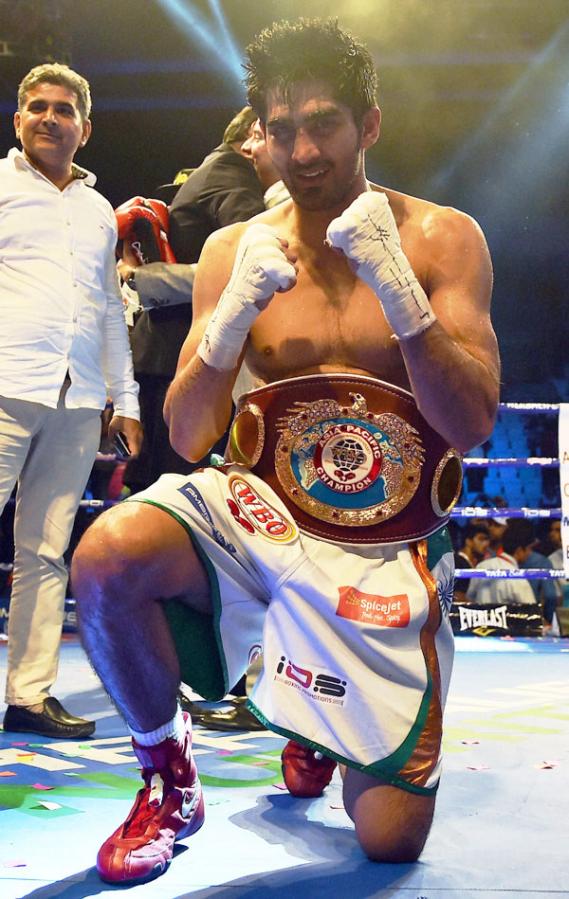 IMAGE: Star Indian boxer Vijender Singh celebrates after beating Australia's Kerry Hope and won the WBO Asia Pacific Super Middleweight Championship at Thyagaraj Sports Complex in New Delhi on Saturday. Photograph: Manvender Vashist/PTI
In a packed arena, in his first pro bout that lasted all ten rounds, Vijender Singh beat Kerry Hope 98-92 98-92 and 100-92 in a close contest to win the WBO Asia Pacific super middleweight title fight in New Delhi on Saturday.
Vijender's winning streak now stretches to 7-0 in the pro boxing circuit.
After winning the title, Vijender thanked his fans in a ring-side interview saying,"Thank you, India. Thanks for coming."
"This comes after a lot of hard work put in by me, my trainer, my team. I thank my coach, my promoter and my team who have done a fantastic job.
"I also thank all the fans, the celebrities and sportspersons who have come to watch my bout today. The countdown has just begun," the 30-year-old added.
In the first pro bout on Indian soil, Vijender got massive support from frenzied fans who cheered him on after every hook and jab.
Also in the audience, cheering Vijender on from the ringside were the who's who of sports, politics and entertainment industry.
Congress vice-president Rahul Gandhi and Indian Premier League commissioner Rajiv Shukla, Olympic champion boxer MC Mary Kom, star wrestler Yogeshwar Dutt, cricketers Virender Sehwag, Yuvraj Singh and Suresh Raina and names from the entertainment industry including actor Randeep Hooda, Ranvijay Singh and Neha Dhupia were there to show him support.
And he lived up to the hype and promise, putting up a dominating performance to send the crowd into hysteria with his lethal right jabs and uppercuts.
IMAGE: Boxer Vijender Singh lands a punch on opponent Kerry Hope during their WBO Asia Pacific Middleweight Championship at Thyagaraj Sports Complex in New Delhi on Saturday. Photograph: Manvender Vashist/PTI
ROUND 1 TO 10
Vijender looked for a knockout blow from the very beginning even though Kerry was the more attacking of the two.
The 30-year-old Indian dominated the opening round and kept the Aussie guessing but he bettered himself in the 2nd. He had the best touch of the fight in the 2nd.
In the 3rd round Kerry picked it up a bit and countered with a double jab on Vijender. The Indian kept up attacking Kerry with low blows. The 3rd round was a close one for both boxers.
Early in the fourth round, Vijender landed a super punch on Kerry, and when Vijender took Kerry down, both got wrestled on to the floor, sending the crowd into a tizzy.
Kerry landed a left on Vijender's face to end round 4 on a high.
The fifth round promised a lot and Kerry continued to go for head shots but both matched each other punch for punch to ensure the fans' unwavering attention.
The round of the evening was the 6th, where Vijender had Kerry shaking. Kerry looked like he was heading down for counting, stumbling and rocking. But the former European held his own as the time kept ticking in the round.
The duo traded strong lefts early in the 6th round, but, to the roar of spectators, Hope again wobbled after a Vijender's good left-right combination had the better of Kerry.
Vijender combined his shots well and defended with equal poise.
In the penultimate round, Vijender landed a solid right on Kerry's chin. Kerry then landed a superb left hook to comeback strongly. Vijender landed another big right on Kerry's chin and the Australian kept fighting back.
Another close round that and the bout was taken to the 10th round. The final round was another show of matching shots from both ends. Plenty of punches were thrown but landed nowhere. Vijender landed two rights to dominate that round.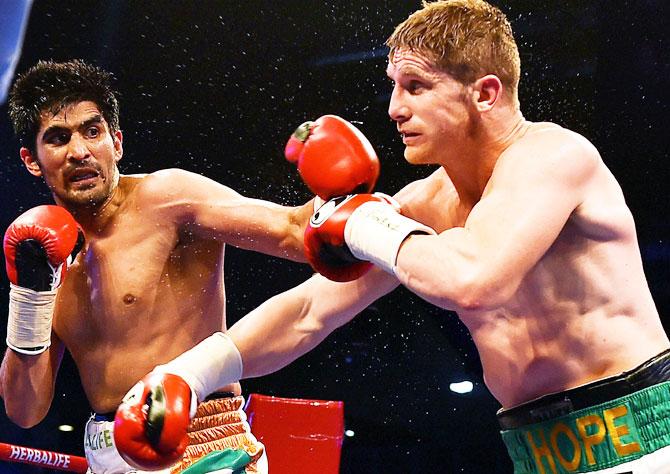 IMAGE: Vijender Singh attempts a jabs on Kerry Hope. Photograph: Manvender Vashist/PTI
In the end, the 34-year-old Australian's inability to connect cleanly proved to be his undoing against Vijender, who waited patiently to throw his accurate blows.
To his credit, Kerry tried his best early on but found it nearly impossible to breach Vijender's defence.
The moment the final bell was sounded, Vijender's British trainer Lee Beard lifted him up to celebrate even before the decision had been announced, sending the crowd into a frenzy.
"It's not about myself, it's about my nation, my country," Vijender's said, summing up his emotions.
Earlier, Siddharth Verma beat Dilbagh Thakran 80-73 79-73 77-75 by a unanimous decision to become the new IBC champion.
In the heavy weight division, Haryana's Sumit Rangi got the better of debutant Naveen Rao from Delhi in a six round contest.
In the light-heavy category, Gaganpreet Sharma from Chandigarh prevailed over Deepak Sheoran in another six-rounder. The women's bout, featuring boxers from Mary Kom's academy, Negeinihat defeated Bichong via a unanimous decision.