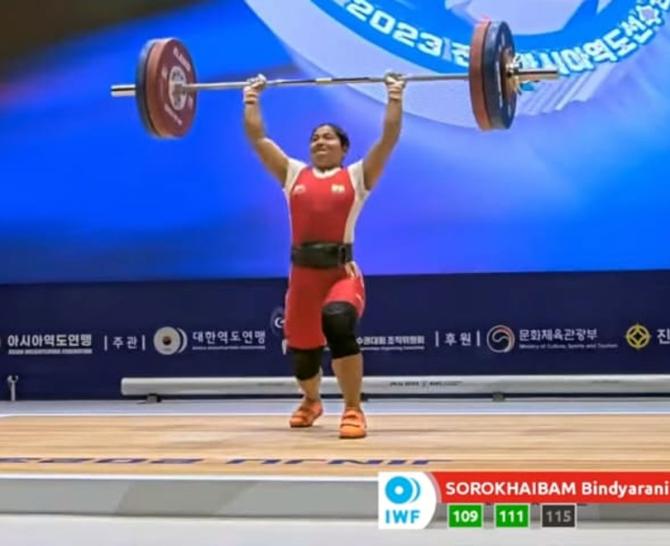 India's weightlifter Bindyarani Devi was quick to make amends after an underwhelming performance in snatch section as she clinched an overall silver in the women's 55kg competition at the Asian Championships in Jinju, Korea, on Saturday.

The Commonwealth Games silver medallist had a total effort of 194kg (83kg+111kg), as she opened India's medal tally in this edition of the championship.

She also won the silver in the clean and jerk section. However, the medals are in a non-Olympic weight category.
The Manipuri had two failed lifts -- one each in snatch and clean jerk. But a gold medal would have been out of her grasp even if she had completed those two lifts.

Chen Guan Ling of Chinese Taipei won the gold with a 204kg (90kg+114kg) effort while Vietnam's Vo Thi Quynh Nhu 192kg (88kg+104kg) bagged the bronze in a depleted field.

The top lifters in 55kg have either bulked up or moved down weight classes in order to qualify for the Paris Games next year.

Bindyarani started off nicely, executing her first two snatch attempts of 80kg and 83kg with relative ease but her 85kg try was deemed a no lift. Her personal best in snatch is 86kg.

Placed fourth after the snatch event, the Manipuri covered ground by lifting the second highest weight in clean and jerk.

She, then, unsuccessfully, tried to improve her total with a 115kg lift. She had lifted 116kg at the Birmingham CWG last year.

The Manipuri was forced to switch back to her original 55kg weight division for this event due to an injury she sustained ahead of the selection trials.

She had moved to the 59kg weight class, that features in the Paris Olympics, during last year's World Championships, where she finished 25th.

Ahead of the tournament, head coach Vijay Sharma has insisted that the aim is to make Bindyarani just participate in the event, which is one of the qualifiers of the Paris Olympics, and peak during the Asian Games later this year.

Under the 2024 Olympic qualification rule, a lifter has to compulsorily compete in the 2023 World Championships and the 2024 World Cup.

Apart from the two above, a lifter also has to participate in three among the following additional events -- the 2022 World Championships, the 2023 Continental Championships, the 2023 Grand Prix 1, the 2023 Grand Prix II and the 2024 Continental Championships.

Having competed here and in last year's World Championships, both Mirabai Chanu and Bindyarani now need to take part in one other additional event, apart from the two compulsory ones.

The International Weightlifting Federation (IWF) will publish the Olympic Qualification Rating (OQR) of each weight category at the end of the qualification period.

A weightlifter's best three performances at the qualifying events will be taken into account for final assessment.