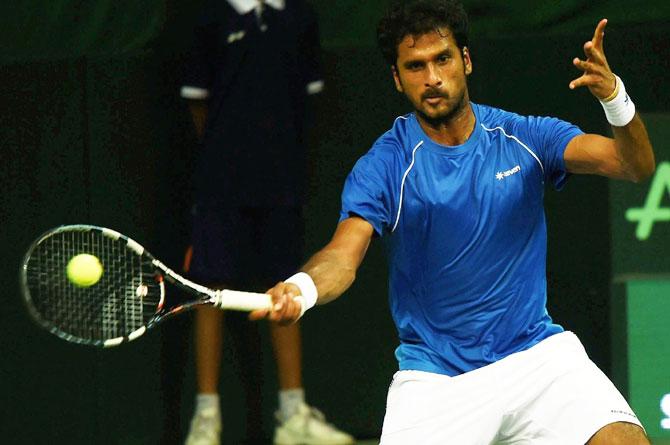 IMAGE: India's Saketh Myneni in action against Spain's David Ferrer. Photograph: Manvender Vashist/PTI
Blown away by Spain's David Ferrer in the second singles, Shaketh Myneni said he will have to put the disappointing day behind him and try to get back the momentum for India when he pairs up with Leander Paes for the doubles on Saturday.
- Davis Cup: Spain take 2-0 lead vs India in World Group play-offs
"It was a bad day but we have to put this behind. It is now best of three for us and we have to get the momentum now. The plan is to play tomorrow with Leander Paes. I hope to help Paes, he is such an experienced guy and the biggest name. Hopefully it would be a better day tomorrow," he said after the match.
Asked if there was pressure on him after Ramkumar Ramanathan lost the opening singles, Myneni said: "I don't think there was any pressure on me, I just wanted to go out there and have fun and compete hard. But David started well and played like a warrior. I did well but that was not good enough. We are playing the best guys in the world and we have to be at our best.
"I think I could have moved the ball better but David played some amazing shots with such speed. I was broken early and gave away too many points. I had taken a few risks but it didn't pay off.
"I didn't want to get into rallies and wanted to play aggressive tennis but he counter-attacked, I tried a bit of serve-and-volley but his movements, and also the slower conditions, the ball didn't travel as much. I tried deep shots but he read it pretty well.
Myneni said: "Overall, we have to have more speed and consistency and be more disciplined. At this level you have to cut down on unforced errors because the margin of error is very little.
"I wanted to be confident and give a fight, but I guess I have to learn and move ahead."
Ferrer said the practice sessions in humid conditions in the last few days helped him as he could play with intensity.
"It was not easy. I think this week I had good practice and I could play my game and it helped me today. I had a good feeling today and played well. I could play with intensity and consistently, in these humid conditions."