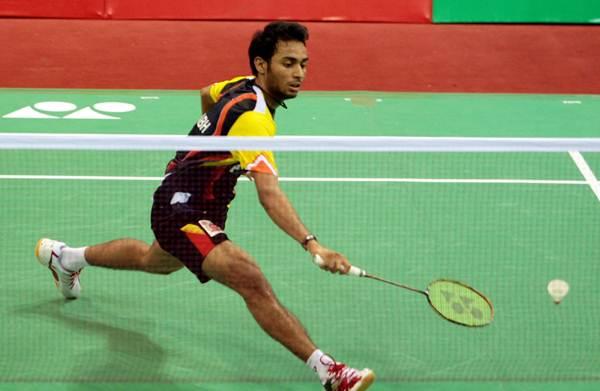 IMAGE: India's shuttler Sourabh Varma in action. Photograph: Twitter
Indian shuttler Sourabh Varma reached the semi-finals of the Belgian International Challenge after an easy victory over Kieran Merrilees of Scotland in the men's singles competition in Leuven, Belgium, on Friday.
Sourabh defeated his Scottish rival 21-19, 21-10 in just 35 minutes in his quarter-final match. He will now take on qualifier Fabian Roth of Germany in the semis.
Sourabh had earlier eked out a hard-fought win over France's Lucas Claerbout to advance to the quarter-finals. In more than an hour's contest, Sourabh had defeated the sixth seeded Claerbout 21-19, 16-21, 21-15 in the pre-quarterfinal contest.
In men's doubles quarters, in an all-Indian clash, Arjun MR and Ramchandran Shlok beat Vighnesh Devlekar and Rohan Kapoor 21-19, 22-20 in a 36-minute contest.
The pair of Arjun and Ramchandran next take on the Danish duo of Frederik Colberg and Rasmus Fladberg in the semi-finals.
Earlier, Rahul Yadav Chittaboina and Rituparna Das could not make it to the last eight in men's singles after suffering contrasting losses in the second round.
While Rahul squandered an opening game advantage to go down fighting 21-19, 15-21, 15-21 to Sam Parsons of England in a little over an hour contest, Rituparna lost 20-22, 11-21 to
Malaysia's Soniia Su Ya Cheah in women's singles.