'I started well. I won the trophy again in Chennai, it's something really special'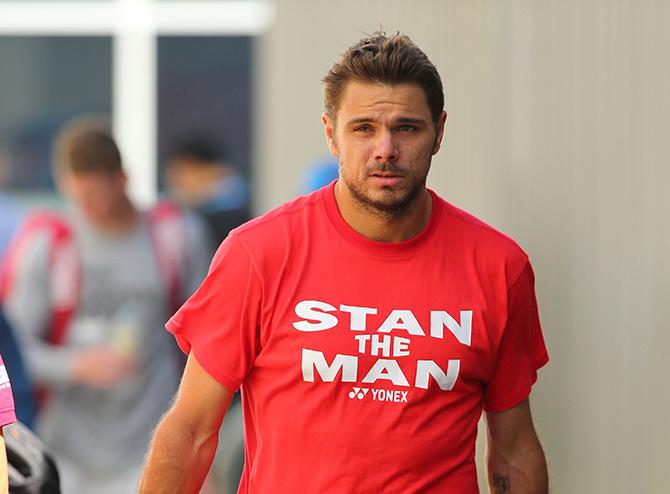 IMAGE: Stanislas Wawrinka arrives for a practice session. Photograph: Wayne Taylor/Getty Images.
For someone who was the only man to beat world number one Novak Djokovic in a grand slam in 2015, Stan Wawrinka was indifferent about the attention on the feat heading into this year's Australian Open.
Djokovic was virtually untouchable last year as he compiled an 82-6 win-loss record and won three grand slam titles as well as six of the eight ATP 1000 top-tier tournaments he played.
Wawrinka, however, surprised the tennis world when he produced a barrage of backhands on the clay at Roland Garros to beat the Serb in the Paris final and claim his second grand slam title.
"For me, doesn't change anything for this tournament," said the Swiss when asked what his French Open victory over Djokovic last year meant.
"He's playing amazing. The level he's putting is quite amazing. That's why he's number one in the world.
"As long as I don't play him, I don't need to take (anything from) the victory against him."
The 30-year-old Swiss is not scheduled to meet Djokovic until the final at Melbourne Park, should they both get that far, with Wawrinka seeded to face Spaniard Rafa Nadal in the quarter-finals and Briton Andy Murray in the semi-finals.
Wawrinka, who surprised many to win his first grand slam on the hardcourts at Melbourne Park two years ago, felt relatively comfortable with his form heading into his first round clash with Russia's Dmitry Tursunov on Tuesday.
"I'm happy the way I'm playing so far. I'm confident with my game," he added somewhat croakily as he suppressed numerous coughs during his media conference on Saturday.
"I started well. I won the trophy again in Chennai (and a) ... title, it's something really special.

"Doesn't matter the category of the tournament for me, it's always amazing to win the titles, to get the trophy at the end of the week.
"It gives you confidence, especially after the off-season, to start it well again directly from the first tournament.
"Hopefully I can keep playing that well."