Not satisfied with the one-year ban handed out to top four Indian quartermilers, including Asian Games double gold medallist Ashwini Akkunji, in the doping scandal, the World Anti-Doping Agency (WADA) has appealed against the decision and pleaded for a two-year sanction on the athletes.
Akkunji, her Commonwealth and Asian Games 4 x 400m relay gold-winning quartet member Sini Jose, Priyanka Panwar and Tiana Mary Thomas were banned for one year, along with three other athletes, in December last by a National Anti-Doping Agency panel, virtually ending their London Olympics dreams.
- Click here for Rediff Realtime News!
They had been handed a reduced punishment of one-year ban on the ground that "the athletes were not found guilty of intentionally taking the banned substances".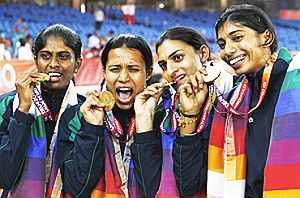 The four athletes had since appealed against the one-year ban, praying before a NADA Appellate panel headed by C K Mahajan that they be absolved of all punishment as they had consumed the banned substances on the orders of their coach.
The NADA Appellate panel had reserved its decision on the matter but with the WADA also appealing against the reduced ban of one year, the panel is expected to reopen the case. The next hearing has been scheduled for February 15.
NADA Director General Rahul Bhatnagar said that the WADA had filed an appeal against the reduced penalty and the matter would come up before the NADA Appellate panel on February 15.
"WADA has filed an appeal, seeking a harsher punishment of two years under the Rules. According to WADA's contention the athletes should not have been handed lighter punishment on the ground that they don't know they were taking banned substances," Bhatnagar said.
"What WADA says is that under the rules the athletes will have to bear the responsibility whether he or she had taken the banned substances intentionally or unintentionally. The fact that banned substances were present in their urine sample should be enough to attract maximum 2-year ban for first time offender. This is what the WADA appeal meant," he said.
The International Association of Athletics Federation is also expected to file appeal against the one-year bans handed out to Mandeep Kaur and Juana Murmu.