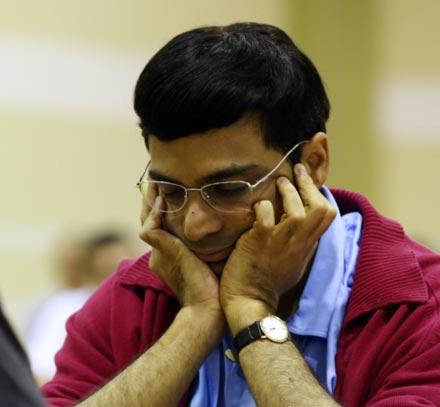 Defending champion Viswanathan Anand was unable to make most of playing with white yet again as he was held to his successive draw, by China's Liren Ding, in the second round of the Bilbao Chess Masters Final, in Bilbao, on Wednesday.

Following his second straight draw coming with white Anand, who is currently joint second, is under pressure to retain his crown with three black games remaining in the last four rounds.

The draw against Ding came after Anand did not convert a seemingly superior position against Dutch Grandmaster Anish Giri in the opening round.

The other game in the four-players double round-robin tournament between American Wesley So and Giri also ended in a draw leaving the standings as they were after the first round. Wesley So took his tally to four points in all and remains two points ahead of Anand and Giri while Ding opened his account with one point under the soccer-like scoring system, that gives three points for a win and one for a draw.

Playing the Ruy Lopez for the second day running, Anand chose a modern setup instead of the conventional main lines but found Ding well-prepared. The opening was a success for the Chinese who came out unscathed and even threatened to gain some advantage for a brief period.

Anand quickly regained the control of the position in the middle game with a timely pawn advance on the queen side that gave him an extra pawn but black's position was impregnable due to presence of Bishops of opposite colours.

The game was drawn through repetition in 34 moves when both players knew there was no decisive outcome possible.

Giri tried to surprise Wesley So in the Berlin defence where in the former played with white pieces.

However, Wesley, who recently changed his federation from Philippines to the United States, was able to find the right moves in the early phase to get a balanced middle game.

The pieces changed hands almost in a heap and the players arrived at a minor piece endgame in which Giri had two Bishops against Bishop and knight.

The American had judged the position quite well by this time and getting a draw was never a problem. The peace was signed after 44 moves.

In the third round, Anand will get his first black game in the tournament against Wesley who has shown pink form thus far. In the other game Ding will have white pieces against Giri.

Results (Round 2): V Anand (Ind, 2) drew with Liren Ding (Chn, 1); Anish Giri (Ned, 2) drew with Wesley So (USA, 4).
Moves, Anand vs Ding (Round 2): 1.e4 e5 2.Nf3 Nc6 3.Bb5 a64.Ba4 Nf6 5.O-O Be7 6.d3 b57.Bb3 d6 8.a3 Na5 9.Ba2 c510.Nc3 Be6 11.Bg5 c4 12.Nd2O-O 13.Bxf6 Bxf6 14.Nd5Bxd5 15.exd5 e4 16.Rb1exd3 17.cxd3 c3 18.bxc3Bxc3 19.Ne4 Bd4 20.Qd2 Nb721.a4 Nc5 22.axb5 axb523.Rxb5 Nxe4 24.dxe4 Qf625.Bb1 Rfb8 26.Bd3 Rxb527.Bxb5 Bc5 28.g3 g6 29.Kg2Ra3 30.Bd3 Kg7 31.Rd1 Rb332.Rb1 Ra3 33.Rd1 Rb334.Rb1 Ra3
1/2-1/2