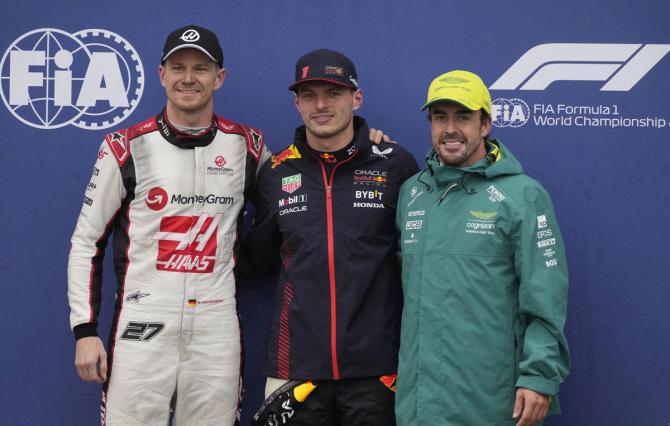 Formula One championship leader Max Verstappen took pole position on Saturday in a wet qualifying for a Canadian Grand Prix that could see him secure Red Bull's milestone 100th win.
It was an unpredictable and wild afternoon of racing at a rain-swept Circuit Gilles Villeneuve as teams rolled the dice switching from wet tyres to slicks as the track conditions changed.
The gamble, and a bit of luck, paid off initially for Germany's Nico Hulkenberg, who placed his Haas alongside the Dutchman on the front row but was then handed a three-place penalty for breaching red flag rules.
That elevated Aston Martin's Fernando Alonso to the front row instead, with other post-session penalties causing a further shake-up.
Lewis Hamilton, a seven-times winner in Canada, will line up third with his Mercedes team mate George Russell fourth and Hulkenberg fifth.
The pole, in a time of one minute and 25.858 seconds, was the 25th of Verstappen's career.
"It was super slippery out there in some places, but we just made all the right calls, the right time on the track to do the lap times, and I'm very happy to be on pole here," Verstappen said. "I like driving in the wet."
"I come from Holland, so we are used to driving in the wet."
Verstappen started from pole last year and held off Ferrari's hard-charging Carlos Sainz for his 26th career win.
Fast forward one year and Verstappen with another victory on Sunday can bring his career total to 41, matching Brazilian Ayrton Senna's haul.
Red Bull have dominated this season winning all seven races, Verstappen taking five to open up a 53 point gap at the top of the driver standings ahead of team mate Sergio Perez, who has won the other two.
NOT PERFECT
But it was far from a perfect day for Red Bull as Perez's problems continued to mount, failing for the third consecutive race to make it out of Q2 and he will start well down the grid in 12th.
Despite sitting second in the standings, Perez has not made the podium in his last two races and has been told by team principal Christian Horner to stop focusing on the championship and just drive.
While the circuit dried out in the first qualifying session, rain returned in the second catching out several teams with Perez, Ferrari's Charles Leclerc and Aston Martin's Lance Stroll all failing to advance.
Williams' Alex Albon meanwhile judged it right and was surprise fastest for the slowest team on the grid.
There was no guessing on tyre choice for Q3 as heavy rain drenched the island circuit, McLaren's Oscar Piastri spinning and slamming backwards into the wall to bring out the red flags.
That left Hulkenberg second but the veteran German, who has yet to stand on the podium in 188 races, was summoned to stewards afterwards for failing to observe speed limits.
"The ending of the day is not quite as good as it was earlier, that's obviously a pity and it's a shame not to be staring on the front row. We have to face the consequences with that," he said.
"I think in terms of our race tomorrow it doesn't really change anything – the approach is the same and it won't impact or harm the outcome. We'll prepare as usual and race hard tomorrow."
Alpine's Pierre Gasly provided the early shock when the furious Frenchman failed to make it out of first qualifying after accusing Sainz of dangerously impeding him.
The Spaniard, who crashed his Ferrari in the morning practice, qualified eighth but the stewards agreed with Gasly and handed the Ferrari driver a three-place grid drop.
Stroll was also hit with a three place grid drop for impeding Alpine's Esteban Ocon, meaning he starts 16th and little hope of becoming the first Canadian on a home podium since Jacques Villeneuve was second in 1996.