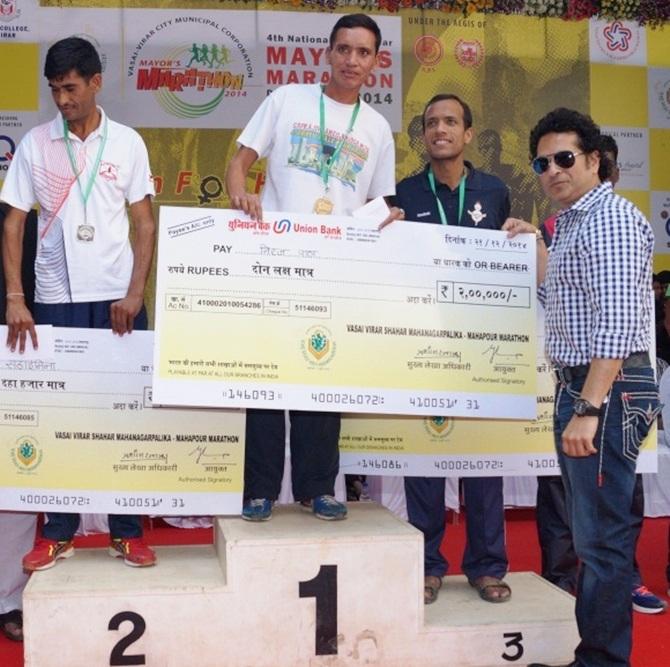 Sachin Tendulkar with Vasai Virar Mayor's Marathon full marathon winners
Army runners Neeraj Pal and G Lakshmanan, along with Kavita Raut of ONGC, broke course records while winning men's full marathon, half marathon and women's half marathon, respectively in the 4th Vasai Virar Mayor's Marathon in Mumbai on Sunday.
Pal, based in Hyderabad, broke from the field after the 25-km mark to clock 2:22.38 in the full marathon. He broke Elam Singh's time of 2:22.44 set in 2012.
Lakshmanan of ASI (Pune) improved on his own record of 67 minutes while clocking 64.56 in the half marathon.
The cool weather, the fast course and the large crowd support on the route inspired 2010 Asian Games silver medallist Kavita Raut to run a brave race, finishing in 76.10 minutes.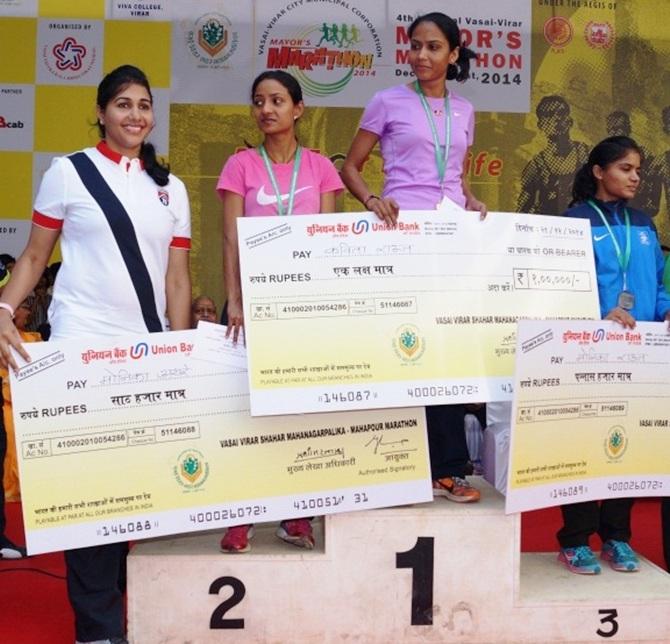 Anju Bobby George with Vasai Virar Mayor's Marathon half marathon winners
Kavita, who broke free from the 7km mark, was almost six minutes ahead of 2014 Asiad medal winner Lalita Babbar's 2013 winning time of 82.07 minutes.
Present on the occasion was batting maestro Sachin Tendulkar, ace woman long jumper Anju Bobby George and ISL team Chennayin FC captain Mikael Silvestre.
Results:
Full Marathon (Men): Neeraj Pal (Army, Hyderabad) 2:22.38; Prahlad Sahai Meena (Army, Hyderabad) 2:23.39; Girish Chandra Tiwari (Air Force) 2:24.37.
Full Marathon (women): Jyoti Singh 3:11.39; M Sudha 3:27.27; Indresh Dhiraj 3:40.24.
Half Marathon (men): G Lakshmanan (ASI, Pune) 1:04.56; Kheta Ram (ASI, Pune) 1:05.33; Soji Mathew (W Railway) 1:06.37
Half Marathon (women): Kavita Raut (ONGC) 1:16.10; Monika Athare (LIC) 1:17.48; Monika Raut 1:20.06.