A summary of Sunday's action at the US Open.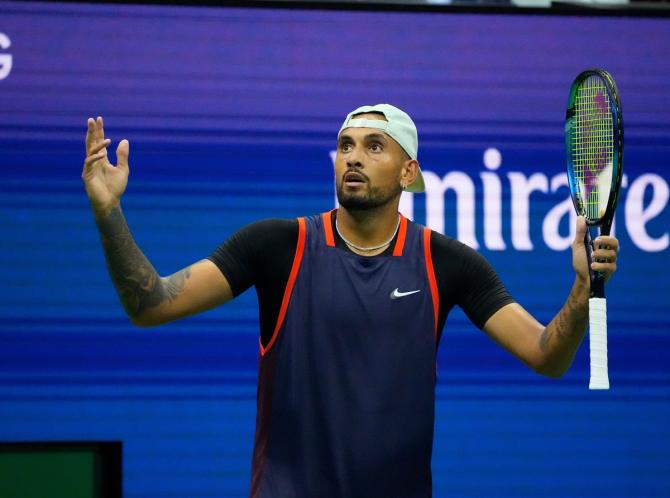 Nick Kyrgios crushed world number one Daniil Medvedev's dreams of a title defense at the US Open on Sunday with a 7-6(11), 3-6, 6-3, 6-2 victory to reach the quarter-finals and ensure there will be a new top-ranked player when the tournament concludes.
In a meeting worthy of a Broadway show between two of the game's biggest servers and most combustible personalities, it was the Australian who was the better in the match's biggest moments, showing off a renewed focus and fitness.
"It was an amazing match," Kyrgios said in an on-court interview before a sold-out crowd at Arthur Ashe Stadium.
"Daniil is the defending champion so there's a lot of pressure on his shoulders, but I played really well. I've been playing amazing the last couple months and what a place to do it, packed house in New York.
"I'm extremely blessed."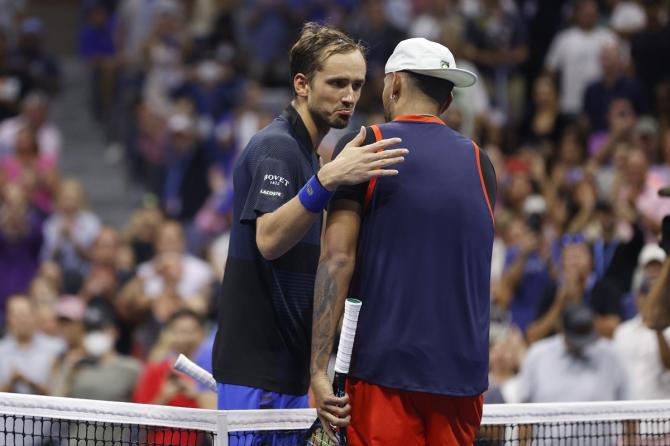 The 23rd-seeded Kyrgios will be a heavy favourite to beat 27th seed Karen Khachanov when they meet on Tuesday for a place in the semi-finals. The Russian defeated Spain's Pablo Carreno Busta 4-6, 6-3, 6-1, 4-6, 6-3.
Kyrgios delights in shunning the norms of tennis and did so again in a bizarre moment early in the third set when he ran around the net to hit a ball that Medvedev had sent high in the air, leading Kyrgios to celebrate.
The play cost Kyrgios the point but seemingly raised his spirits as he would break for 3-1 and take the set with one of his perfectly executed drop shot.
In the fourth, Kyrgios broke early for a 2-1 lead he would not relinquish and Medvedev began to crumble from there, hitting balls against the back wall in frustration as he realized the match was out of reach.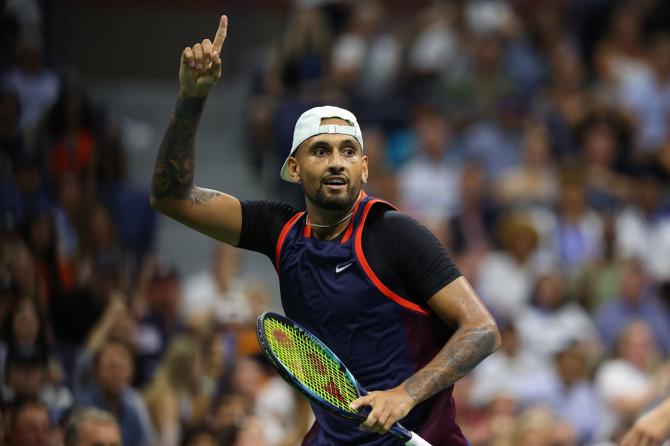 "I still can't believe the boneheaded play I made over here," Kyrgios said of the play where he crossed over to Medvedev's side.
"I thought that was legal to be honest. That's going to be everywhere on SportsCenter so I'm going to look like an idiot but that's alright."
The 27-year-old Wimbledon finalist is playing the best tennis of his life, recording the most wins on tour since the end of the French Open.
"I'm just trying to work hard every day, try to make every practice session count, getting to sleep," he said.
"I would have probably been out every night before but now I've got a great girlfriend. She helps me, and my team."
Tomljanovic adds to Australia's joy with win over Samsonova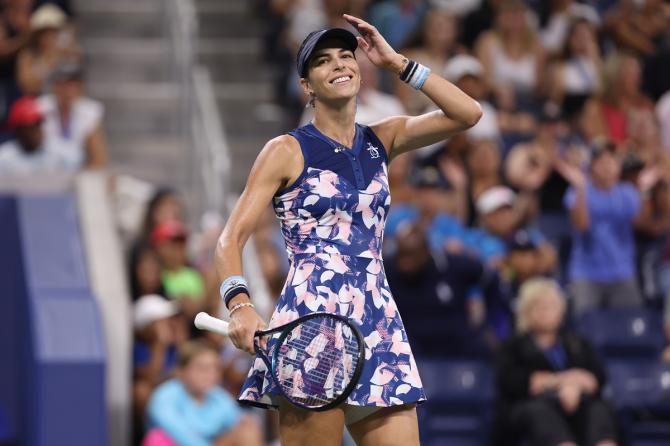 Ajla Tomljanovic made it a night to remember for Australian tennis fans, following compatriot Nick Kyrgios into a maiden US Open quarter-final with a gritty victory over Russian Liudmila Samsonova.
Shortly after Kyrgios completed a brilliant victory over world number one and 2021 champion Daniil Medvedev at the Arthur Ashe Stadium, Tomljanovic backed up her win over retiring Serena Williams with a 7-6(8), 6-1 triumph at the neighbouring Louis Armstrong Stadium.
"Just feels really good to back up a win that I think got a lot of attention," Tomljanovic said, referring to her win over 23-time major winner Williams on Friday. "Just felt like it's been a really big 48 hours.
"I didn't really feel like myself today the whole day. I don't know, just felt a little bit drained. After that slow start, I just didn't want to go out like that. Picked myself up, fought back really hard, played some quality tennis after that."
Samsonova, 23, came into the evening contest against Tomljanovic on a 13-match winning streak, having lifted titles in Cleveland and Washington D.C. in the leadup to the hardcourt Grand Slam at Flushing Meadows.
The Russian peppered the court with winners and quickly stacked up a 5-2 lead in the opening set.
Tomljanovic, 29, showed lot of resilience to save seven set points and hold serve during a 14-minute marathon ninth game and then successfully defended another setpoint during the tiebreaker to take the opening frame.
The missed opportunities seemed to take a toll on Samsonova's confidence as her errors mounted and Tomljanovic raced through the second set with two break of serves to reach the quarter-finals at a major for the third time.
Tomljanovic, who reached the Wimbledon's last-eight stage for the previous two editions, will next face Tunisian fifth seed Ons Jabeur, who beat 18th seeded Russian Veronika Kudermetova 7-6(1), 6-4.
"I think my will to go further in this tournament was really strong and I didn't want to stop just after what happened on Friday night," she said.
"I thought I deserved more. I definitely wanted to go for more. I dug deep because I felt like I had more left in me."
Berrettini wins marathon battle with Fokina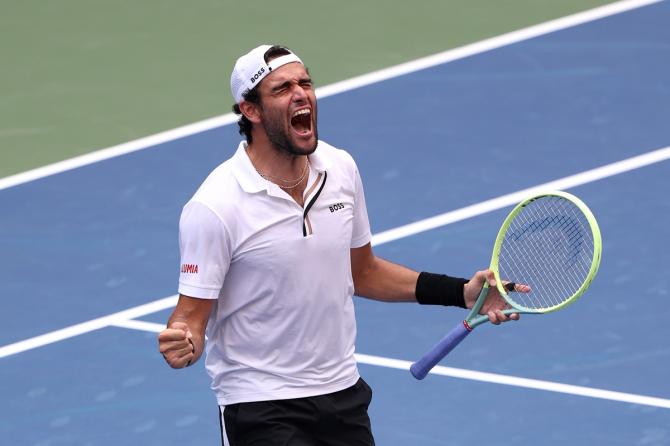 Italy's Matteo Berrettini reached his second consecutive US Open quarter-final by winning a marathon battle with Alejandro Davidovich Fokina 3-6, 7-6(2), 6-3, 4-6, 6-2 on Sunday after the Spaniard suffered an injury in the final set.
The 13th seed had lost to Davidovich Fokina on clay in Monte Carlo last year but found the right formula on New York's hard courts, sending down 17 aces, firing 48 winners to 27 from his opponent and saving nine of 13 break points.
After a lacklustre first set in which Berrettini produced only six winners and failed to earn a break point, Italy's Australian Open semi-finalist came to life in the second set tiebreak and immediately broke his opponent in the third set.
Down a break in the final set, Davidovich Fokina suffered an injury in the sixth game when his leg slipped out from under him and he banged his fists on the court in pain.
He saw a physio and for a moment it seemed he might be done for the day but the Spaniard bravely returned to the court to finish the match to roars of encouragement from the crowd.
"I'm really proud because I didn't start the match the way I wanted to," said Berrettini, who has been sidelined a number of times this season due to injuries or illness.
"Obviously this is not the way I wanted to finish the match but I'm going to take the win."
Ruud ends lucky loser Moutet's fairytale run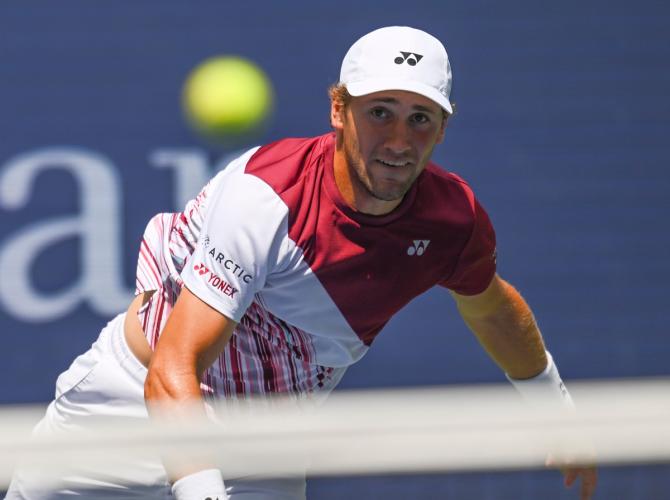 He next faces Norwegian fifth seed Casper Ruud, who ended lucky loser Corentin Moutet's fairytale run 6-1, 6-2, 6-7(4), 6-2 to kick off the action at Arthur Ashe Stadium.
Frenchman Moutet made history on Friday when he became the first lucky loser to reach the US Open fourth round and put up a valiant defensive effort to save 10 of 17 break points.
But Ruud, the runner-up at Roland Garros this year, had the edge as he won nearly three-quarters of his first-serve points and hit 43 winners.
Ruud leads Berrettini 3-2 head-to-head, most recently beating him in the Gstaad final, but is not taking his opponent lightly.
"He's dangerous obviously on all surfaces," the Norwegian told reporters. "He will throw big serves, big forehands. He has big weapons... It's going to be a tough challenge, for sure."
Gauff in quarters with win over Zhang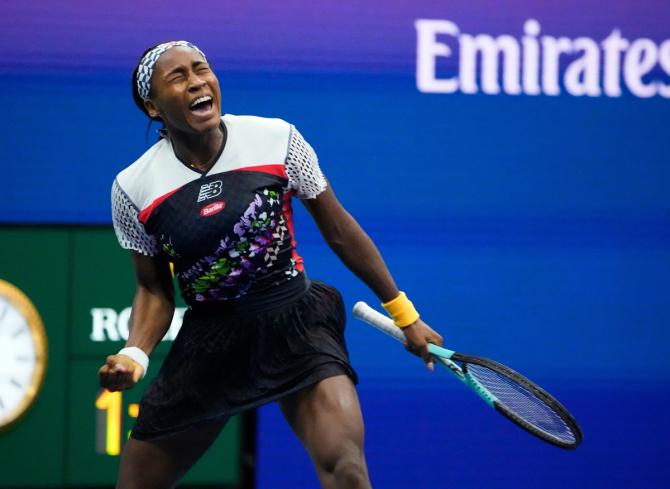 American teenager Coco Gauff used her superior speed to overcome a second set deficit and pull off a thrilling 7-5, 7-5 win over China's Zhang Shuai to reach the quarter-finals of the US Open for the first time.
In a battle between the youngest player left in the draw, the 18-year-old Gauff, and the oldest, the 33-year-old Zhang, it was the Chinese player who looked sharper at the outset, breaking for a 2-0 lead in the first set.
But 12th seed Gauff battled back and fired a two-handed backhand winner to claim the first set and electrify the supportive crowd.
Zhang, a human backboard content to extend rallies from the baseline, grabbed a 5-3 lead when she broke Gauff with a backhand winner of her own in the second set.
But Gauff remained poised, breaking back to take a 6-5 lead and winning the point of the match with her astonishing speed when she slid from corner to corner to elicit the error from Zhang.
The crowd roared in approval and Zhang covered her ears to block out the sound, which was amplified by the closed roof on Arthur Ashe Stadium due to rain.
Gauff sealed the nearly two-hour affair on an error by Zhang and the two exchanged a warm hug at the net.
Next up for Gauff is Frenchwoman Caroline Garcia, who beat American Alison Riske-Amritraj 6-4, 6-1 earlier on Sunday.
Garcia demolishes Riske-Amritraj
France's Caroline Garcia is beginning to believe "good things can happen again" in New York, after clawing her way out of a career slump to reach her first-ever US Open quarter-final.
She notched her 12th straight win over American Alison Riske-Amritraj 6-4, 6-1 after becoming the first qualifier to win a WTA Tour 1000 event in Cincinnati, the final of three titles she's collected so far this year.
It's the culmination of a long road back for the former world number four, who returned from a foot injury in May ranked 79th, having not collected a singles title since 2019.
"I'm having fun, enjoying playing that way, and on top of it I'm glad it's working and it's a good way for me," she said.
Garcia said she experienced a critical epiphany at the Bad Homburg tournament in June, where she was down a set to Aliaksandra Sasnovich in the opening round and said to herself "You have to go for it".
"You miss, you miss, but you have to do something. You have to change, you have to find a way to improve," she told reporters in New York. "I was practicing to be aggressive, to move forward, but I had some issue to do it on court in matches, and that's where it changed, really in the second set of that first round.
"I went for it. I didn't know if it was going to work, but I believe."
She went for it indeed, beating former US Open champion Bianca Andreescu in the final to end her dry spell before reaching the last 16 at Wimbledon.
"I will say we were probably saying, 'Good things can happen again'," said Garcia, who was in such good form that she won in Warsaw in July, downing world number one Iga Swiatek in the process.
She's playing with joy in Flushing Meadows and on Sunday held her arms outstretched and beamed wildly after sending across eight aces and 30 winners to trounce the home hope.