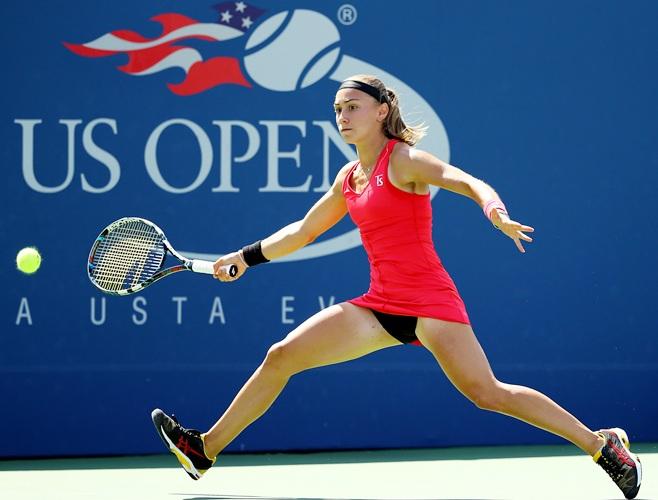 Aleksandra Krunic of Serbia returns a shot against Petra Kvitova of the Czech Republic during their women's singles third round match at the US Open. Photograph: Al Bello/Getty Image
Serbia's Aleksandra Krunic added her name to a list of anonymous figures to emerge from the Flushing Meadows shadows and step into the US Open spotlight with a shock 6-4, 6-4 win over Wimbledon champion Petra Kvitova on Saturday.
With five of the top eight women's seeds shown the exit there has been no safe place to hide for the tournament favourites.
Croatian Mirjana nudge Bellis out of the spotlight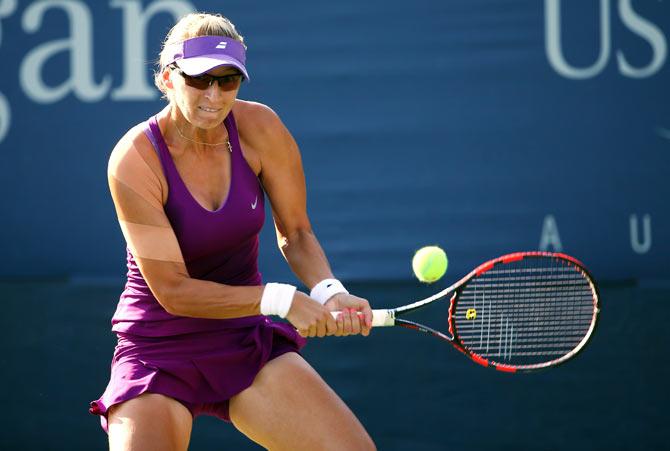 Mirjana Lucic-Baroni of Croatia. Photograph: Streeter Lecka/Getty Images
The surprises have come from everywhere; a 15-year-old American tennis sweetheart, a 32-year-old Croatian veteran looking to recapture her glory days and Krunic, a young Serbian who pays as much attention to her studies as her game.
American Catherine Bellis became the belle of the US Grand Slam ball when the 15-year-old toppled Slovakian 12th seed and Australian Open finalist Dominika Cibulkova in the opening round.
Croatian Mirjana Lucic-Baroni nudged the teenager out of the spotlight on Friday with a stunning third round win over second seed Simona Halep while 17-year-old Swiss Belinda Bencic joined in on the upset fun ousting sixth-seeded German Angelique Kerber.
One of the big criticism of the women's game has been that it is too predictable but one look at the rankings confirms that is not the case at the year's final grand slam with Bellis at 1,208, Krunic 145 and Lucic-Baroni 121.
'I don't know my limits'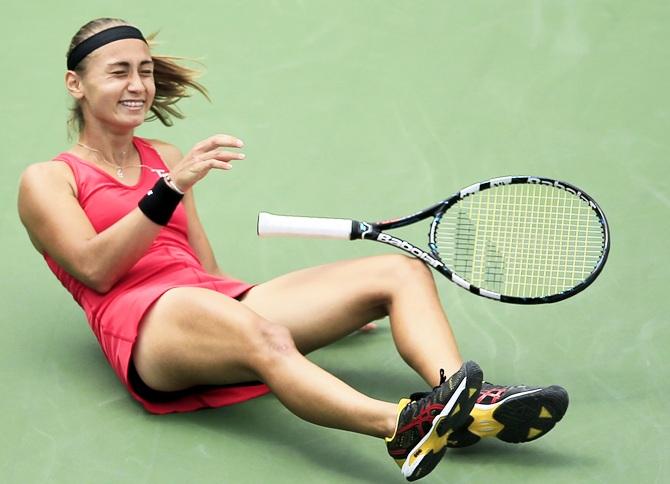 Mirjana Lucic-Baroni of Croatia celebrates. Photograph: Streeter Lecka/Getty Images
Krunic, who aims to graduate from university in Serbia this year with a degree in economics, calculated her chances were best by concentrating on her own game and not worry about who was standing on the other side of the net and followed the plan with precision.
Certainly the 21-year-old Serb has earned straight As for her work at the U.S. Open, which has included a second round win over American 27th seed Madison Keys.
"When you are playing the smaller tournaments all the time, I honestly didn't know what to expect from myself at all," said Krunic. "I don't know my limits. Today I think I pushed myself to my total limits.
"Even I know that it was not Petra's best day and she missed a lot. I don't know if I made her miss with my game or not.
"But still if she would have played her best tennis I don't think the outcome would be the same.
"I tried to keep the tactics that I have been given. Yeah, that was my only chance. Honestly, I didn't expect it at all, for sure."
'Oh, my God, I have triple match point. Maybe I can really win it'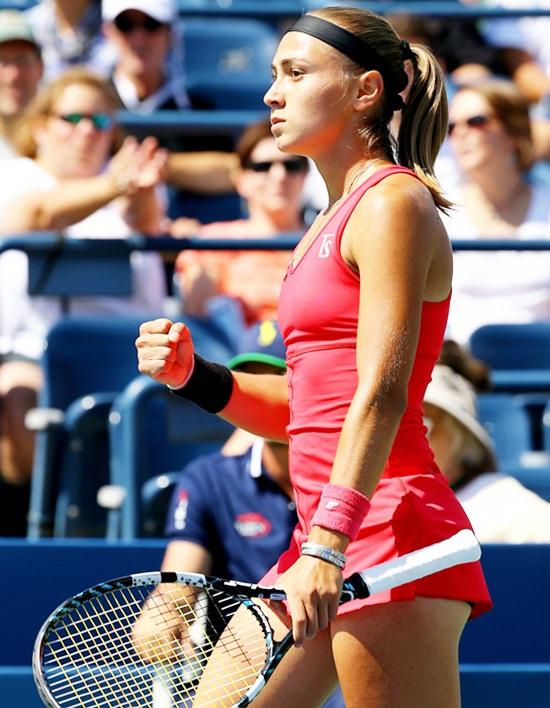 Aleksandra Krunic of Serbia celebrates. Photograph: Al Bello/Getty Images
The diminutive Krunic was a blur as she sprinted across the court sliding into splits stretching for returns to the applause of the large crowd.
Extending rallies with bursts of speed that often took her from the forehand corner to the backhand border, Krunic drew 34 errors from the left-hander while committing just 14.
Kvitova tried to seize control, unleashing 33 winners to only 17 from Krunic, but too often failed in the big moments against a determined opponent with nothing to lose.
The three wins at Flushing Meadows were the first three posted by Krunic in a Grand Slam.
"I tried not to think about the score," said Krunic. "I tried to put the pressure off my shoulders because usually last couple of years I'm the one who is putting the pressure on myself.
"I didn't expect myself to be so calm but I really focused my 100 per cent not to think about anything that is happening, about the court, about so many people, about Petra.
"At 6-5 in the second when I made the dropshot for 40-Love, that's the point that I was like, 'Oh, my God, I have triple match point. Maybe I can really win it.'
"Obviously throughout the whole match I believed more and more, otherwise I wouldn't win."