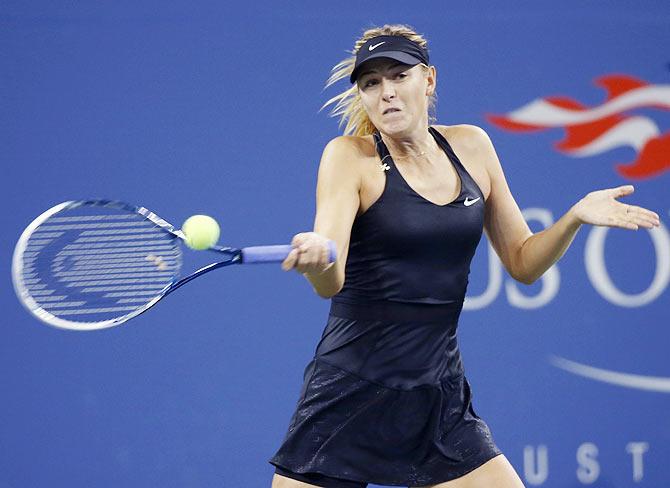 Maria Sharapova of Russia returns a shot to Sabine Lisicki of Germany during their women's singles match at the U.S. Open tennis tournament in New York on Friday. Photograph: Shannon Stapleton/Reuters
It was a day of surprises at Flushing Meadows in New York as seeded players were knocked out one after the other on Friday.
By the time fifth seed Maria Sharapova had closed out the action under the Arthur Ashe Stadium floodlights with a laboured 6-2, 6-4 win over Germany's Sabine Lisicki the top of the women's draw had lost four of the top eight seeds.
The tremors continued at the U.S. National Tennis Centre as Swiss teen Belinda Bencic ousted sixth-seeded German Angelique Kerber 6-1, 7-5 to reach the round of 16 in her U.S. Open debut.
Bencic interrupted a procession of veterans advancing to the fourth round at the U.S. Open on Friday by toppling sixth-seed Kerber and vowed not to be satisfied.
Bencic, last year's French Open and Wimbledon junior champion, went one round better than her third-round showing in this year's main draw at Wimbledon with a 6-1 7-5 win over 26-year-old Kerber, a 2011 U.S. Open semi-finalist.
"It feels amazing. I played a really good match right from the start," said Bencic, who proved much steadier than the German and saved five of seven break points in the match to keep Kerber at bay.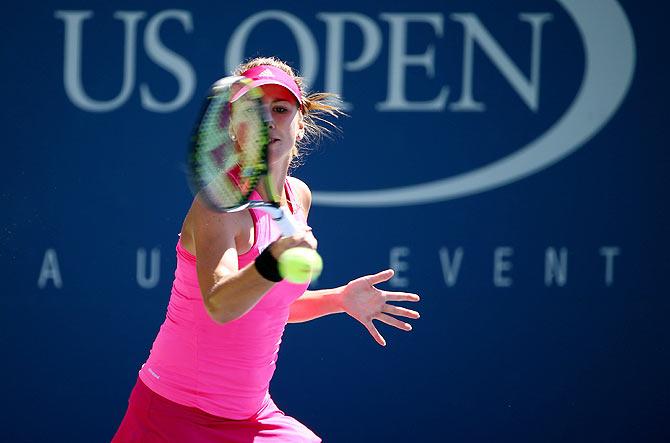 Belinda Bencic of Switzerland returns a shot against Angelique Kerber of Germany during their women's singles third round match on Friday. Photograph: Streeter Lecka/Getty Images
'And now not just to be satisfied with it, but I want more'
"It's amazing that after last year I played juniors here, and this year I'm in the fourth round. So it's incredible."
Among other winners were 32-year-old Mirjana Lucic-Baroni of Croatia, who upset second seed Simona Halep of Romania, and 28-year-olds Sara Errani of Italy and Peng Shuai of China.
Next up for Bencic, who is coached by Martina Hingis's mother, will be former World No 1 Jelena Jankovic of Serbia, the 29-year-old ninth seed, who overwhelmed unseeded Swede Johanna Larsson 6-1 6-0.
"It motivates me even more to work harder," Bencic said about her U.S. Open success.
"And now not just to be satisfied with it, but I want more."
Bencic said she has learned most of what she knows about tennis from the former world number one and compatriot Hingis.
"I'm practicing by her since I'm a little kid, so she knows me really well. I have never practiced by someone else," the teenager said. "It's working great, and always when we are back home I am practicing with her."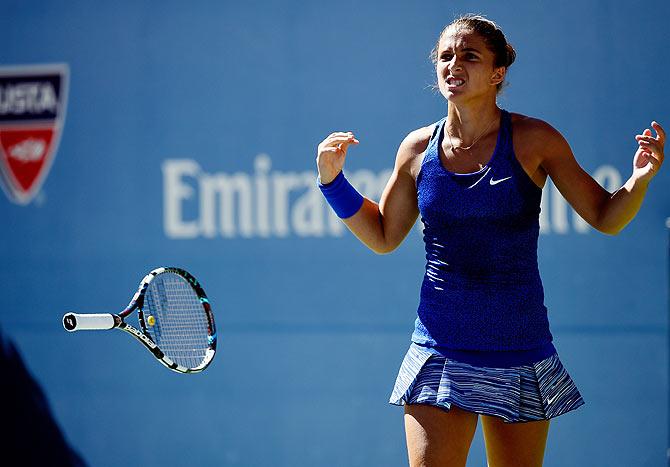 Sara Errani of Italy celebrates match point after defeating Venus Williams of the United States in their women's singles third round match on Friday. Photograph: Alex Goodlett/Getty Images
Venus eclipsed by Errani
It was a tale of three sets that played out like three distinct matches, and in the end it was Italian Sara Errani roaring in triumph at the U.S. Open on Friday moments after shaking from excitement.
Errani beat seven-times Grand Slam singles winner Venus Williams 6-0 0-6 7-6, claiming her first career singles win against the American with a thrilling 7-5 decision in the climactic tiebreaker that had Arthur Ashe Stadium rocking.
The 27-year-old Errani, the 13th seed, said the finish that catapulted her into the round of 16 of the season's last Grand Slam provided moments she would never forget.
"I was very nervous. In the 5-4 (point) to go 5-all in the tiebreak I heard the crowd," Errani said about an eruption of sound after 19th seed Williams pulverized a backhand winner off a drop shot to finish a run of three points after trailing 5-2.
"Never hear the crowd like that strong. I was shaking for the crowd. Was unbelievable good. I think I will remember forever that moment.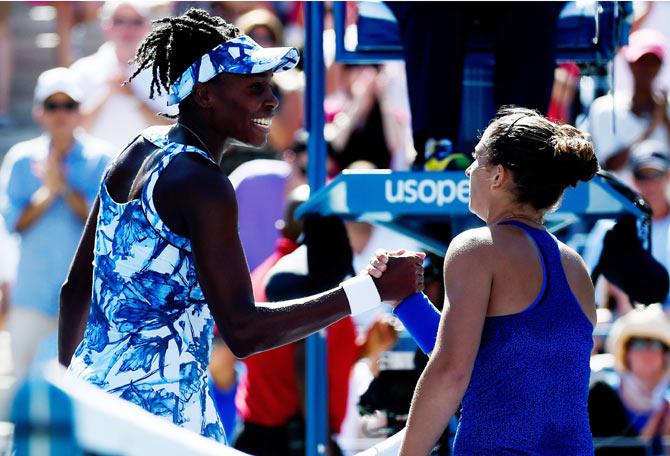 Venus Williams of the United States greets Sara Errani of Italy after losing in their women's singles third round match on Friday. Photograph: Alex Goodlett/Getty Images
'I really don't know how I won today'
"The crowd was amazing. Even if it was not for me, it was for her. But to hear that scream of all the people, I think I will remember always."
Errani will also remember the next two points.
Tied 5-5, the diminutive Italian traded shots with twice U.S. winner Williams that had both in full flight, hitting volleys, drop shots and angles that ended with a backhand volley into the open court that an exhausted Venus could only gaze on.
That exchange brought the combatants a standing ovation and took Errani, winner of five Grand Slam doubles titles and a runner-up in singles at the 2012 French Open, to match point.
Errani quickly cashed in with a forehand cross court winner and made her own noise with a fist-shaking, center court roar.
"These matches can change with nothing, with one point. At 5-all in the tiebreak I made that volley. Unbelievable. If I don't do that, maybe I lose," she said before offering praise for Williams.
"I think she's playing unbelievable. I really don't know how I won today."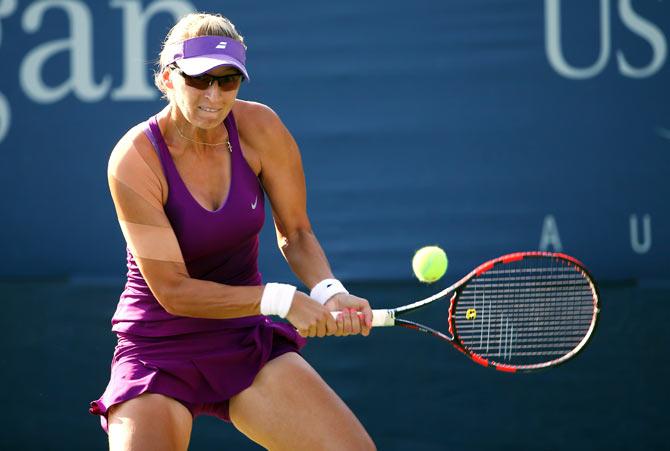 Mirjana Lucic-Baroni of Croatia. Photograph: Streeter Lecka/Getty Images
Lucic-Baroni turns back clock
A teary Mirjana Lucic-Baroni turned back the clock with a stunning upset win over second seed Simona Halep at the U.S. Open on Friday but was focused on the future.
The last time the 32-year-old beat a top five ranked player her name was Monica Seles while it was Steffi Graf who ended the Croatian's U.S. Open bid in 1998 knocking her out in the third round.
While Graf and Seles have long retired as tennis greats, Lucic-Baroni battles on against a new tennis generation as she continues to try and salvage something from a career that never came close to delivering on its immense promise.
But on a sun-kissed grandstand court, the former-child prodigy seized the spotlight with a 7-6(6) 6-2 over the Romanian second seed to claim an unlikely place in the fourth round of the year's final Grand Slam.
"I mean, I'm a little bit emotional now. Sorry," apolgised Lucic-Baroni, tears dripping down her cheeks. "It's been really hard.
"Sorry," she added wiping away more tears.
"After so many years to be here again, it's incredible. I wanted this so bad. So many times I would get to, you know, a place where I could do it.
"Then I wanted it so bad that I'm kind of burned out. And I apologize again.
"I'm so happy."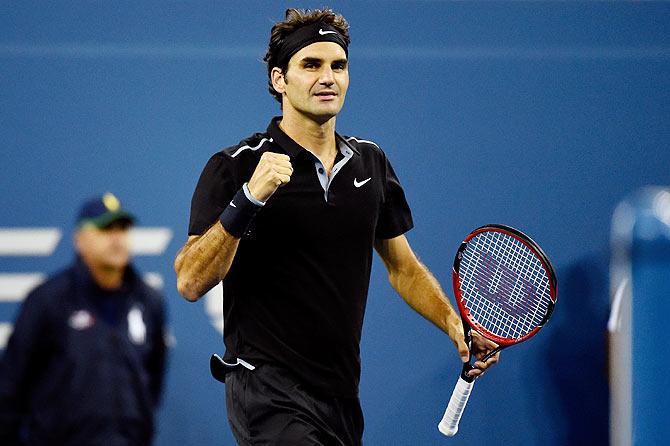 Roger Federer of Switzerland celebrates after defeating Sam Groth of Australia in their men's singles second round match on Friday. Photograph: Alex Goodlett/Getty Images
Federer does it easy
Second seed Roger Federer served up a tidy 6-4, 6-4, 6-4 win over big-hitting Australian Sam Groth to ease into the third round of the U.S. Open on Friday and continue his march towards an 18th Grand Slam title.
Federer has feasted on Australian opponents in Grand Slams over the years, piling up an 18-1 record against men from Down Under, and Groth, who was facing a top 10 opponent for the first time, proved little more than a distraction to the Swiss maestro.
The burly Groth, who had a brief stint as an Australian Rules football player in 2011, stepped onto Arthur Ashe Stadium court looking ready for a fight but in the end could only wave the white flag as Federer closed out the match with an ace, sweeping through the final four games.
Throughout the one hour and 48 minutes contest the Australian took his best shots at the 33-year-old, including booming serves of over 140mph.
"The 142, honestly I hit it and I turned around," said Federer, who will next face Spain's Marcel Granollers, a 7-6(6) 6-7(3) 7-6(5) 3-6 6-4 winner over 25th seed Ivo Karlovic.
"I didn't know if it went into the stands or the bottom of the net or on the other side. I just felt like I hit it clean.
"The 147 one I felt like I was there and felt like I had more control on it.
"The difference between 142 and 147, there's none really in the racquet. I think once you pass the 135 range everything is just really fast."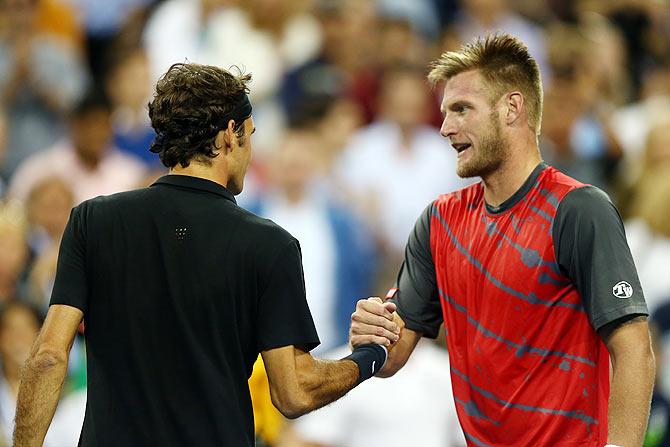 Roger Federer of Switzerland shakes hands with Sam Groth of Australia after their men's singles second round match on Friday. Photograph: Elsa/Getty Images
'I was trying not to get caught up in the whole Roger act out there'
Federer, dressed all in black, took a few games to feel out his opponent before making the breakthrough to go 4-3 ahead, then held serve to take the first set.
The second set opened with the two men trading breaks, with Federer again gaining the upper hand and breaking Groth a second time to go up 5-4 and serve out for a 2-0 lead.
The 26-year-old Australian said he tried to focus on his own game and not get swept away by the crowd's support for Federer.
"To be honest, for me, I was trying not to get caught up in the whole Roger act out there," he said. "You walk out, you get a few cheers. He walks out and the crowd goes ballistic.
"So from the word go you know he's there. I was honestly just trying to focus on what I was doing.
"He's got an aura because of how good his tennis is. Yes, there's an aura because of what he's done, but his tennis speaks for itself.
"You don't win 17 Grand Slams if your tennis is not that good. I knew I was playing Roger Federer."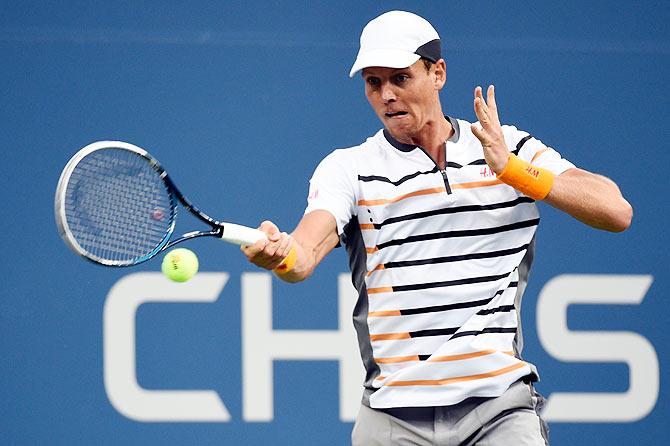 Tomas Berdych of the Czech Republic returns a shot against Martin Klizan of Slovakia during their men's singles second round on Friday. Photograph: Alex Goodlett/Getty Images
Berdych battles past Slovakian Klizan
Federer, Spanish fourth seed David Ferrer, sixth-seeded Czech Tomas Berdych and seventh-seeded Bulgarian Grigor Dimitrov all advanced on Friday.
The highest-ranked casualty was Ernests Gulbis of Latvia, the 11th seed, who was ousted by 45th-ranked Dominic Thiem of Austria 4-6, 3-6, 6-4, 6-3, 6-3.
Ferrer reached the third round without lifting his racket when Australian Bernard Tomic withdrew with a hip injury, while Dimitrov breezed into the third round with a 6-1, 6-2, 6-2 win over Israel's Dudi Sela.
Berdych had a much tougher time, needing five sets and three hours 45 minutes to tame Martin Klizan of Slovakia 6-3, 4-6, 6-2, 3-6, 6-3.
Richard Gasquet, seeded 12th, and Gael Monfils, 20th, advanced in straight sets to set up an all-French collision for a berth in the fourth round.
Working harder was 18th-seeded South African Kevin Anderson, a four-set winner against Jerzy Janowicz of Poland, while Spain's 19th seed Feliciano Lopez won a fourth-set tiebreaker to advance past Japanese qualifier Tatsuma Ito.