'I can say that they have it in them to produce a creditable performance in the World Cup'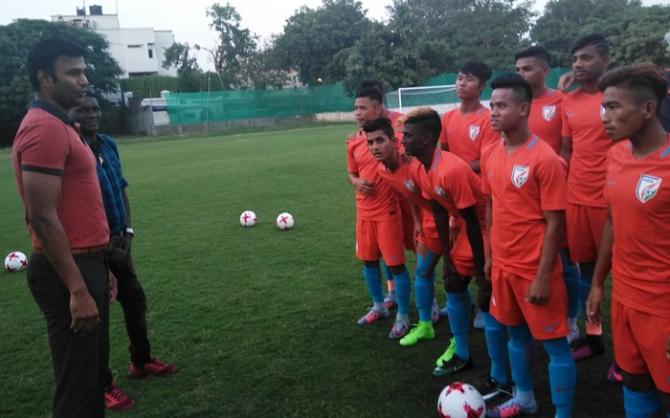 IMAGE: I M Vijayan with Abhishek Yadav, left, and Under-17 World Cup team. Photograph: Indian football team/Twitter.
I M Vijayan is amazed at Indian football's leap from amateurism to professionalism and feels a decent outing in the FIFA U-17 World Cup will go a long way in raising the standard of the game in the country.
Vijayan, one of the country's greatest strikers, played 79 matches for India between 1989 and 2003.
The 48-year-old is optimistic that the host nation players could make heads turn with their performance.
"I am pretty optimistic about a good show. We are the host nation and our players have gained confidence following their showings in the preparatory events," Vijayan said.
"I have seen them train before and they really impressed me. I can say that they have it in them to produce a creditable performance in the World Cup," he said three days before the start of India's first-ever FIFA tournament.
India have clubbed been with Colombia, USA and Ghana in the group stage.
Vijayan is one of the most decorated Indian footballers, scoring 40 times in his international career spanning 15 years.
Vijayan, who last played in 2004 for his home team Kerala Police, represented Mohan Bagan, East Bengal, JCT Mills and Churchill Brothers.
Talking about the change in Indian football, he said, "I think what has caught my attention is the switch to professionalism. Gone are the days when we would be carrying water bottles from our room into the SAI centre in Bangalore for our camp."
Citing another example of lack of professionalism those days, he said, "Back then, after a match we would be asked if we are injured. But now, you have so many doctors, physios, coaches to look after the players. They are made to go through screenings before a match to assess their fitness."
Vijayan is one of the two government observers for football and ahead of India's 2019 Asian Cup qualifying match against Macau, he travelled with the team and kept a keen eye on every arrangement for their practice and the match-day facilities.
"I have written to the AIFF and government about the improvements made in the Indian football set-up," he said.
He said there was no point in comparing Indian football with cricket.
"Both has its own space. And moreover, both are our national teams and we should cheer for both. So, one should not compare between the two sports."