"First we have to play football and see what happens. Maybe we can then score a goal and create an atmosphere in the stadium."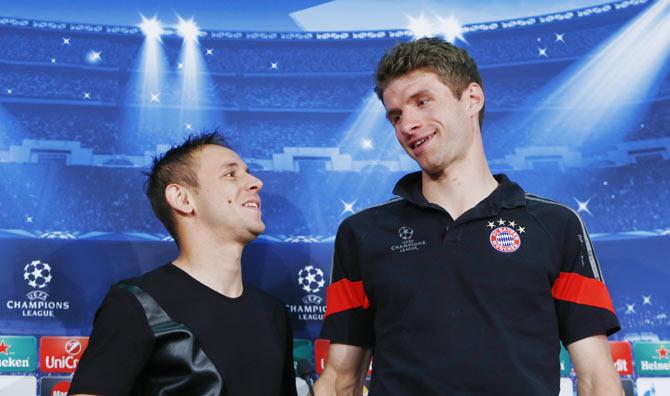 Bayern Munich's Rafinha and Thomas Muller during the press conference at Allianz Arena in Munich, on Monday, the eve of their UEFA Champions League second leg semi-final. Photograph: Michaela Rehle/Reuters
Bayern Munich have no plans to go straight on the attack and score quickly against Barcelona on Tuesday as they look to overturn a 3-0 Champions League semi-final, first leg defeat, coach Pep Guardiola said on Monday.
Bayern, who have lost their last four matches in all competitions for the first time since 1991, will instead try to control possession and defend against a team that has scored 25 goals in their last seven outings.
"We have to be patient and cannot do everything in the first 15-20 minutes," the Spaniard told reporters.
"First we have to play football and see what happens. Maybe we can then score a goal and create an atmosphere in the stadium.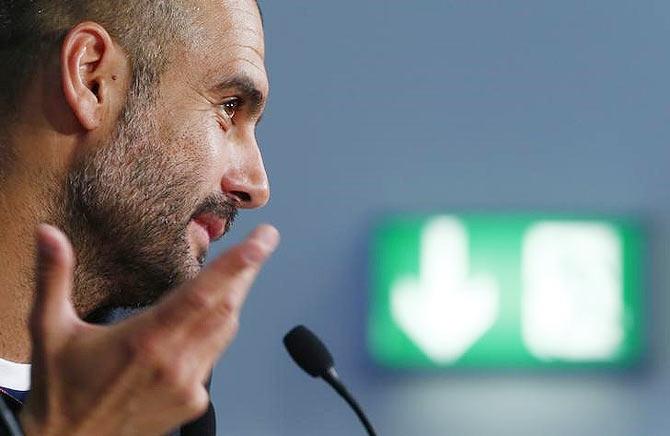 Bayern Munich coach Pep Guardiola during the press conference. Photograph: Michaela Rehle/Reuters
"No one says it will be easy to score goals. We will try to overturn the deficit with control of the game. We came back both against Shakhtar Donetsk and Porto (in earlier rounds)."
Bayer drew 0-0 in Ukraine in the last 16 before crushing Shakhtar 7-0 in the return. The Germans then lost 3-1 at Porto before demolishing them 6-1 in Munich to reach the semi-finals.
But three goals in 17 minutes late in the game in Barcelona last week put Bayern firmly on the back foot for the second leg.
"We are 3-0 behind against a top team, the best team in Europe the last 15-20 years," said Guardiola, who won 14 titles in four years as Barca coach until 2012.
"We have to defend. I know how people in Germany think. But first we have defend, not just sprint forward because Barca have outstanding counter-attacking players.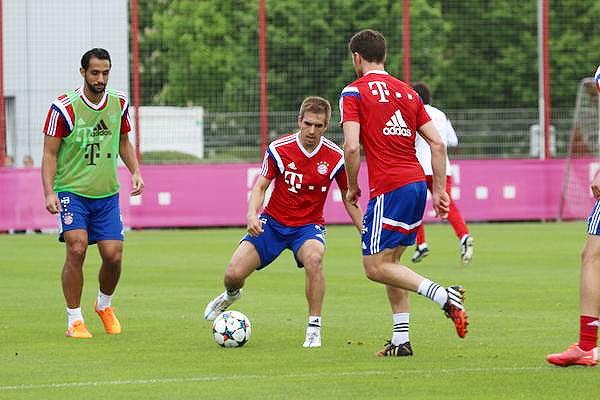 Bayern Munich's Phillip Lahm at a team training session in Munich on Sunday. Photograph: FC Bayern Munich/Twitter
"We have to focus on our game plan, have more possession of the ball than them and see what we can get out of it."
Five-time European champions Bayern, who last won the trophy in 2013, also lost in the semi-finals last season against Real Madrid. They will be without injured wingers Arjen Robben and Franck Ribery as well as defender David Alaba among others.
"We had to make do two or three months without them," Guardiola said. "Other clubs have more balanced squads at the moment. That's the situation but if we are eliminated it won't be because of these players."