Rory McIlroy staked an early lead before holding on to win by a stroke in his "Duel at Jinsha Lake" 18-hole exhibition event against Tiger Woods on Monday.
"It was a pretty exciting day and the match was pretty close all day," Northern Ireland's McIlroy told reporters just 24 hours after finishing second in the European Tour BMW Masters event in Shanghai.
The World No. 1 moved into a lead he would never relinquish against his American opponent when he birdied two of his opening three holes and Woods dropped a shot on the third, before going on to sign for a bogey-free five-under 67.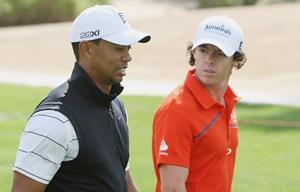 On a cool and misty day in front of an enthusiastic gallery, double major winner McIlroy made the turn two shots clear of Woods at three-under par in the medal match-play encounter.
Woods, who was playing in China for a first time in two years, clawed a shot back when he chipped in from off the green at the par-three 12th but slipped two behind again with a bogey on the next.
The world number two birdied the 14th to reapply the pressure back on McIlroy and after both players picked up shots on the 15th, they each parred the final three holes with Woods almost forcing a playoff when he almost chipped in on the last.
"I got off to a good start and had a little bit of advantage for the first few holes but then Tiger birdied a few on the back nine. All I was trying to do was to keep myself ahead and I managed to do that," McIlroy added.
Woods arrived in Zhengzhou having finished fourth in the CIMB Classic in Malaysia on Sunday and was looking for a repeat win over McIlroy after handing the Briton a seven-shot round-robin defeat in the recent World Golf Final in Turkey.
However, both players struggled with the speed of the Jinsha Lake greens while staff fought a constant battle with fans, who often broke through security lines.
Despite his defeat, Woods hinted he would welcome further opportunities to go head-to-head against McIlroy in similar end-of-season exhibition matches.
"This certainly was not my usual way I spend Mondays but to have this many people come out and watch us play golf... was something special," Woods said.
"These events don't happen that often and it was just great to see everyone so excited to see us come here and excited to watch us play," the 14-time major champion added.
"So as far as doing something like this down the road, it would be fun.
"We're ranked one and two in the world respectively and to have matches like this to promote the game of golf is what it's all about."
Photograph: Scott Halleran/Getty Images