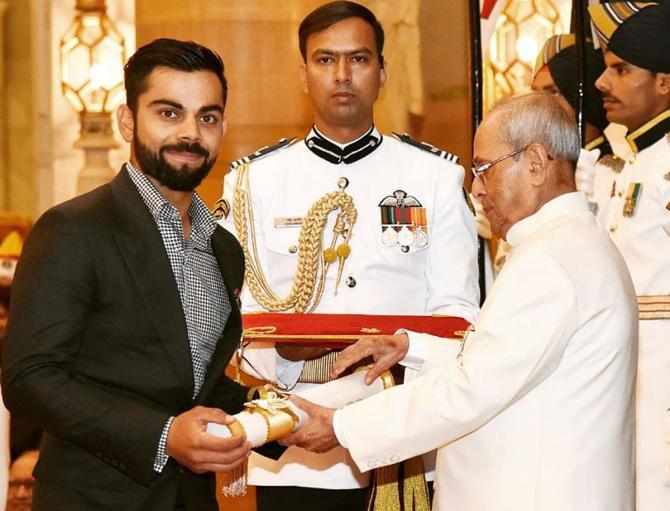 Olympic medallists Sushil Kumar, Vijender Singh along with India's top cricketers including Virat Kohli, Sachin Tendulkar, Rohit Sharma and Anil Kumble paid tribute to former President Pranab Mukherjee, who passed away on Monday.
Mukherjee, one of India's most cerebral and respected politicians, died on Monday evening following a 21-day battle with multiple ailments. He was 84.
Vijender Singh: Former President #PranabMukherjee will be remembered as a tall and multidimensional figure of Indian politics. A statesman, thinker, writer and people's man. Deepest Condolences To The Family.
Sushil Kumar: Deeply saddened at the demise of Former President of India, Bharat Ratna Shri. Pranab Mukherjee My deepest condolences to his family . India has lost a great leader todayFolded handsFolded hands

Virat Kohli: The nation has lost a brilliant leader. Saddened to hear about the passing of Shri Pranab Mukherjee. My sincere condolences to his family.

Rohit Sharma: Rest in Peace #PranabMukherjee ji. An inspiring figure to the nation. My condolences are with his loved ones.

Sachin Tendulkar: Deeply saddened to hear about the demise of former President Shri Pranab Mukherjee. He served India passionately for several decades. My condolences to his family & loved ones. May his soul rest in peace.

Anil Kumble: Heartfelt condolences on the passing of Shri. Pranab Mukherjee. May his soul rest in peace

Ajinkya Rahane: Deeply saddened to learn about the passing away of Former President Shri Pranab Mukherjee. My heartfelt condolences to his family. May his soul rest in peace

Ravi Shastri: My deepest condolences on the sad demise of our former President Shri #PranabMukherjee Ji. Sir, your contribution to the nation will always be remembered. RIP Pranab Da

VVS Laxman: My heartfelt condolences on the passing away of our former President, Shri #PranabMukherjee . May his soul attain sadgati.