Shortly after former President Pranab Mukherjee passed away, leaders, including President Ram Nath Kovind and Prime Minister Narendra Modi, paid tributes to him.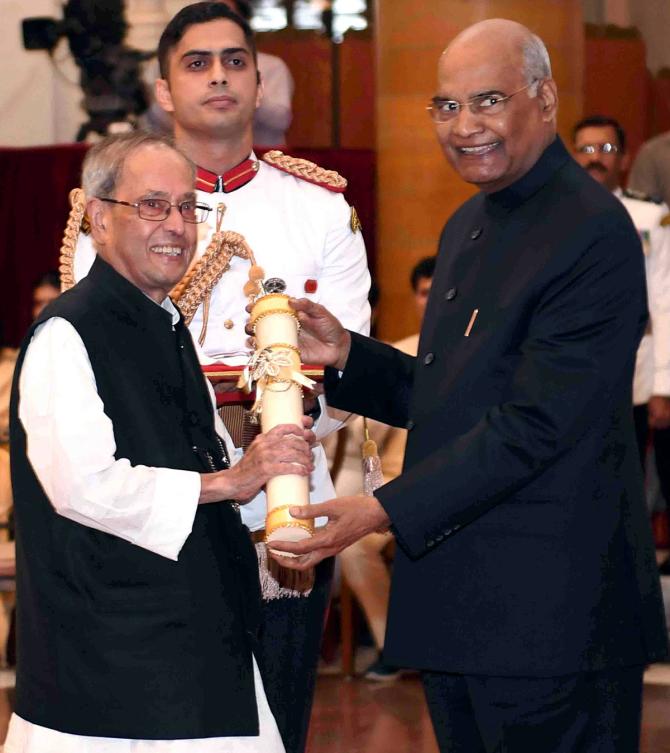 "Sad to hear that former President Shri Pranab Mukherjee is no more. His demise is passing of an era. A colossus in public life, he served Mother India with the spirit of a sage. The nation mourns losing one of its worthiest sons. Condolences to his family, friends & all citizens.
"In his 5-decade-long illustrious public life, he remained rooted to the ground irrespective of the exalted offices he held. He endeared himself to people across political spectrum."
"He opened its gates for public visit. His decision to discontinue the use of the honorific 'His Excellency' was historic."
-- President Ram Nath Kovind
"I was new to Delhi in 2014. From Day 1, I was blessed to have the guidance, support and blessings of Shri Pranab Mukherjee. I will always cherish my interactions with him. Condolences to his family, friends, admirers and supporters across India. Om Shanti.
"India grieves the passing away of Bharat Ratna Shri Pranab Mukherjee. He has left an indelible mark on the development trajectory of our nation. A scholar par excellence, a towering statesman, he was admired across the political spectrum and by all sections of society."
-- Prime Minister Narendra Modi
"Deeply anguished on the passing away of former President of India, Bharat Ratna Shri Pranab Mukherjee ji. He was a vastly experienced leader who served the nation with utmost devotion. Pranab da's distinguished career is a matter of great pride for the entire country.
"Pranab Da's life will always be cherished for his impeccable service and indelible contribution to our motherland. His demise has left a huge void in Indian polity. My sincerest condolences are with his family and followers on this irreparable loss. Om Shanti Shanti Shanti."
-- Home Minister Amit Shah
"He brought distinction to every post he held. He established a genuine rapport with colleagues across the political spectrum, and he served our country with the utmost dedication.
"Pranab Da had been such an integral and prominent part of national life, the Congress party and the central government for over five decades, it is hard to imagine how we can do without his wisdom, experience, sage advice and deep understanding of so many subjects.
"His life over the past 50 years mirrored 50 years of the history of India, for he played a crucial role both in shaping the course of events as well as actively participating in them, whether as a cabinet minister, parliamentarian or President of India.
"I learnt so much from him. The Congress party deeply mourns his loss and will always honour his memory.

"Pranab Da has now been released from his suffering. May his soul rest in peace."
-- Congress president Sonia Gandhi
"I have learnt with profound sorrow about the passing away of Shri Pranab Mukherjee, Former President of India.
"In his death, our country has lost one of its greatest leaders of Independent India. He and I worked very closely in the government of India and I depended on him a great deal for his wisdom, vast knowledge and experience of public affairs."
-- Former Prime Minister Manmohan Singh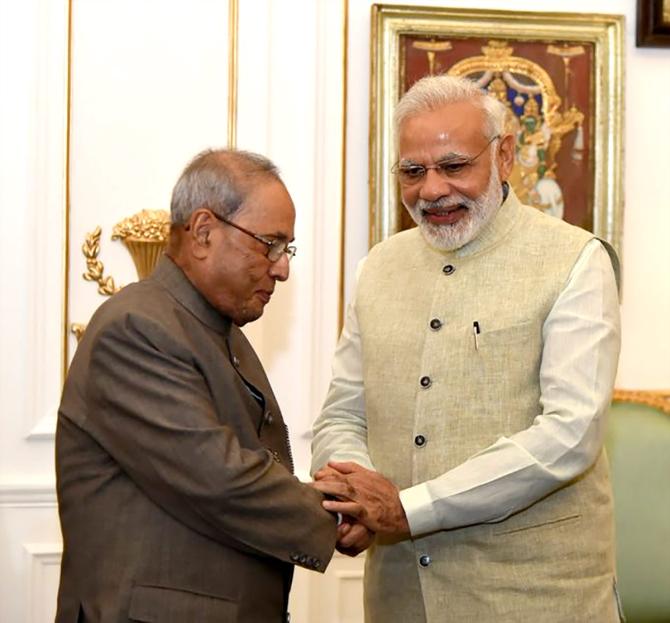 "Deeply anguished by the demise of former president of India, Shri Pranab Mukherjee ji. He was widely respected by the people across all sections of society. His demise is a personal loss. He had tremendous knowledge of India's history, diplomacy, public policy and also defence.
"He served our country with diligence and dedication. His contribution to public life was invaluable. My deepest condolences to his bereaved family."
-- Defence Minister Rajnath Singh
"Saddened by the demise of former President and statesman Shri Pranab Mukherjee. He has served the Country in many roles with diligence and determination. He is widely admired across the parties for his intellect and perseverance. My condolences to his family and followers."
-- Bharatiya Janata Party president J P Nadda
"I am deeply saddened by the death of former President of India, Bharat Ratna Pranab Mukherjee. His death is a great loss for the country. Pranab da was a rich and good friend of the great personality.
"He always gave priority to the country, rising above party politics. In this hour of grief, I express my deepest condolences to his family members. God bless his departed soul."
-- Transport Minister Nitin Gadkari
"With great sadness, the nation receives the news of the unfortunate demise of our former President Shri Pranab Mukherjee. I join the country in paying homage to him. My deepest condolences to the bereaved family and friends."
-- Congress leader Rahul Gandhi
"It is with deep sorrow I write this. Bharat Ratna Pranab Mukherjee has left us. An era has ended. For decades he was a father figure. From my first win as MP, to being my
senior Cabinet colleague, to his becoming President while I was CM.
"So many memories. A visit to Delhi without Pranabda is unimaginable. He is a legend in all subjects from politics to economics. Will be forever grateful. Shall miss him
immensely. My condolences to Abhijit & Sharmistha."
-- West Bengal Chief Minister Mamata Banerjee
"One of the many occasions I had to meet Pranab da. I always found our interactions to be memorable. His encyclopaedic memory meant he always had an anecdote to make the point under discussion.The last of a generation of politicians able to reach out across the political aisle."
-- National Conference leader Omar Abdullah
"Saddened to head the news of former President Shri Pranab Mukherjee's death. May God place the departed soul at their feet and give courage to his family and loved ones to bear this sorrow."
-- Delhi Chief Minister Arvind Kejriwal
"Your thoughts, memories and sense of commitment to the Party, the People and the Nation lives on ..... Rest in Peace Pranab Da."
-- Congress spokesperson Randeep Singh Surjewala
"I am deeply saddened to condole the passing away of my longtime and close colleague Shri Pranab Mukherjee ji. Pranab Da, as many of us addressed him with affection, was someone with whom I have had a long and cherished association.
"Although I am older, Pranab Da was one year senior to me as a Parliamentarian. I became a Member of Parliament in the year 1970 while Pranab Da became an MP in 1969. We belonged to different ideologies but from day one of my meeting him, a mutual bond of respect was formed between us.
"His own reflective nature, combined with his long and varied experience in public life, made him a statesman who was admired by people across the political spectrum.
"To me personally, he was more than a colleague and we have shared valuable moments both inside and outside of our public lives, which extended even to our families. The memories of various lunches we shared together will always be special in my heart. Though Pranab Da was hospitalised for the last couple of weeks, we were all hoping that he would recover soon.
"His passing away is a huge loss to the nation. I have lost a friend. May his soul rest in peace."
-- Senior BJP leader L K Advani
"India's former President Dr Pranab Mukherjee's passing away is a huge loss for all swayamsevaks who had come in contact with him. I had met him twice when he was President and three to four times afterwards.
"I felt like speaking to elder member of my family.
"We all became a fan of his simplicity and cordial behaviour when he himself came forward and stood up to introduce himself to all, saying 'as we all have gathered here to know each other, let me first introduce myself to you'. "This he did before the introductory remarks were made by the programme compere.
"We used to feel like keep talking and listening to him continuously if we could meet him and sit with him.
"He was a very successful politician and had a very successful political journey. He knew all political strategies, but, he rose above politics and always considered everyone as his own in the interest of the nation. He used to bring people together even if there was a political conflict.
We have lost a scholar and a patriot who was a true source of guidance. This loss cannot be compensated. Pranab da came in the life of people like me for a shorter period, but he will be remembered forever. We all are with his family in this time of grief for them.
-- Rashtriya Swayamsevak Sangh chief Mohan Bhagwat
-- With inputs from ANI