Pierre Paganini may be the most important reason Roger has the best record in men's tennis in the past 12 months, says Rahul Jacob.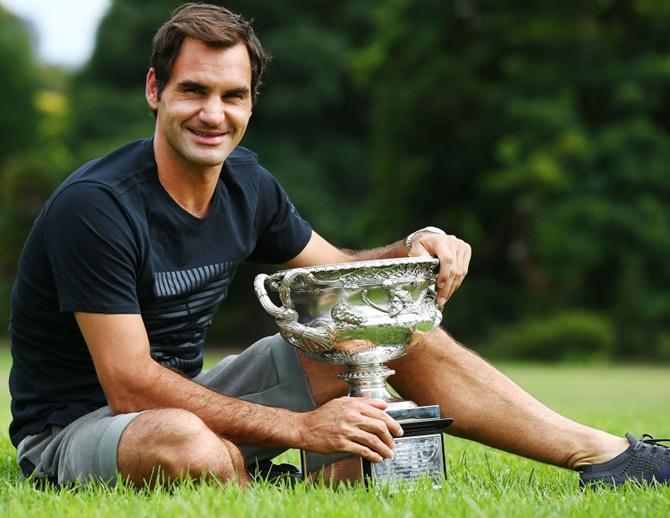 IMAGE: Roger Federer with the Norman Brookes Challenge Cup after winning the 2018 Australian Open. Photograph: Michael Dodge/Getty Images
One man has been consistently part of Roger Federer's team since 2000.
Rarely seen sitting courtside when the champion plays at Grand Slam tournaments, he has witnessed Federer hoist the trophy just twice -- at the French Open in 2009 and at Wimbledon last year.
Yet Pierre Paganini, Federer's fitness training coach, may be the most important reason Roger has the best record in men's tennis in the past 12 months even at the age of 36, long after his contemporaries from the early 2000s such as Lleyton Hewitt, Marat Safin and David Nalbandian have retired.
Federer has trained under the watchful eye of Paganini, 60, since 2000. The two met when Federer was an adolescent training at the Swiss National Tennis Center near Lausanne.
Paganini has long stressed building agility and stamina, giving both more importance than a weights regimen in the gym.
Ask coaches and players what sets Federer apart from other players and it always comes back to his footwork and agility -- and his training coach.
"His balance and his efficiency of movement are superlative. His head is very still when he moves," said Brad Gilbert, a former top 10 player and coach to Andre Agassi and Andy Murray.
"Pierre's been a magician."
Working on an article for the Financial Times last summer on Federer's longevity, I kept hearing variations of that answer. Magnus Norman, 2016 US champion Stanislas Wawrinka's coach for four years till last October, went so far as to describe Paganini, who divides his time between the two Swiss stars, as 'the most important part' of the Wawrinka team.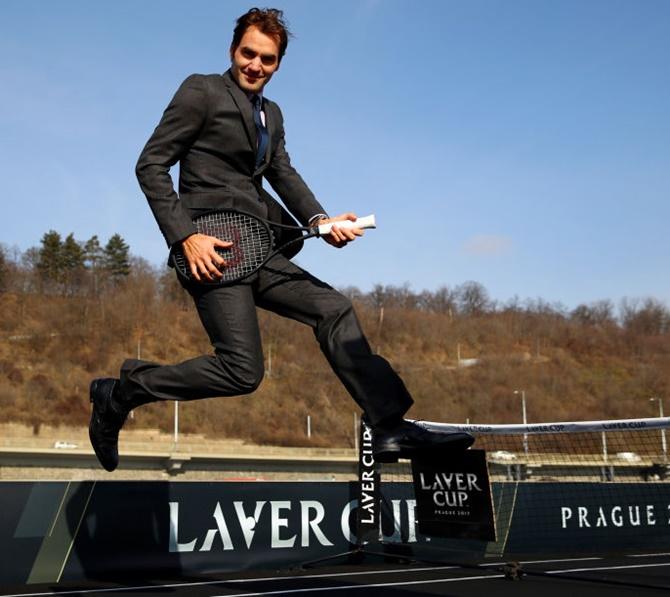 IMAGE: As Federer grows older he could weigh down as the most graceful sportsman the world has seen. Photograph: Clive Brunskill/Getty Images for The Laver Cup
When I interviewed Paganini, who looked more a nuclear scientist than a fitness coach, more than a decade ago, he stressed the importance of what he called the 'endurance of explosivity' -- the ability to push off at a near sprint to chase down the ball in the closing stages of a match.
Watch YouTube videos of Federer practising and one gets only glimpses of the behind-the-scenes wizardry Paganini performs.
There are agility drills that involve playing catch with two tennis balls that look akin to a juggler's training.
Alternatively, Federer holds a football and bunts back another football while hopping on one foot. There are also more conventional exercises using thick resistance bands as he does squats.
Inevitably, there is a lot of off-court work involving core and strength training.
What continues to astonish is that, despite having among the skinniest arms in men's tennis, Federer's groundstrokes are often ferocious, a function of the racquet speed he generates on court, again partly because he is rarely late to the ball.
And, amid new academic research that shows that grunting both adds to the velocity of groundstrokes and serves and distracts one's opponents, it is remarkable that Federer hardly ever grunts.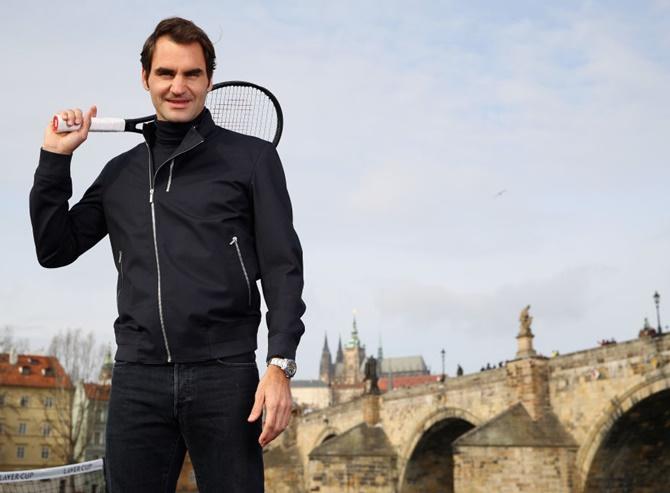 IMAGE: 'Despite having among the skinniest arms in men's tennis, Federer's groundstrokes are often ferocious.' Photograph: Clive Brunskill/Getty Images
Describing the Federer-Paganini alchemy is akin to X-raying a genius to understand how his mind works, but many also ascribe this lightweight regime and focus on movement as the reason for Federer's relatively injury-free career.
In the decade-and-a-half since he won his first Wimbledon, he has suffered only two major injuries -- an ankle injury in the autumn of 2005 and a torn meniscus at Wimbledon in July 2016, which necessitated a six-month layoff.
Some of his current rivals -- notably Rafael Nadal and Andy Murray -- appear to have about as many injuries over any two-year period.
The surgery on Federer's knee in the summer of 2016 was widely thought to signal the end of his career. It could easily have been, in someone with less of an appetite for training and rehab work.
Paganini told The New York Times that watching Federer after the operation was painful: 'It was like he was learning to walk again. You can be the most positive person in the world and there are still moments when you wondered, "Is he really going to be able to play high-level tennis again?"'
Sports journalists who wrote Federer off are now predicting he can stay at this level for another couple of years.
Over the next few months, winning will get harder as his main rivals seek to launch their own comebacks from persistent injuries.
Federer will turn 37 on August 8 and would have to successfully defend his title in Melbourne again to surpass Ken Rosewall's record of winning the 1972 Australian Open at 37 years and 63 days.
Federer's erratic serving and frequently tentative play in the final against Marin Cilic was puzzling, but he volleyed better than ever and looked younger than Alexander Zverev, 20, while destroying the German in early January in the Hopman Cup final.
Still, if Federer's display of nerves in this year's final was any indication, the paradox of mounting expectations even as he grows older could weigh down the most graceful sportsman the world has seen.
That is an endurance test Paganini could not have anticipated.