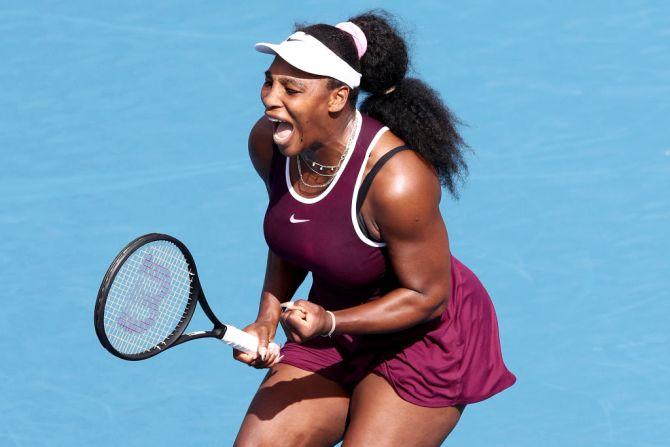 Top seed Serena Williams was made to work hard against fellow American Christina McHale before she prevailed 3-6, 6-2, 6-3 to advance to the quarter-finals of the Auckland Classic on Thursday.
The 23-times Grand Slam champion looked a completely different player from the person who smashed her way into the semi-finals of the doubles with Caroline Wozniacki on Wednesday but managed to do just enough to beat the 86th-ranked McHale.
McHale, who had not beaten Williams in their three previous matches, kept her compatriot off balance with clever use of angled returns and chased down everything the 38-year-old hammered back at her.
Williams only seized control of the match in the fifth game of the decider when she broke the 27-year-old before she wrapped up the win in two hours.
She will now face Germany's Laura Siegemund, who upset American teenager Coco Gauff 5-7, 6-2, 6-3 in a two-hour, 14 minute match that opened Thursday's action on the main court at the Auckland Tennis Centre.
While the 15-year-old Gauff won the first set, she had to fight back from two breaks of serve and she never really settled as the 31-year-old German capitalised on the American's shaky service game.
Gauff became increasingly frustrated throughout the match as her game fell apart as Siegemund worked her around the court and upset her power-hitting tempo and the American admitted afterwards she was still learning how to play at the top level.
"I'm still learning and that's the problem that I have," she told reporters.
"I didn't play the right way and if I lost playing the right way it would have been fine, but I don't think I was playing the right way.
"You have bad days, you can't play your best tennis everyday. I learned a lot from this match and for this next week I'll work on the things I need to work on, to get ready for the Australian Open."
Barty stunned by qualifier Brady in straight sets in Brisbane
American qualifier Jennifer Brady claimed the first top 10 win of her career with an upset 6-4, 7-6(4) straight sets victory over world number one Ash Barty on Thursday to advance to the Brisbane International quarter-finals.
With the tournament moving into the Pat Rafter Arena at the Queensland Tennis Centre following the end of the ATP Cup group stage, Brady had to contend with not only the Australian top seed, who was given a bye to the last-16, but also a vociferous home crowd.
Barty, who had never dropped a set to Brady in two encounters last year, was unable to muster a single break point while the American needed only one break of serve in the opening set before sealing the result in the second set tiebreak.
"I'm very happy to get the win," Brady said in a post-match interview. "Ash is obviously a great player and a great person.
"It's a little bit surreal. I'm super stoked and I'm shaking a little bit, but I really played well today."
Barty, who exited the tournament in the first round in 2018, struck more winners than Brady but the 16 unforced errors opened the door for her American opponent who wrapped up the match in 91 minutes.
Brady, who beat Maria Sharapova in the first round after coming through three qualifiers, became the fourth American to qualify for the quarter-finals after Madison Keys, Alison Riske and Danielle Collins.
'You can't curse,' Gauff admonishes dad during match
Parents normally tell their teenagers to watch their language, but Coco Gauff turned the tables on her father on Thursday during her second round clash with Laura Siegemund at the Auckland Classic.
The 15-year-old Gauff had taken the first set off the German and was receiving some coaching advice in the changeover from her father, Corey, about what she should do to ensure she advanced to the quarter-finals.
"The one thing you did ... you didn't give out no free points on her damn serve," Corey Gauff told his daughter as a television microphone picked up the conversation.
"You can't curse," she replied with a deadpan look on her face.
"I cursed?" an incredulous Corey asked.
"You said the D-word," his daughter retorted as a smile spread slowly across her face.
"Oh, that one doesn't really count," he quizzically replied.
"In some places it does," she admonished him.
Corey Gauff, now laughing himself, apologised.
"OK, I'm sorry about that," he said.
The playful banter, however, failed to spark Gauff, who had been inconsistent in the first set and the 31-year-old German capitalised to win the match 5-7, 6-2, 6-3.
Gauff told reporters that she felt she still had a lot to learn from playing at the top level, but that her basic game was there to build on.
"I don't think there was much missing," Gauff said.
"I just told my dad that I didn't feel like I was hitting my shots like I normally do.
"That just happens, you have bad days, you can't play your best tennis every day."
Murray must target Wimbledon, says Corretja
Andy Murray's one-time coach Alex Corretja believes the former world number one should focus on arriving at Wimbledon in peak condition following his latest injury setback.
The 32-year-old Briton withdrew from this month's Australian Open with a pelvic injury sustained playing at the Davis Cup Finals in November, meaning he will have missed eight of the last 10 Grand Slam tournaments.
Murray has made a remarkable recovery from having hip resurfacing surgery last January, however, winning the Antwerp title in only his seventh tournament since returning to action by beating Stan Wawrinka in September.
Corretja thinks Murray has made a sensible decision to skip the Australian Open, saying he needs to build his year around a specific target, which logically would be Wimbledon where he won the title in 2013 and 2016.
"He needs to prepare his season focussing on a goal, a big goal," Spaniard Corretja, who worked on and off with Murray from 2008-11, told Reuters.
"That might be Wimbledon or it could be the Olympics. But you can't just go through the season thinking you are going to win a few matches here and there, he needs to be ready.
"I think in five or six months time he will have had enough time to be ready and that's when Wimbledon comes. That will be the period I believe he will need to be in his best shape."
The predicament for Murray will be playing enough matches and avoiding injuries.
"If he's healthy he will have the chance to play at the highest level again but it will be very difficult for him because the injury he had was complicated and he has been giving it 100 percent for 10 or 15 years already on the Tour," said former world number two Corretja, who will be working as an analyst for broadcaster Eurosport at the Australian Open.
"When you are away for such a long time and you've not got the matches in the bank, you get other injuries, not related to the real injury.
"But he is among the special players like Roger (Federer), Rafa (Nadal) and Novak (Djokovic) and always give them the benefit of the doubt. In the case of Andy it would take him a while to compete in best of five over two weeks.
"This time last year he didn't know if he could continue. He will need more matches. He will need to do well in Indian Wells and Miami, play a good claycourt season, then maybe by Wimbledon he might have his top form again."
Three-time Grand Slam champion Murray is expected to start his season in Montpellier next month.