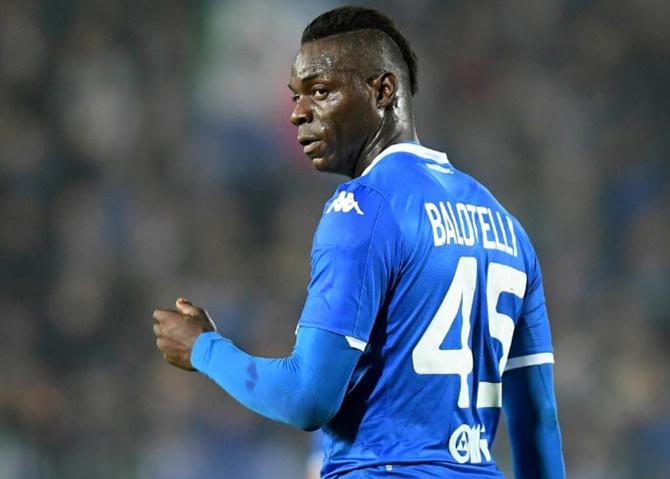 Serie A club Lazio have been fined 20,000 euros ($22,238) after their fans were found to have racially insulted Brescia forward Mario Balotelli during Sunday's match in the latest incident of racism which has plagued Italian football.
Serie A's disciplinary tribunal said in a statement that further investigations were taking place to identify exactly where among the visiting Lazio fans the chanting came from and that Lazio had been asked to help the police identify those responsible.
Lazio won 2-1 after Balotelli, who has been subjected to discrimination throughout his career, had opened the scoring for hosts Brescia.
The Serie A statement said that fans "sang a chorus of racial discrimination against a player of the opposing team in the 21st and 29th minutes of the first half" as well as other insults.
It said the referee interrupted the match after half an hour and an announcement was made asking for the chanting to stop.
Balotelli, who was seen complaining to the referee about the chanting during the match, said "shame on you" in an Instagram message to the Lazio fans after the game. Lazio disassociated itself from the fans abusing Balotelli.
The tribunal also handed a two-match suspension to Sassuolo substitute Domenico Berardi after he was sent off at the end of his team's controversial 2-1 defeat at Genoa. Sassuolo complained that the move which led to Genoa's winning goal began with a foul on Berardi.
The tribunal said that Berardi "vehemently confronted an assistant, addressing severely disrespectful expressions to the match officials" in the tunnel after the match.
SPAL were fined 10,000 euros after some fruit peel was thown from the crowd and "hit the referee without causing any injury" during their match at home to Verona.
Manchester United lose Maguire to hip injury
Manchester United defender Harry Maguire is set for an extended spell on the sidelines after scans showed the centre back tore his hip muscle in Saturday's goalless draw at Wolverhampton Wanderers, British media have reported.
Maguire, who was signed by United for 80 million pounds ($104.83 million) in the close season, suffered a blow to his leg in the first half of the FA Cup third round match but played the full 90 minutes.
That aggravated the injury, and the 26-year-old failed a fitness test before missing Tuesday's League Cup semi-final first leg 3-1 defeat by rivals Manchester City, with Phil Jones in the back line.
A return date has not been announced yet, and his injury will be a blow to manager Ole Gunnar Solskjaer, whose side play five more matches in January - including the FA Cup replay away and the second leg of the League Cup semi-final at Etihad Stadium.
Centre backs Eric Bailly and Marcos Rojo are still sidelined for United with injuries while midfielders Paul Pogba (ankle surgery) and Scott McTominay (knee) will not return until February.
United, fifth in the league standings, host bottom side Norwich City on Saturday.
Man City's De Bruyne says 15 minutes of planning led to win over Man Utd
Manchester City manager Pep Guardiola needed only 15 minutes in training to come up with the tactical changes that led to Tuesday's 3-1 win over Manchester United in the League Cup semi-finals, playmaker Kevin De Bruyne said.
Guardiola opted to play without a recognised striker at Old Trafford, giving De Bruyne and fellow midfielder Bernardo Silva licence to push forward centrally and the move worked perfectly as City scored three times before halftime.
"We did 15 minutes on it (tactics) in the morning, that's about it," De Bruyne told the British media on the plan to play with a 'false nine' in the first leg.
"We didn't train that but it's not like we never did it before -- we did it sometimes against teams that prefer to play man-against-man; Cardiff City, United, in Barcelona away we did it the first year with Pep... we've done it a couple of times."
Despite Silva's unfamiliarity in the position, he scored the opening goal in the 17th minute before Riyad Mahrez doubled the lead and United's Andreas Pereira scored an own goal.
United pulled one back in the 70th minute through striker Marcus Rashford to give themselves a chance in the tie.
"With Bernardo dropping (back) it's four against three in midfield so they have to choose what they do," De Bruyne said.
"If they put their defender up there's more space behind and if not Bernardo's going to be free. That's what we tried to do. I think overall we played well.
"The second half they tried to put a bit more pressure on us and we made one mistake and they scored from it."
City, who succumbed to United's counter-attacking might in a 2-1 Premier League loss at the Etihad Stadium in December, host their neighbours in the second leg of the semi-final on January 29.