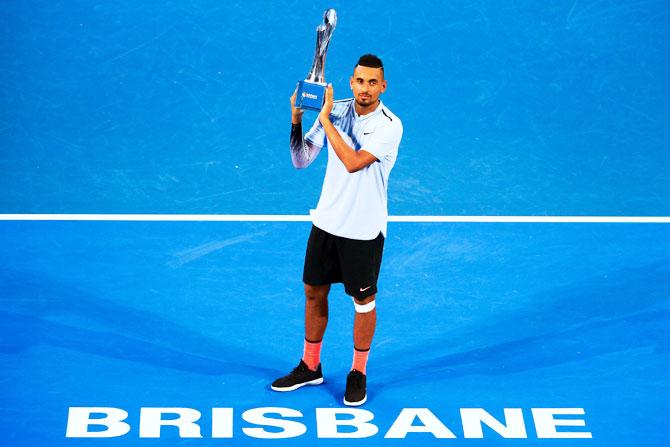 IMAGE: Australia's Nick Kyrgios holds up the trophy after winning defeating USA's Ryan Harrison to win the Brisbane International final at the Pat Rafter Arena in Brisbane on Sunday. Photograph: Patrick Hamilton/Reuters
Nick Kyrgios clinched his maiden tour title on home soil in a big confidence boost ahead of the Australian Open, beating Ryan Harrison 6-4, 6-2 in the Brisbane International final.
Carrying a niggling knee injury, Kyrgios made a rusty start and was forced to save five break points before he carved out his first break in the seventh game.
The 22-year-old claimed the first set before taking control of the match after his American opponent dropped his serve at the start of the second set with a frustrating double fault.
Kyrgios, ranked 21 in the world, broke big-serving Harrison again in a sublime second set display to close out the match and seal his fourth career title.
Deep runs at grand slam events have eluded Kyrgios but a strong start to the season, including a semi-final victory over world number three Grigor Dimitrov, should put him among the early contenders for the first grand slam of the year.
The tournament begins at Melbourne Park on Jan. 15.
Goerges stuns Wozniacki to lift Auckland title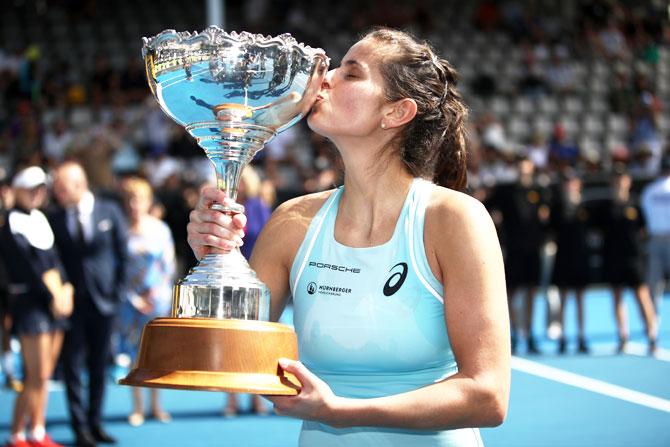 IMAGE: Germany's Julia Gorges poses with the trophy after defeating Denmark's Caroline Wozniaki to win the ASB Women's Classic final at ASB Tennis Centre in Auckland on Sunday. Photograph: Phil Walter/Getty Images
World No 14 Julia Goerges won her third successive tournament as she blasted her way to a 6-4, 7-6(4) victory over Caroline Wozniacki to seal the Auckland Classic title on Sunday.
Goerges was rarely troubled by the World No 3 as she used a powerful service and blistering forehands that kept the Dane pinned deep and unable to extend rallies beyond a few shots.
The 29-year-old German, who has played at the Auckland tournament every year since her first visit in 2010, extended her winning streak to 14-matches stretching back to last year when she won in Moscow and then the WTA Elite Trophy in Zhuhai.
"It feels amazing, but it's not just about winning here but about my consistency over the last few months," Goerges said after she became the first woman to be presented with a korowai, or Maori feather cloak, that will be awarded to every subsequent winner.
"I have become much more mature, that's thanks to my team who have really changed my brain."
Bad weather throughout the week wreaked havoc with the schedule in New Zealand's largest city and both had been required to play their quarter-finals and semi-finals on Saturday.
Both players had made the final at the Auckland Tennis Centre before, with the German losing to Sloane Stephens in 2016, while Wozniacki lost to Venus Williams in 2015.
Goerges however stamped her intentions on the opening point when she smashed a forehand service return back at Wozniacki's feet and broke to take a 1-0 lead that she never relinquished.
She sealed the first set after 35 minutes with her seventh ace and then broke Wozniacki again in the first game of the second set and continued to just overpower the Dane.
Wozniacki had an opportunity to get back on serve in the fourth game when she had a break point but Goerges simply pulled out another ace and consolidated her lead.
The Dane, however, was finally getting into the match and while she blew her second break point two games later she finally broke in the eighth to get back on serve and then took a 5-4 lead.
That was the only chance she had, however, as Goerges forced a tiebreak and then raced through it to seal the title after 91 minutes with another forehand winner.
"I have got a lot of matches under my belt and it was the type of preparation I hoped for," Wozniacki said as she looked ahead to the Australian Open from Jan. 15-28.
"Hopefully it will be a great couple of weeks."
Makarova stuns Ostapenko in sweltering Sydney
Ekaterina Makarova kept cool in the fierce Australian heat to upset the French Open champion and world number seven Jelena Ostapenko 7-6(3), 6-1 in the opening round of the Sydney International on Sunday.
Makarova, who reached the Australian Open semi-finals after stunning Serena Williams three years ago, rode an early break for a 5-3 lead and, even though her Latvian opponent got back to 5-5, raced away with the first set tiebreak.
Third seed Ostapenko, who also lost her opening match in Shenzhen last week, put up a fierce fight at the start of the second set but faded after losing her first service game and Makarova moved on to face Barbora Strycova or Daria Kasatkina.
"It was first match of the season so of course I was nervous at the beginning," said Makarova.
"But I tried to stay solid, to stay with my aggressive game, and it worked in the important moments."
With temperatures in western Sydney well above the 40 degrees Celsius mark, some withdrawals might have been expected and local Ellen Perez progressed when France's Kristina Mladenovic retired at 6-4, 4-2 down.
In the men's draw, twice former champion Viktor Troicki went out in the first round 6-3, 6-7(3) 7-5 at the hands of unorthodox Ukrainian Alexandr Dolgopolov.
Murray can get back if he puts his mind to it: Wilander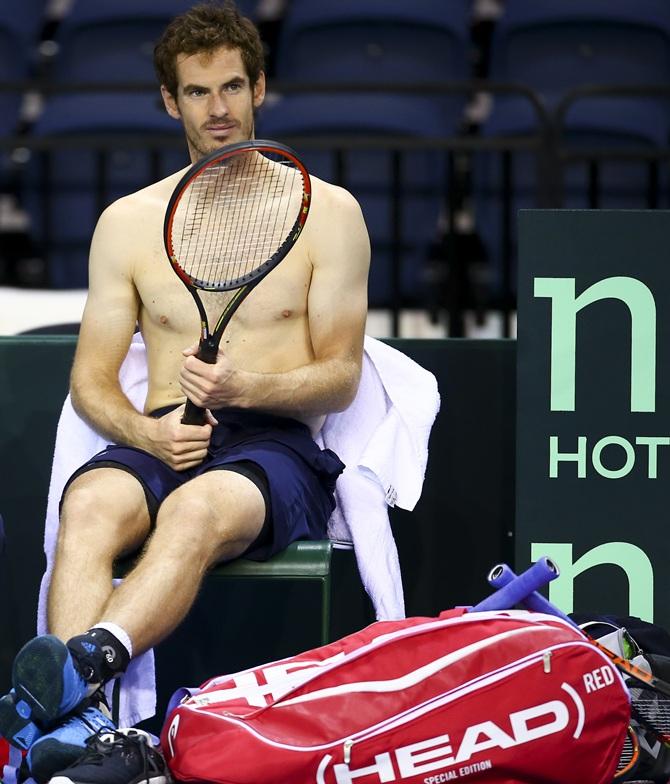 IMAGE: Andy Murray. Photograph: Jordan Mansfield/Getty Images for LTA
Former World No 1 Andy Murray can return to the top of the sport despite the hip injury that forced him to pull out of the Australian Open this week as long as his mind is willing, according to tennis great Mats Wilander.
Three-time grand slam champion Murray has not played a competitive match since losing a Wimbledon quarter-final to American Sam Querrey in July and may need surgery to cure a problem that threatens his career.
However, seven-times major winner Wilander believes if the Scot sets his mind on it, he can overcome the physical battle that awaits over the next few crucial months.
"Of course he can (come back)," Swede Wilander, who will host his popular 'Game, Set and Mats' show for Eurosport during the Australian Open, told Reuters.
"Have the surgery and see how things go. He's a hard enough worker and so talented that I don't think it's a problem for him to come back as long as his mind wants him to come back.
"That's the thing you never really know when you have a surgery and take time off."
Murray, who has slipped to 16th in the world from number one in September, has battled back from injury before, most notably when he took time off for lower back surgery in 2013.
He returned to play some of his best tennis, winning a second Wimbledon crown in 2016, gold at the Rio Olympics and climbing to the top of the ATP rankings.
That knowledge will drive him on again, Wilander said.
"With Murray I think he draw on past experiences and look at how after he had his back surgery he came back and was a better player and got to number one in the world," he said.
"If he can get himself 100 percent fit he can come back with no pressure because he already has three slams and it won't be about rankings then, just getting back to a level where he can challenge for big titles."
Wilander said it should be no surprise that the top players are struggling with injuries, as their careers are now longer.
Novak Djokovic (elbow) and Rafael Nadal (knee) are both battling for full fitness ahead of the Australian Open while Stan Wawrinka, another 30 something, is returning from a knee injury, as Roger Federer did last year in stunning fashion.
"It's not necessarily an age thing but it's more about miles on the clock," Wilander said.
Murray, 30, is yet to decide whether or not he needs surgery, although he hinted last week that it may his only option after a six-month rehab failed to cure the problem.