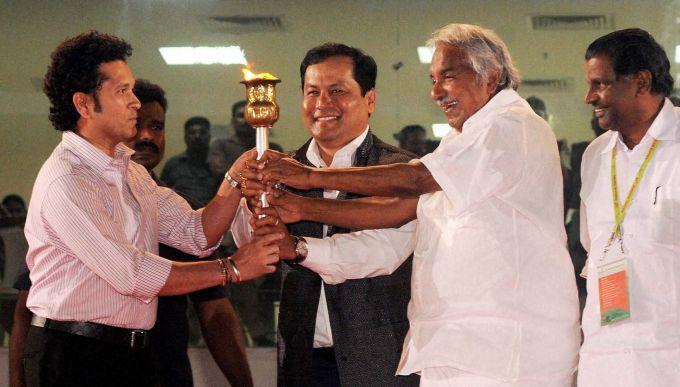 Union Sports Minister Sarbananda Sonowal with Kerala chief minister Oommen Chandy and Sachin Tendulkar light up the lamp to inagurate National Games. Photograph: PTI
Sachin Tendulkar was there to bring a capacity crowd on its feet and the cultural splendour was there for all to see as the 35th National Games were declared open here today with a colourful opening ceremony even as organisational chaos continued to take sheen off the event.
The Greenfield Stadium on the outskirts of the city bathed in spectacular colours to welcome the athletes, quite a few of whom were, ironically, still not staying in the Games Village owing to the last-minute finishing touches.
"I am sure the Games will be a huge success," said Union Sports Minister Sarbananda Sonowal in his address at the ceremony, the comment coming despite the clearly visible poor state of the state's preparations as the venues can still not be called fully ready for competition.
The chaos outside was, however, hardly noticed in the way the ceremony was conducted inside the stadium where the loudest round of applause and cheers went out for Games Goodwill Ambassador Tendulkar, who got up twice to acknowledge the adoring fans.
Flanked by Kerala Chief Minister Oomen Chandy, Sonowal and Thiruvananthapuram MP Shashi Tharoor, Tendulkar sported a wide grin all through as he applauded the marching athletes from 30 states, five Union Territories and one Board.
"A big thanks from the sports fraternity of Kerala to Sachin Tendulkar," Chandy said in his address to a crowd which went delirious at the mere mention of the now-retired cricketing icon's name.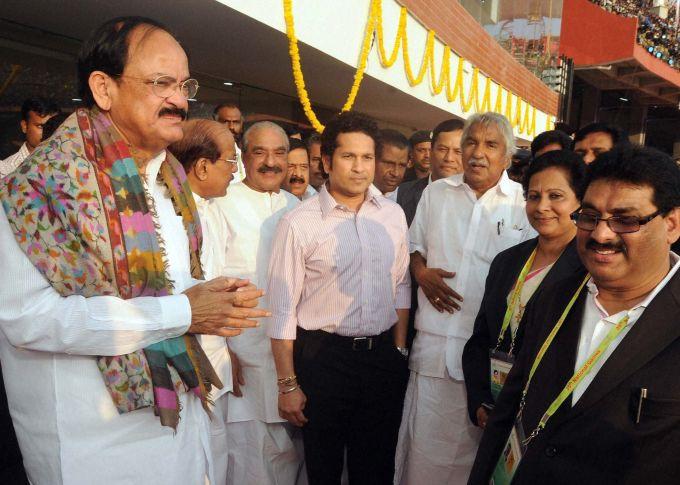 Sachin Tendulkar at the National Games opening ceremony. Photograph: PTI
The ceremony itself was an ode to the cultural heritage of Kerala and featured performances from traditional percussionists to start with, followed by the teams' march past, during which hosts Kerala walked out with a jumdo contingent of over 300 athletes.
Inaugural speeches by chief Guest and Union Urban Development Minister Venkaiah Naidu, the state Chief Minister, Indian Olympic Association president N Ramachandran followed but the restless crowd showed enthusiasm to their rather long addresses only when a special word of thanks was conveyed to Tendulkar for being present.
"I congratulate Kerala for making the event a success," Naidu said in a passionately-delivered address. At the end of the speeches, spectacular fireworks lit up the evening sky before Arjuna awardees from Kerala took a lap of the stadium with the Games Torch before handing it over to Tendulkar.
Tendulkar then passed it to two of Kerala's biggest stars -- sprint legend P T Usha and long-jumper Anju Bobby George -- who lit up the flame to mark the beginning of the 15-day extravaganza.
Another round of fireworks later, Malayalam superstar Mohan Lal took centrestage in a video performance, having the crowd on its feet with an electrifying song and dance routine which had an introduction in the voice of none other than Amitabh Bachchan.