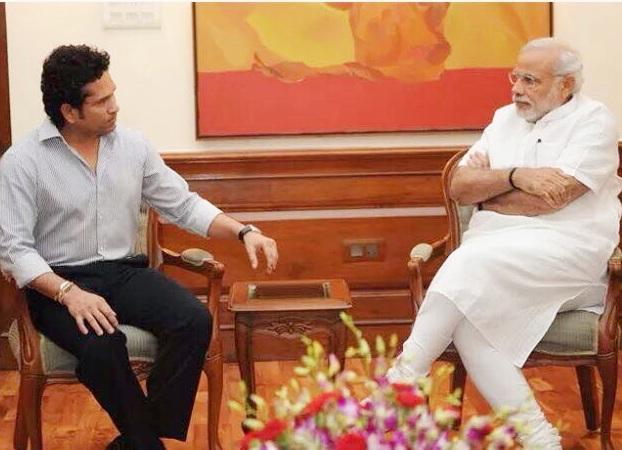 Sachin Tendulkar with Prime Minister Narendra Modi. Photograph: Courtesy: Narendra Modi/Facebook
Cricket legend Sachin Tendulkar called on Prime Minister Narendra Modi and apprised him of his contribution to the Swachh Bharat campaign.
The 41-year-old batting icon was among nine persons chosen by the Prime Minister for the initiative he launched on October 2, Mahatma Gandhi's birth anniversary.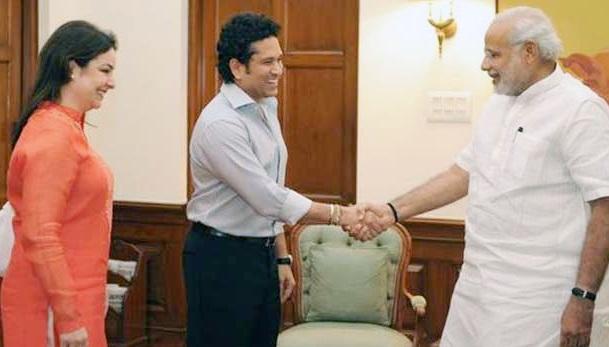 Sachin Tendulkar and his wife Anjali meet with Prime Minister Narendra Modi. Photograph: PIB
Tendulkar, accompanied by his wife Anjali, told the Prime Minister that he has extended the 'chain' by inviting more people to participate in the campaign.
The legendary cricketer also shared the idea of adopting a village under the Saansad Adarsh Gram Yojana with the Prime Minister, besides expressing keenness to work towards development of sports in schools and colleges.
Modi had last week complimented Tendulkar after he took up a broom, spade and mattock to collect garbage strewn along the way in a filthy locality in his home town, Mumbai, along with his friends.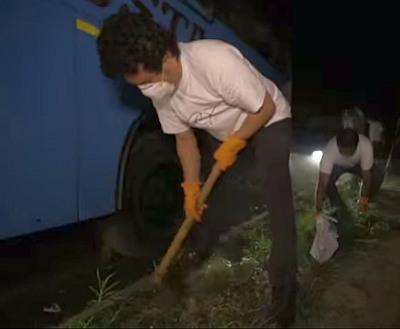 Sachin Tendulkar goes about his job during the Swacch Bharat Abhiyan in Mumbai. Photograph: Video grab
Bharat Ratna awardee Tendulkar had urged fellow-sportspersons to join the Swach Bharat Abhiyan campaign and posted a video displaying his efforts to clean the locality 'dumped with litter and garbage' on a social networking site.
"@ImZaheer , @NSaina , Sardar Singh , Atul Ranade, @atulkasbekar , please spread the word .. Swachh Bharat Hi Sach Bharat Hai (Clean India is real India)!" Tendulkar wrote on his Twitter handle.