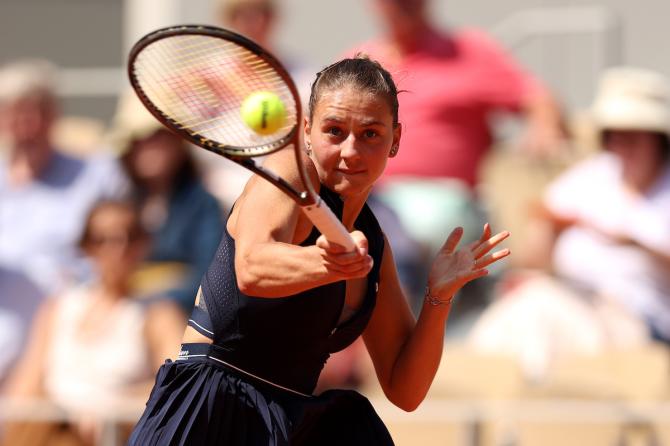 Marta Kostyuk refused to shake hands with Aryna Sabalenka after their first-round match at the French Open and the Ukrainian feels the Belarusian should take a stronger, more personal stand against the war.
Booing and jeering could be heard from the thin Court Philippe Chatrier crowd as Kostyuk left the court after a 6-3 6-2 loss to world number two Sabalenka on Sunday.
Kostyuk has previously said she would not shake hands with tour rivals from Russia and Belarus - which is a staging ground for Moscow's "special military operation" - if she feels they have not done enough to speak out against the invasion.
"I understand why they're not shaking hands with us. I can imagine if they shake hands with us, what's going to happen to them from the Ukrainian side. I understand that this isn't personal. That's it," Sabalenka said.
"How can we support the war? Nobody, normal people will never support it."
To Kostyuk, it is a personal matter.
"I feel like you should ask these players who would they want to win the war because if you ask this question, I'm not so sure these people will say that they want Ukraine to win," the 20-year-old told reporters.
"She (Sabalenka) never says that she personally doesn't support this war, and I feel like journalists should change the questions that you ask these athletes because the war is already there. It's been 15 months since the war has begun."
Kostyuk, whose parents still live in Ukraine, said Sabalenka had a duty to speak up because of her status as a top player.
"Just by speaking out, I think she can just send some message because most of these people, they haven't even ever left the country," she said.
"Someone like Aryna...just to reject her responsibility of having an opinion on the most important things in the world, I cannot respect it.
"I don't respect her because of her position in this situation."
Last year, Russian Daria Kasatkina criticised the war, calling it a "full-blown nightmare".
"I think Kasatkina made her statement, and she's not going back to Russia, and that's her choice. I can see that she really -- she gave up something that's important for her to stay on the side of the truth and of the kindness and love," said Kostyuk.