Saina Nehwal has kicked up a storm by retiring from a match she was on the verge of winning because of a knee injury.
The London Olympic bronze medallist had reached match point against Russian Ksenia Polikarpova in the first round match at the India Grand Prix in Lucknow on Wednesday when she decided to retire.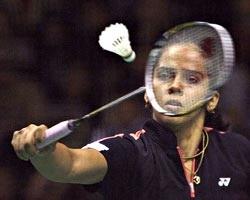 "Even when I was playing at the Super Series Finals (in China last week), I was playing with a taped knee," the world number three was quoted as saying by the Times of India newspaper.
"I have been facing this problem since then. This could have aggravated if I had continued. So I decided to back out," she added.
The Badminton Association of India (BAI) said it would investigate the incident but maintained it had no reason to doubt Nehwal's sincerity, vice president TPS Puri told Reuters on Thursday.
"We are looking into her pullout but her injury is genuine," Puri said by phone.
"She sustained it at the Denmark Open (in October) and has been struggling since then. She is our top shuttler and we have to look after her," he said.
Puri also dismissed media reports that Nehwal, under pressure to play in the city which is home to her sponsors Sahara and also of BAI president Akhilesh Das, had no intention of playing beyond the first round.
"I don't think it's correct to say that she had got her return tickets booked for Wednesday.
"She came here straight from China. She was taking a chance with her injury and probably realised it was not worth aggravating it," Puri added.
The $120,000 tournament suffered another setback when men's top seed and 2004 Olympic champion Taufik Hidayat of Indonesia crashed out with a shocking 21-17, 21-12 first round defeat to unheralded Indian Pratul Joshi.